The Best Vegan Recipe Box And Meal Delivery Services
By Nick Harris-Fry published
Not sure where to start with a vegan diet? Make eating a plant-based diet easy with these healthy food subscription boxes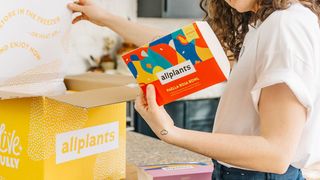 (Image credit: Allplants)
Whether you're planning to make a short-term switch to a vegan diet through a challenge like Veganuary, or have a lifelong swap from meat to plants planned, it's not always easy to know what to cook when you first make the change. You might start with grand aspirations about the many interesting plant-based meals you're going to make, but after a couple of weeks, when you're chowing down on yet another plate of chips, you might concede that some help is needed when it comes to make a vegan diet healthy and varied.
Enter two types of subscription services: the recipe box and the meal delivery service. The former sends all the ingredients you need to make a healthy, easy and delicious plant-based meal to your door with clear instructions on how to put them together, while the latter sends prepared meals for you to reheat. Here are our favourites for you to try, and since we've tried everything on this page (and more) we've marked out the standouts with our Editor's Choice badge.
The Best Vegan Recipe Boxes
(opens in new tab)
The best all-round recipe box service
Specifications
Price:
From £4.37pp for two-person meals, £2.98pp for family meals
Reasons to buy
+
Clear instructions
+
Extensive choice
+
Good value
Reasons to avoid
-
Slightly confusing website
With Gousto's recipe boxes you pick from a large selection of meals each week and there are always several excellent vegan options. The recipes are always easy to make and meticulously planned so you're not rushing to get them done in the predicted prep time.
The meals are also divided up into different ranges, including Lean In 15 meals from Joe Wicks. This range includes one vegan option at the moment with others on the way, including an appetising miso tofu with stir-fried ginger greens recipe. The meals don't all take 15 minutes to make, but they are all marked as either high or low in carbs, so you can pick meals that line up with your dietary requirements or your day's activities. As keen runners we preferred the high-carb recipes to refuel after training, while the low-carb options are better for rest days.
Gousto's boxes are also slightly cheaper than rivals like Mindful Chef. The cheapest option for two people is £34.99 for four meals.
Read more in our Gousto review
---
(opens in new tab)
Lower-carb recipes that tickle the tastebuds
Specifications
Price:
From £5.25 per serving
Reasons to buy
+
Tasty, healthy meals
+
Varied menu
Reasons to avoid
-
More expensive than others
-
Recipes can be tricky at times
Mindful Chef caters to everyone: all its food is gluten- and dairy-free, and pescetarian and plant-based options available – you just have to be OK with its low-carb approach to meal times. Each week the menu includes several vegan options you can select to build your box, and while we've found Mindful Chef recipes to be slightly trickier than most in the past, they're all, without exception, easy on the tastebuds.
Read more in our Mindful Chef review
---
(opens in new tab)
An all-vegan recipe box with a focus on sustainability
Specifications
Price:
From £26 for two meals
Reasons to buy
+
Vegan menu
+
Sustainable approach
+
Variety of veg
Reasons to avoid
-
More expensive than others
-
Limited range
Unlike most recipe box services that merely offer a plant-based option, Grubby is all-in on vegan meals. It's also all-in on sustainability, with 100% recyclable and compostable packaging, ingredients mostly sourced from local farmers and a delivery strategy that aims to use pedal power where possible – all London orders are delivered by bicycle.
The meals are easy to make in around 30 minutes, contain a pleasing variety of vegetables and taste good too. All in all, Grubby is a great option for midweek dinners if you want to expand your menu in a healthy and eco-friendly way. The only downside is that the meals are more expensive than those from many other recipe box providers.
Read more in our Grubby review
---
(opens in new tab)
An easy-to-use service
Reasons to buy
+
Clear instructions
+
Easy-to-use website
Reasons to avoid
-
Higher in calories than others
-
Smaller menu than rivals
The Green Chef's recipe box service has five diet options available, one of which is vegan. Although the range of meals available isn't huge, there are at least five vegan options to pick from to make up your weekly box. When we tested the service we were impressed at the range and quantity of vegetables in The Green Chef's meals, and in general they were tasty, satisfying and easy to make in around 30 minutes.
Read more in our Green Chef review
The Best Vegan Meal Delivery Services
(opens in new tab)
The best vegan meal delivery service
Specifications
Price:
Six-meal box £40.50, 12-meal box £59.88
Reasons to buy
+
Varied and tasty meals
+
Two or more of your five-a-day
+
Convenient
Reasons to avoid
-
Cheaper options available
Our favourite purely plant-based meal delivery service, Allplants, doesn't just cover your dinners – it has lunch and breakfast options too, as well as dessert, sides and smoothies. We've tested several of the dinners, lunches and sides, and have yet to come across one we didn't rate – they're all delicious, satisfying and healthy. Each of them contains at least two portions of your five-a-day, is high in fibre, and comes in under 600 calories, with low-calorie meals available too.
The ingredients used are impressively varied, and we bet even the most adventurous eaters will come across plants and recipes that are new to them. The new lunch bowls are a knockout too, each containing a variety of veg and grains alongside an out-of-the-ordinary mash like coconut and edamame.
You buy boxes of either six or 12 frozen meals (with the 12 meals you get two lots of six meals, rather than 12 different ones), and each meal takes six to 10 minutes to heat up in the microwave. Allplants scores well on sustainability too: not only can you recycle the meal trays, but you can return all packaging used to post them to you free, which the company will then reuse. The website is also transparent about supply chains and how Allplants is working to reduce its impact on the environment. Bravo.
Read more in our Allplants review
---
(opens in new tab)
2. Planty
Balanced meals with an easy-to-use website
Specifications
Price:
From £4.95 per meal
Reasons to buy
+
Easy order process
+
Variety of meals
+
Tasty and easy
Reasons to avoid
-
Not all meals microwave well
Planty's frozen meals are tasty, convenient and packed with a wide variety of healthy veg, and even fruit sometimes – the butternut and mango madras we tried was excellent. The company also has placed a welcome focus on sustainability, using 100% recyclable packaging and offering carbon-neutral deliveries.
You can buy the meals in a box of six, eight or 10 meals, choosing to either subscribe or receive a single delivery, with the subscription option netting you a discount (£4.95 per meal for a box of 10 as opposed to £5.45 if bought as a one-off). The meals can be heated up in a microwave straight from the freezer in under 10 minutes, and we found the portion sizes filling enough to avoid between-meal snacking, though an extra side will be welcome on more active days.
The highlights of the 10 dishes we tried were the curries and stews, along with the BBQ banana blossom burrito, which emerged from our microwave tasting fresh and delicious.
---
Healthy, low-cal meals
Specifications
Price:
From £26.99 per day (1,200 calories), £32.99 per day (1,800 calories)
Reasons to buy
+
Low-cal but satisfying
+
Meals and snacks included
+
Detailed instructions included
Reasons to avoid
-
Cheaper options available
-
No higher-calorie options
-
High delivery costs
Balance Box has a plant-based menu that you can use within either of its low-calorie meal plans – the Lighter plan has 1,200-1,300 calories per day and the Market plan has 1,700-1,800. Both are designed to help you lose weight and contain three meals and two snacks, which are delivered to your door.
The plant-based meal plan was one of the healthiest we've come across: all the meals we tested contained a pleasing variety of vegetables and legumes to help you not only smash your five-a-day but eat 30 different plant sources of fibre each week, which is great for your gut health.
We tested the Market plan and initially feared it may not keep hunger at bay, but even on active days it's amazing how satiating a box of vegetables can be. That said, you do feel like you're eating healthy, low-cal meals. It hasn't quite pulled off the trick the best meal delivery services do, which is to make healthy meals feel like a real treat.
Read more in our Balance Box review
---
4. The Transformation Chef
Ready meals at their best
Reasons to buy
+
Delicious and satisfying
+
Variety of meals
Reasons to avoid
-
More expensive than others
-
More veg would be good
-
Not many vegan options
Balance is the name of the game for these microwave meals, which don't go all-out to be healthy at the cost of flavour – instead, they aim to impress on both counts. They certainly tick the flavour box, being right up there with the tastiest ready meals we've tried, and they're pretty low in calories: everything we ate was under 600 calories and there are many meals that are under 400.
The range of vegan meals isn't extensive, but there are five options on the website at the time of writing, and they're nice enough that you'd happily eat each two or three times. In order to avoid the traditional dryness that plagues microwave meals (especially healthier options), The Transformation Chef is pleasingly liberal with the sauces. The only real criticism we have about the meals is they don't pack in as much veg as we'd like, and they're sometimes a little on the small side, especially if you live an active lifestyle. Fortunately, both problems are solved by quickly whipping up a side dish of veg.
You can buy individual meals or create a bespoke menu with a nutritionist to suit your health and fitness targets.
---
5. KBK
Low-cal microwave meals to help you hit fitness goals
Specifications
Price:
From £15.75 a day (currently reduced to £10.24 per day)
Reasons to buy
+
Meals tailored to fitness goals
+
Balanced, low-cal meals
Reasons to avoid
-
Higher-calorie option would be useful
The extensive range of meal plans available from KBK includes a plant-based option, which offers two or three meals a day for six days a week. It's a shame that KBK doesn't offer vegan versions of its other plans, which include fitness-focused menus like one to help you get lean, as well as office-ready and student plans. The plant-based plan is also light on nutritional detail, aside from telling you the calorie count is 1,500 a day, which is pretty low.
We tried KBK's meals, although not the plant-based plan, but we feel confident the vegan meals will be just as tasty as the animal-based ones. The meals come in microwaveable containers but lack nutritional info, which would have been useful to see on the label. You have to sign up for four weeks on the service if you opt for a KBK plan, but there are three-day taster plans, which we'd advise doing because the low-calorie approach won't work for everyone.
---
More About Vegan Food
Sign up for workout ideas, training advice, the latest gear and more.
Thank you for signing up to Coach. You will receive a verification email shortly.
There was a problem. Please refresh the page and try again.