Five Salad Jar Ideas That Make Great Pack Lunches
By Liv Langdon published
Make a salad in a mason jar for a fast, healthy, easy-to-carry meal that will last up to a week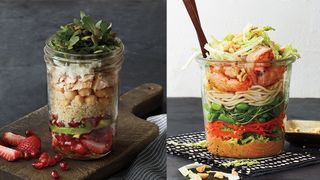 (Image credit: Unknown)
Photography: William and Susan Brinson
Mason jar salads are pretty much the perfect food. They're simple to make, carry and store; you can use delicious flavours from all over the world, from Mexico to Thailand via Italy; and they're easy to pack with nutrition.
The basic formula is "wet foods first, dry foods last" so the salad's not soggy when you eat it. Start with two wide-mouth, litre-size mason jars, pour in some (preferably fresh) dressing, then layer on the salad ingredients. Then close it and pop it into the fridge (it'll stay fresh for up to a week), or take it with you to work – just turn it over into a bowl and it's ready to go. You're about to open up a world of possibilities.
The Salad Jar Method
You're welcome to get as creative with your own mason jar salads as you like – just follow these guidelines on how to layer your ingredients
Layer 1: Salad dressing, fresh fruit and watery vegetables
This is key to keeping the greens fresh and crisp. By adding the dressing to the bottom of the jar, along with any other wet ingredients like strawberries or chopped cucumber, you prevent everything else from getting soggy.
Layer 2: Hearty, dry vegetables
This layer acts as a bridge. Broccoli, carrots and beans act as a sturdy buffer between the rest of the salad and the dressing.
Layer 3: Grains and more porous vegetables
Quinoa, pasta and veggies like mushrooms and aubergine that can absorb moisture go here, protected by the dryer ingredients that preceded them.
Layer 4: Proteins
Here's where meat, cheese and fish go.
Layer 5: Lettuce, nuts, seeds, herbs and dried fruit
These go on top to stay as dry and fresh as possible. The goal is crisp and crunchy, not slimy, soggy and wilted.
Expert tip: As long as you keep the jars upright, your salad will stay preserved for days. When you're ready to eat, shake the jar over a plate or bowl. The dressing will start to coat the salad as you empty it out – toss with a fork to ensure an even mix before eating.
Salad Jar Recipes
Prepare two mason jars. Divide all the ingredients into two portions, and layer them in the jars in the order shown. Seal and refrigerate.
Pad Thai prawn (serves two)
Ingredients
2tbsp powdered peanut butter mixed with 2tbsp water, 2tsp sriracha and 4tbsp ginger dressing
20g chopped broccoli
40g shredded carrots
2-3 sprouts, sliced
75g edamame
250g cooked brown rice noodles
Prawn mixture: in a sauté pan, lay 320g peeled raw prawns flat. Add 1tbsp olive oil and a dash of Himalayan salt, red pepper flakes and garlic powder. Cook over medium heat until pink. Allow to cool, then add to jar.
100g chopped cabbage
3tbsp crushed peanuts
Nutrition (per serving): 837 calories, 61g protein, 82g carbs, 30g fat
Tuna tropical paradise (serves two)
Ingredients
90g strawberries, sliced in quarters
4tbsp pomegranate seeds
½ avocado, sliced
Squeeze of lemon juice (to keep fruit fresh)
1tbsp olive oil
185g cooked quinoa
100g chickpeas
140g canned tuna, drained and mixed with 3tbsp fresh lemon juice and a dash of garlic powder and salt
60g goat's cheese
2 large handfuls of rocket
4tbsp pumpkin seeds
Nutrition (per serving): 599 calories, 35g protein, 45g carbs, 32g fat
Greek god salad (serves two)
Ingredients
85ml vinaigrette
10 cherry tomatoes, halved
50g diced cucumber
4tbsp pitted, sliced Kalamata olives
225g cooked bulgur wheat
4tbsp crumbled feta cheese
225g diced cooked chicken breast
75g chopped romaine lettuce
Nutrition (per serving): 447 calories, 44g protein, 31g carbs, 16g fat
See related
Latin burrito bowl (serves two)
Ingredients
2tbsp plain Greek yogurt
120g salsa
¾ ripe avocado, cut into cubes
1tbsp fresh lime juice
195g cooked brown rice
100g black beans
Meat mixture: sauté 4tbsp diced white onion with ½tbsp olive oil until soft in a skillet over medium heat. Add 280g minced beef and cook for eight minutes. Add a dash of cayenne, smoked paprika, garlic powder and chilli powder.
4tbsp crumbled cotija or feta cheese
75g shredded iceberg lettuce
Chopped coriander
Nutrition (per serving): 707 calories, 56g protein, 45g carbs, 33g fat
Chicken caprese salad (serves two)
Ingredients
120ml balsamic vinaigrette
150g grape or cherry tomatoes
4 large basil leaves, thinly sliced
Pinch of Himalayan salt and black pepper
150g cooked pasta (gluten-free if preferred)
170g cooked chicken breast, diced
2 slices prosciutto
85g fresh mozzarella, cubed
400g baby spinach
Nutrition (per serving): 593 calories, 62g protein, 47g carbs, 17g fat
A version of this article first appeared in the US version of Men's Fitness
Sign up for workout ideas, training advice, the latest gear and more.
Thank you for signing up to Coach. You will receive a verification email shortly.
There was a problem. Please refresh the page and try again.