How To Use A Slow Cooker To Make Healthy, Hearty Recipes
By Don Orwell published
Whip up cheap, simple, super-nutritious meals that practically make themselves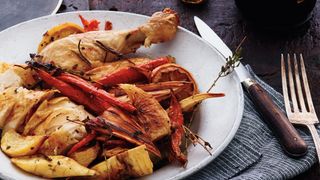 (Image credit: Unknown)
Photography: William and Susan Brinson
To most men, a one-step meal is a microwave ready meal or a frozen pizza – but that's all about to change. With these healthy one-step recipes, you simply drop your favourite protein and veg into a slow cooker in the morning, press "cook," and come home at night to a hot, delicious chicken banquet or robust meatball stew. These hearty dishes are packed with rich flavours but avoid high-fat dairy products and processed food, so calories stay low while nutrient levels soar. There's never been an easier or healthier home-cooked meal. Sorry, microwave, it was fun while it lasted…
The 9 Simple Rules Of Cooking With A Slow Cooker
One-step meals are less about following a recipe (but don't worry, we've got a couple of recipes below to get you started) than about knowing a simple set of rules. Read this, then go create your own easy combos
1. Cheap meat is OK
Tough, inexpensive cuts of meat actually get tender and juicy after cooking for a long time. While lean cuts are better for the stove or grill, any meat will turn out great in a slow cooker.
2. The slower the better
A veggie dish can be cooked on low in as little as four hours; for meat, the larger the animal, the longer it needs. Beans will take as long as beef. But whatever the food, this holds true: the longer you cook it, the more intense the flavours become.
3. Fish goes fast
Seafood can cook in two hours (or less on high) – and never cook mussels in a slow cooker for longer than an hour.
4. Some veggies melt
Root and cruciferous vegetables are hearty enough to withstand eight hours on low, but the likes of tomatoes, onions and mushrooms will eventually melt and turn into sauce. Leafy greens will wilt if added too early.
5. Broth turns stew into soup
A bit of broth or tomato purée boosts a dish's flavour, but know that it won't reduce the way it would in a saucepan– around 100-125ml should normally be enough, although if you're cooking beans or grains like rice and quinoa you may need more liquid (500-700ml).
6. Oil isn't essential
You don't need much oil just 2tbsp will cover the bottom of the pot before cooking.
7. Thickeners turn soup into stew
For a thicker stew, add a tablespoon of gluten-free flour like almond flour or cornstarch 30 minutes before serving.
8. Keep greens and dairy as finishing touches
If a recipe calls for dairy products, leafy greens like spinach or fresh herbs like mint, basil or dill, add them near the end of cooking. Add them too early and overcooking will diminish the flavour.
9. Breakfast is better slow, too
Slow cookers transform oatmeal. Add steel-cut oats, dried fruits, cinnamon and milk before bed and wake up to the best hot cereal you've ever tasted.
Don Orwell is the author of Slow Cooking Beef (opens in new tab), Slow Cooking Pork (opens in new tab), Paleo Recipes For Beginners (opens in new tab) and Crockpot Dump Meals (opens in new tab)
Meal Prepping For A Slow Cooker
Save even more time by building several meals beforehand. To speed up the week's prep, shop for and chop up a week's worth of ingredients and put them into separate zip-lock bags for freezing.
First toss in the main vegetables (celery, carrots, onions, leeks, garlic, ginger) and some salt and pepper. Next, add your protein, including beans if you're using them. Finally, add seasonal veg like cauliflower, green beans, broccoli and red and yellow peppers.
See related
Easy Slow Cooker Recipes
For the following three recipes, just add all ingredients to crockpot. Cook on low for seven to eight hours.
Lemon roast chicken (makes 4-6 servings)
Whole chicken (2.25kg), skin removed
6-8 carrots, turnips or parsnips, diced
1tsp dried oregano
2tsp minced garlic
2tbsp coconut oil
65ml water
3 sprigs rosemary
3tbsp lemon juice (for a stronger flavour, add when cooking's done)
Salt and pepper
Meatballs with white beans (makes 4-6 servings)
750-900g frozen meatballs
2tbsp coconut oil
1 sprig dried thyme
400g canned haricot beans, drained and rinsed
1 litre beef stock
1 large onion, chopped
1 bunch parsley, chopped
3 carrots, chopped
Salt and pepper
Slow-cooked pork loin (makes 4-6 servings)
675-700g pork loin
250ml ready-made tomato sauce
2 courgettes, sliced
1 head cauliflower, split into florets
1-2tbsp dried basil
Salt and pepper
A version of this article first appeared in the US edition of Men's Fitness
Sign up for workout ideas, training advice, the latest gear and more.
Thank you for signing up to Coach. You will receive a verification email shortly.
There was a problem. Please refresh the page and try again.