Enjoy This Protein-Packed Turkey Spaghetti Bolognese Recipe
By Nick Harris-Fry last updated
You'll be sure to gobble up this turkey twist on the pasta classic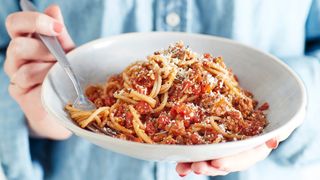 (Image credit: Unknown)
Spaghetti bolognese might have been conceived in northern Italy but it has been firmly adopted as one of Great Britain's favourite dishes, regularly featuring in top five favourite meal rankings. When compared with the other dishes that usually make up the five – fish and chips, a roast, pizza and chicken tikka masala – tomato-rich spag bol is already a pretty healthy choice, but if you swap the traditional beef mince for turkey, it only gets better for you.
This recipe comes from the excellent The Runner's Cookbook by Anita Bean (RRP £14.99, Bloomsbury, buy on amazon.co.uk). Turkey not only contains plenty of protein, but is also loaded with B vitamins, phosphorus, potassium, iron, selenium and zinc. It also contains beta-alanine, which can reduce fatigue and boost performance during high-intensity exercise.
See related
Turkey Spaghetti Bolognese Recipe
Ingredients (Makes Four Servings)
250g wholewheat spaghetti
1tbsp olive oil
1 onion, chopped
500g turkey mince
2 celery sticks, chopped
2 garlic cloves, crushed
2 carrots, peeled and diced
2 400g cans chopped tomatoes
2tbsp tomato purée
1tsp dried oregano (or 2tbsp fresh oregano)
1 bay leaf
Dash of Worcestershire sauce
2tbsp grated Parmesan cheese
To serve: Green vegetables, such as spring greens or cabbage.
Method
Cook the pasta in plenty of boiling water according to the directions on the packet.
Meanwhile, heat the oil in a large non-stick pan over a medium heat. Add the onion and cook for three to four minutes until translucent. Add the turkey mince and cook, stirring, for four to five minutes until no longer pink.
Add the celery, garlic and carrots and cook for three to five minutes. Stir in the tomatoes, purée, herbs and Worcestershire sauce, and season to taste. Simmer for 45 minutes (or longer if you have time) until the sauce has thickened.
Stir through the cooked pasta and scatter over the Parmesan.
Serve with your green veg of choice.
Nutrition (Per Serving)
Calories 566
Protein 48g
Fat 14g
-of which saturates 4g
Carbohydrates 56g
-of which sugars 16g
Fibre 12g
Sign up for workout ideas, training advice, the latest gear and more.
Thank you for signing up to Coach. You will receive a verification email shortly.
There was a problem. Please refresh the page and try again.