The Simplest Grilled Salmon Recipe Imaginable
By Coach Staff published
Because you're busy, you're not eating enough fish and fish is delicious enough by itself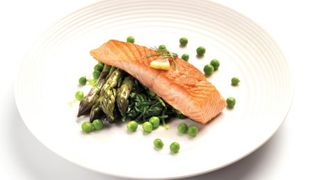 (Image credit: Unknown)
We may live on an island with a coastline of 12,500km but as a nation we're not eating enough fish to keep our brains healthy. Only 27% of Brits manage the two 140g portions of fish a week (one white and one oily) recommended by the Scientific Advisory Committee on Nutrition, which would provide the weekly intake of 3.15g of omega 3 fats needed for better brain health.
New research, from the FASEB Journal, recently showed that omega 3-rich foods like salmon also help prevent cognitive diseases such as Alzheimer's. They do so by improving the function of the glymphatic system, which clears waste products and metabolites from the brain to avoid a build-up that can cause problems in later life.
Eating fish when you're short of time doesn't have to involve a trip to the local chippy. This simple, tasty and nutritionally balanced salmon recipe by chef Karol Gladki (opens in new tab) can be prepared in less than ten minutes, making it easy to enjoy the benefits of this oily fish in your diet.
Ingredients (serves one)
200g salmon fillet
1 pack of asparagus tips
100g peas
Handful of spinach
2tbsp extra virgin olive oil
1 lemon
To make
Preheat the grill to medium heat (around 180C).
Place the salmon on a baking tray and grill it for eight minutes, turning halfway through.
Meanwhile, warm your pan over a medium heat and add half the olive oil.
Add the asparagus tips to the pan and fry for three minutes until tender, stirring occasionally
Add the peas and cook for another two minutes.
Add the spinach and cook for a further two minutes.
Serve the salmon with the vegetables and dress it with the remaining olive oil and lemon.
RECOMMENDED: How to Cook Pan-Roasted Salmon
Coach is the place to come for all your health, fitness, and personal wellness needs.
Sign up for workout ideas, training advice, the latest gear and more.
Thank you for signing up to Coach. You will receive a verification email shortly.
There was a problem. Please refresh the page and try again.