The Experts Behind The Vurger Co Explain How To Make Your BBQs Less Basic
By Rachel Hugh , Neil Potts published
The co-founders of the veggie burger stand, Rachel Hugh and Neil Potts, explain how to make your own tasty patty and sides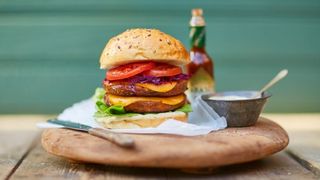 (Image credit: Unknown)
We recently worked with Tabasco to create the Auburger, an aubergine-based burger for the AU-EM-GEE pop-up in London's Spitalfields Market. It was so popular it sold out in three hours.
You haven't missed out, though – veggie burgers are surprisingly easy to throw together. Here's how to make a simplified Auburger for starters, and we've thrown in an upgraded coleslaw recipe and an idea for dessert, too.
Start with a precooked legume as a base – canned chickpeas or canned black beans.
Next, char an aubergine (or any veg that works well in a burger) on the barbecue or hob, chop it up and add it to the legumes.
Mix in grilled onion, breadcrumbs, cheese (if you wish) and a few dashes of Tabasco (we'd use the chipotle version throughout). Season, then shape into patties.
Make a simple, punchy sauce by combining mustard, ketchup and a dash of Tabasco (you could also add mayo to serve as a dip alongside a roasted vegetable appetiser).
Grill the patties on the barbecue until both sides have browned. Use any spare space on the grill to chargrill extra vegetables – slices of barbecued peppers, courgettes and/or squash layered on top of your patties add extra smoky flavours to each bite.
RECOMMENDED: Become A Meat-Free BBQ Master With These Veg-Grilling Tips
Place your patty in a brioche bun, slather on the sauce, top with cheese and your charred vegetables, and voilà – the ultimate summer veggie burger.
Serve with a slaw that uses grated beetroot, apple, red cabbage and raisins, mixed with mayo and a dash of Tabasco.
Cap off your barbecue with a sweet note in the form of barbecued fruits. Banana, mango, pineapple and passion fruit work really well because the natural sugars in the fruit caramelise when exposed to high heat, creating a delicious mix of sweet and smoky flavours. Plus, the serving options are endless – they make great entrées, desserts, smoothies and even cocktails!
RECOMMENDED: Impress During National BBQ Week With This Smoky Sichuan Aubergine Recipe
Find out more about The Vurger Co. at thevurgerco.com (opens in new tab)
Sign up for workout ideas, training advice, the latest gear and more.
Thank you for signing up to Coach. You will receive a verification email shortly.
There was a problem. Please refresh the page and try again.