Rescue Your Valentine's Day By Rustling Up This Easy Recipe
By Nick Harris-Fry published
Caught short this Valentine's? Let the 60 Second Chef help you out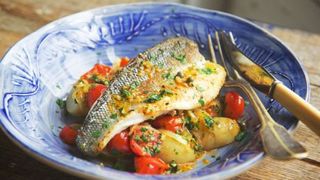 (Image credit: Unknown)
Sometimes plans fall through at the last minute. Sometimes you only remember that you never actually bothered to make plans when it's too late to do so. Either way, if you have a date lined up for Valentine's Day and no idea what you're actually going to do, Coach can save the day.
Home-cooked meals are always a great way to impress (especially when it's too late to book a table at a restaurant) and this sea bass recipe from Patrick Drake, aka the 60 Second Chef (the60secondchef.com (opens in new tab)), ticks every box – it's tasty, involves fancy words like caponata that make you look like a pro, and is simple to follow.
RECOMMENDED: Learn to Cook Online with the 60 Second Chef Patrick Drake
Best of all, it only takes 60 seconds to learn how to cook the recipe thanks to Drake's brilliantly helpful video. So gather your ingredients, fire up the hob and get ready to shine this Valentine's.
Pan-Fried Sea Bass With Cherry Tomato Caponata Recipe
Ingredients
300g new potatoes, halved
1 punnet cherry tomatoes, halved
1 clove garlic, peeled, crushed and finely chopped
1tbsp white wine vinegar
1tsp honey
½tbsp capers
3tbsp fresh parsley, finely chopped
2 fillets sea bass
1tsp butter
½ a lemon
Large handful of rocket
Olive oil
Directions
Boil the halved new potatoes for around eight minutes.
Heat 1tbsp olive oil on a medium-high heat, then cook the tomatoes for around four minutes. Then stir in the garlic, white wine vinegar, honey, capers, parsley and a pinch of salt. Once you've got a chunky caponata, tip it onto the drained potatoes.
Heat 1tsp olive oil on high heat and add the sea bass to the pan, skin side down. Cook for three minutes, then turn over and cook for another minute. Add the butter and a good squeeze of lemon juice, coating the fish, then turn off the heat.
Gently mix the rocket into the caponata and spoon a portion onto your plate. Top with the sea bass and any juices from the frying pan.
Sprinkle over a little more parsley and congratulate yourself on a job well done.
RECOMMENDED: How to Cook Pan-Roasted Salmon
Sign up for workout ideas, training advice, the latest gear and more.
Thank you for signing up to Coach. You will receive a verification email shortly.
There was a problem. Please refresh the page and try again.