A Cracking Healthy Breakfast Recipe: Eggs Florentine
By Coach Staff published
Eat eggs with greens for a bigger vitamin E hit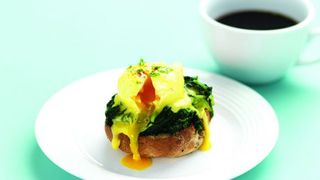 (Image credit: Unknown)
After eight hours of sleep, what you eat for breakfast can have a major impact on your morning. If you like to go to work on an egg or two, then you're already choosing one of the best brekkies there is thanks to their high-quality protein, fats and essential vitamins and minerals.
But there is a way to boost your breakfast even further in the health stakes by throwing in green leaves such as spinach. Research from the University of Purdue in the US found that eating whole eggs with salad leaves can increase the absorption of vitamin E – a powerful antioxidant that minimises the cell-damaging effects of free radicals – by up to seven times. Try this eggs Florentine recipe to keep you full until lunch and make your body fitter and healthier.
How To Make Eggs Florentine
Poached eggs make for a tasty, protein-rich breakfast, but sticking them on toast or with a slice of bacon all the time isn't the most inspiring meal. This straightforward eggs Florentine recipe will allow you to add a lot of flavour-packed ingredients to your dish – and it takes just a few minutes, so you can have it even when you're in a rush.
Ingredients
1 wholemeal muffin
1 medium egg
2tbsp hollandaise sauce (shop bought)
A handful of spinach
1tbsp olive oil
A pinch of salt
4tbsp white wine vinegar
A pinch of cayenne pepper
1tsp fresh chives, diced
To make
Bring a pan of water to the boil and add the salt and white wine vinegar.
Crack the egg into the pan and let it simmer for three minutes.
While the egg is cooking, slice and lightly toast the muffin, heat the hollandaise sauce in a pan over a low heat until warmed through and cook the spinach in a pan with the olive oil for two minutes on a low heat.
Remove the egg with a slotted spoon and serve with the muffin, sauce and spinach.
Garnish with the chives and pepper.
RECOMMENDED: More Healthy Breakfasts Worth Getting Up For
Coach is the place to come for all your health, fitness, and personal wellness needs.
Sign up for workout ideas, training advice, the latest gear and more.
Thank you for signing up to Coach. You will receive a verification email shortly.
There was a problem. Please refresh the page and try again.