How To Cook Pan-Roasted Salmon
By Coach Staff published
Increase your intake of this healthy fish by cooking it like a pro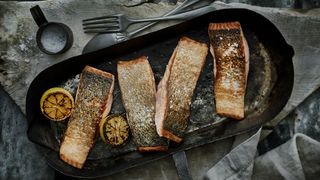 (Image credit: Unknown)
Photograph: Jean Cazals
Wild salmon is one of the best sources of protein and essential fatty acids to help you build a better body. But if you can't cook it, you won't eat it. The biggest mistake people make when using a hob is not letting the pan get hot enough before adding the fish. If it isn't blazing hot, the fish will stick to it and fall apart when you try to flip it. So open a window, turn up the extractor fan, and wait for the oil to smoke. Use a pan with a dark, non-stick surface: cast iron, black steel or Teflon all work. Finally, leave the fish alone until it releases from the pan on its own, rather than trying to scrape it up and flip it just because the timer's gone off.
Ingredients
4 x 170g skin−on salmon fillets. High in both protein and omega 3 fats
2tbsp rapeseed oil. A good source of polyunsaturated fats for a healthy heart
½ a lemon. High in vitamin C, it also brings out the fish's best flavours
Coarse sea salt. A good pinch of coarse sea salt will further enhance the flavour
Freshly ground black pepper. As well as seasoning, black pepper is high in vitamin K and iron
Instructions
Preheat the oven to 180°C/gas mark 4.
Heat the oil in a large, ovenproof frying pan over a medium-high heat. Dry off the salmon fillets between sheets of kitchen paper and season them with salt (never add pepper at this stage because it burns).
Once the pan is piping hot and the oil has begun to smoke, add the salmon skin-side down. Press gently on the fillets with a spatula to ensure that the skin is in full contact with the pan and cook without touching it for about five minutes until the skin is golden and crisp.
Transfer the pan to the oven and roast the salmon for four to five minutes until the flesh is opaque. (The exact timing will depend on the thickness of the fillets: if you want to be certain, use an oven thermometer to check it – it should be 52°C in the centre.) Remove the pan from the oven, quickly turn over the salmon and spoon the cooking oil over the top a couple of times. Divide the fillets among four plates. Season with a little salt, a grind of pepper and a squeeze of lemon and serve.
Taken from Cooking, Blokes & Artichokes by Brendan Collins (£20, Kyle Books). Buy on amazon.co.uk (opens in new tab)
Coach is the place to come for all your health, fitness, and personal wellness needs.
Sign up for workout ideas, training advice, the latest gear and more.
Thank you for signing up to Coach. You will receive a verification email shortly.
There was a problem. Please refresh the page and try again.