Homemade chicken burger recipe
By Coach Staff published
Indulge yourself and still get ripped with this fast-food inspired menu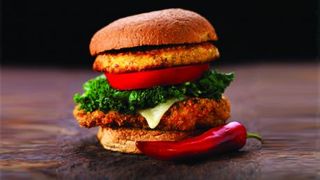 (Image credit: Unknown)
Cheat days are a crucial tool in the fight against fat, allowing you to pig out and reward yourself for sticking to your healthy eating plan while topping up your willpower reserves. But don't be concerned about undoing any of your hard work, because enjoying extravagant food doesn't have to mean falling off the wagon completely. The meals in this plan are all gloriously indulgent but they're still much better for you than anything you might buy in a high-street fast-food outlet thanks to their muscle-building and fat loss-boosting ingredients. Get stuck in.
Breakfast
Pancakes with honey and blueberries provide metabolism-boosting iron and bone-strengthening vitamin K.
Lunch
A bacon and egg sandwich is a great source of energy-boosting zinc and B vitamins.
Snacks
Dark chocolate and popcorn contain heart-healthy flavonoids and filling fibre.
Dinner
Spicy chicken burger with sweet potato rösti
Ingredients (serves 1)
1 chicken breast, butterflied / 1tbsp wholemeal flour / 1 egg / 2 handfuls breadcrumbs / 1tsp chilli flakes / 50ml rapeseed oil / ½ a sweet potato, peeled and grated / 1tbsp cornflour / Salt and pepper / 25g unsalted butter / 1 wholemeal bun / 1tsp tomato ketchup / 1 slice cheddar cheese / 1 slice tomato / Handful of kale, cooked
To make
Whisk the egg. Dust the chicken with flour and then dip it in the egg.
Mix the breadcrumbs and chilli flakes in a shallow dish. Press the chicken into the breadcrumb mix to coat it on both sides.
Fry the chicken in the rapeseed oil over a medium heat for four minutes each side until it's cooked through and the breadcrumbs are golden brown.
To make the rösti, mix the grated sweet potato and cornflour in a bowl and season.
Heat the butter in a frying pan and add the potato mixture, pressing down to make an even surface. Fry for two minutes or until golden, then turn and fry for a further two minutes.
Place in an oven heated to 190˚C/gas mark 5. Cook for five minutes.
Cut the bun in half and spread the tomato ketchup on the inside of the top slice. Add the chicken, cheese, tomato, kale and rösti.
Coach is the place to come for all your health, fitness, and personal wellness needs.
Sign up for workout ideas, training advice, the latest gear and more.
Thank you for signing up to Coach. You will receive a verification email shortly.
There was a problem. Please refresh the page and try again.