Movember cookbook recipes
By Max Anderton published
The dandy gents over at Movember have compiled some of their favourite manly recipes, here are a few that won't destroy your waistline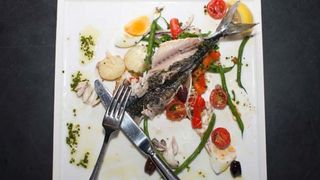 (Image credit: Unknown)
Grilled mackerel, nicoise salad, lemon (pictured above)
Oily fish such as mackerel, sardines, fresh tuna and salmon are easy to prepare and high in omega 3, an essential fatty acid.
Ingredients
2 red peppers / 200g new potatoes / 200g green beans / 3 eggs / 1 punnet red cherry tomatoes, cut into quarters / 2 shallots, peeled and sliced / 80g pitted Kalamata olives / ¼ bunch of parsley, chopped / zest of 1 lemon / 4 mackerel, butterflied (by the fishmonger if you don't know how) / salt and pepper / olive oil for frying. For the dressing: juice of 2 lemons / 80ml olive oil / 1tbsp Dijon mustard / a bunch of chives, chopped
To make
Preheat the oven to 220˚C/gas mark 7.
Place the red peppers in the oven and roast until the skin blisters. Remove the peppers from the oven, cover with cling film and allow to sweat. Once cooled, the skin should peel off easily. Remove the seeds, slice and set aside.
Cook the new potatoes in boiling water until tender. Cool, cut into quarters and set aside. Blanch the green beans in salted boiling water for one minute or until al dente, then cool in iced water, drain and set aside.
Bring a pan of water to the boil, add the eggs and cook for five to six minutes. Place in cold water to cool, then remove their shells, slice into quarters and set aside.
Put the tomatoes, shallots, olives, chopped parsley and lemon zest in a bowl. Add the rest of the salad ingredients, except the eggs, and mix together.
In a separate bowl, mix together all the dressing ingredients and put to one side.
For the mackerel
Put a non-stick pan on a medium heat and add a little olive oil.
Season the mackerel, place in the pan and cook until the skin is golden brown.
Flip over and do the same for the other side. This should take four to five minutes to cook.
To serve
Mix the dressing with the salad and put on a plate.
Place the mackerel on top with the egg wedges as a garnish.
Thai beef salad Serves 6
Ingredients
30g Thai jasmine rice / 50ml kecap manis sweet soy sauce / 300g beef sirloin / 2 spring onions, finely sliced / 300g Chinese leaves, finely sliced / 20g coriander leaves / 20g mint leaves / 2 shallots, finely sliced / 1 long red chilli, deseeded and sliced. For the dressing: 100ml lime juice / 10g chilli powder / 50ml fish sauce / 3 bird's eye chillies, finely sliced / 60ml sweet chilli sauce
To make
Heat a dry frying pan, add the rice and toss until golden brown. Place the rice in a pestle and mortar or blender and pound or blitz until it is a fine powder (you can make a large batch and keep in an airtight container for weeks).
Combine all the ingredients for the dressing and mix well. It should be hot, sour, salty and slightly sweet. Set aside until serving.
Toss all the salad ingredients together in a bowl and set aside until serving. (Do not dress the salad until serving).
Rub the soy sauce all over the beef and marinate for ten minutes. Heat a griddle pan until hot, then cook the beef for two and a half minutes each side for rare, four minutes each side for medium. Transfer to a board and rest for five minutes.
To serve
Slice the beef across the grain into thin slices and toss with the salad, adding any juices.
Add the dressing and toss thoroughly, and arrange the salad on a large serving plate.
Sprinkle the roasted rice powder over the top for extra crunch.
Serve immediately.
Spicy tomato and red pepper soup, seared prawns, olive oil and chives Serves 4
Ingredients
3 red peppers, halved / 4 plum tomatoes / olive oil / 2 small red onions, peeled and chopped / 2 garlic cloves, peeled and chopped / 1 tablespoon ground cumin / 2 teaspoons paprika / 1 large potato, peeled and chopped / 2 x 400g cans chopped tomatoes / 500ml vegetable stock / salt and pepper / 12 Saudi (or large) prawns / 1 red chilli, deseeded and chopped / ½ bunch of chives, finely chopped / 150g crème fraîche / fresh pesto (optional)
To make
Preheat the oven to 220˚C/gas mark 7.
Put the peppers and plum tomatoes on a roasting tray and drizzle with 2tbsp olive oil. Roast in the oven until slightly charred and softened.
Meanwhile, in a large saucepan, cook the onions and garlic in 2tbsp olive oil until softened. Add the cumin and paprika, and cook until the aromas start to come out.
Add the potato, tinned tomatoes, stock and roasted tomatoes, and cook on a low heat for about 45 minutes.
Transfer to a blender and whizz (you may need to do this in batches), then pass through a sieve to remove any bits. The soup should be nice and fragrant with a touch of sweetness.
Season to taste.
To serve
In a separate frying pan, sear the prawns in a little oil, chilli and seasoning until they are just cooked.
Mix the chives into the crème fraîche.
Pour the soup into warm bowls.
Gently place the prawns on the soup so they don't sink, and garnish with the crème fraîche, a drizzle of olive oil and fresh pesto.
Cook Like a Man was released on 24th October 2013, priced £9.99, with all royalties from sales of the book going to Movember, which raises funds for men's health, focusing on prostate cancer, testicular cancer and men's mental health. Available from all good bookshops. For more information on Movember and Cook Like A Man visit movember.com (opens in new tab)
Max was the head of digital content for Men's Fitness which worked alongside Coach between 2015 and 2019.
Sign up for workout ideas, training advice, the latest gear and more.
Thank you for signing up to Coach. You will receive a verification email shortly.
There was a problem. Please refresh the page and try again.