Healthy Indian recipes
By Coach Staff published
Indian recipes that are full of flavour and healthy ingredients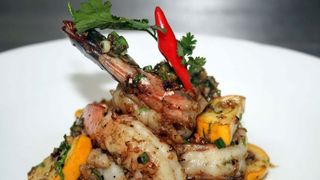 (Image credit: Unknown)
Prawns in garlic pepper butter (pictured above)
18 prawns, 4 garlic cloves, 5g butter, 5g chopped ginger, 5g chilli flakes, 5g crushed black peppercorns, 5ml oyster sauce, 3g garam masala powder, 3g chopped coriander, 5ml rapeseed oil, juice of 1 lemon
To make
Clean the prawns by slitting and taking out the vein. Wash and pat dry.
Lightly fry the prawns until cooked.
Put a small splash of oil and the butter in a non-stick pan and sauté the garlic and ginger.
Add the chilli flakes and crushed peppercorns.
Add 20-25ml water and the oyster sauce and bring to a boil.
Add the garam masala and chopped coriander.
Toss the fried prawns in the sauce until they're evenly coated.
Finish with lemon juice and serve hot, garnished with a coriander sprig.
Why eat it?
Prawns are naturally very low in fat, while being rich in zinc, iron, omega 3 fatty acids, vitamin B12 and vitamin E. They can also reduce LDL (or 'bad') cholesterol and maintain healthy skin, teeth and bones. Garam masala (a blend of traditional south Asian spices, usually containing cumin, black pepper, cardamom, cinnamon, cloves) has been shown to slow the ageing process while promoting weight loss.
Tandoori champein Serves 6
Ingredients
2kg goat chops, 35g brown onion paste, 100g raw papaya paste, 15g red chilli powder, 15g garam masala, 75g mustard oil, 100g hung curd, 50g ginger garlic paste, 40g roasted chana powder, 3g chat masala, 2g kasoori methi, 50g butter, salt (to season)
To make
Clean the goat chops, rub them in salt and place in a colander to remove excess water.
Combine the brown onion and raw papaya pastes. Mix this with the goat chops and put to one side.
Make a marinade using the remaining ingredients except the butter and use it to marinate the goat chops.
Skewer and cook in the oven (180˚C/gas mark 4) for 45 minutes, basting with butter every ten minutes.
Serve hot with brown rice.
Why eat it?
Goat isn't commonly eaten in the UK, but it's the perfect red meat alternative and tasty to boot. It's leaner than most other meats with only 2.6g of fat per 85g of meat – even lower than chicken – and only 122 calories. It's also packed with protein and iron. Chilli and ginger have many health benefits such as reducing LDL cholesterol and boosting the immune system. They're also rich in antioxidants and vitamin C. Brown rice is much higher in fibre than white.
Recipes are courtesy of Sanjay Kaul, head chef at Chor Bizarre. Located in the heart of Mayfair, iconic and fine-dining restaurant Chor Bizarre is famous for its mouthwatering and traditional Kashmiri dishes as well as its stunning interiors inspired by an Aladdin's cave or thieves' market. For more info visit chorbizarre.com (opens in new tab).
Coach is the place to come for all your health, fitness, and personal wellness needs.
Sign up for workout ideas, training advice, the latest gear and more.
Thank you for signing up to Coach. You will receive a verification email shortly.
There was a problem. Please refresh the page and try again.