Muscle-building prawn curry recipe
By Coach Staff published
Cook up this spicy muscle-building dish by following this simple recipe.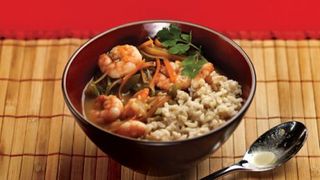 (Image credit: unknown)
Curries may have long since overtaken fish and chips as Britain's favourite takeaway but that shouldn't stop you making your own at home, especially when they can be this healthy, tasty and easy to cook. Alessandro Verdenelli, head chef and restaurant manager at KX (opens in new tab) in London, explains how to make a delicious prawn curry that will help you lose weight and build muscle.
Ingredients
- 15 fresh prawns without skin
- 2 small onions, chopped
- 2 carrots, chopped
- 1-2 medium green peppers, chopped
- 2 fresh tomatoes, chopped
- 1tbsp olive oil
- 1 clove garlic, sliced
- ½ lemongrass stick
- 1 small piece of ginger, grated
- 2 green chillies, de-seeded and sliced
- 1tbsp medium curry powder
- ½tsp ground turmeric
- 6-7 leaves fresh coriander
- oyster sauce
- ½tsp cayenne pepper
- vegetable stock
- 100ml coconut milk
- 250g brown rice
To make
Heat the olive oil in a pan, add the onions and carrots and cook gently for five minutes.
Add the tomatoes, green peppers, ginger, garlic, cayenne pepper and chillies and mix.
Add the oyster sauce, stock, curry powder, turmeric and coconut milk.
Simmer for 12-15 minutes to allow the sauce to thicken.
Cook the rice according to the instructions, drain and reserve the water.
Use the rice water to blanch the prawns (with added lemongrass) for three to four minutes.
Add the prawns and coriander to the sauce and serve.
For more healthy recipes get Men's Fitness. Subscribe now and we'll give you five issues for £5 (opens in new tab).
Why curry?
Many curries contain coconut milk, which has healthy fats and also provides lauric acid, which helps to promote cardiovascular health. Chillies are another reason curry is healthy – they contain capsaicin, which can speed up your metabolic rate and aid fat loss, and vitamin A, which boosts the immune system.
Coach is the place to come for all your health, fitness, and personal wellness needs.
Sign up for workout ideas, training advice, the latest gear and more.
Thank you for signing up to Coach. You will receive a verification email shortly.
There was a problem. Please refresh the page and try again.