Sales Of Viagra Connect Rocketed Last Valentine's Day
By Jonathan Shannon published
Here's what you need to know about the over-the-counter erectile dysfunction medication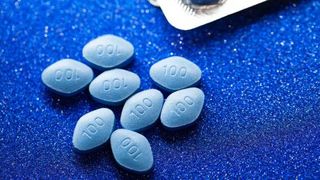 (Image credit: Unknown)
Valentine's Day comes with plenty of pressures, like getting the right gift and this year, getting the right gift delivered on time. Or deciding if you should cook, and then what to cook, and then not messing up an unnecessarily overcomplicated recipe worthy of Masterchef. And if you're one of the many men who experiences erectile dysfunction, that extra pressure may be the last thing you need.
Thankfully, help is at hand. Over-the-counter medications like Viagra Connect are readily available after a consultation with a pharmacist; in fact, LloydsPharmacy reported "an astonishing uplift" (their words, not ours) in sales of Viagra Connect (opens in new tab) the Friday before Valentine's Day last year. Viagra Connect is not the only option, either – with the generic drug the most famous blue-pill brand uses, sildenafil, is available in more affordable options like LloydsPharmacy's own Aronix (opens in new tab).
We asked LloydsPharmacy pharmacist Anshu Kaura for more information on who sildenafil-based treatments are suitable for and the process of buying it.
Who should use it and to treat what symptoms?
If you're regularly unable to get or keep an erection that is firm enough to have sex, Viagra Connect is an effective, safe solution. Occasional erectile dysfunction isn't uncommon and can be due to issues like stress, alcohol, recreational drug use or tiredness. To help decipher whether you are having problems with erections that need treating, use this free online tool from LloydsPharmacy (opens in new tab).
Men seeking to buy Viagra Connect at LloydsPharmacy must be over 18 years old and be experiencing issues with getting and maintaining an erection during sexual intercourse. Some medications may interact with Viagra Connect and men with certain health problems related to the cardiovascular system are not suitable for the medication. Therefore it is extremely important to seek professional advice from a pharmacist before taking Viagra Connect.
Can I get hold of Viagra Connect without having to go into a pharmacy?
If you are looking to try Viagra Connect you can complete a private consultation online or over the phone, or arrange an appointment in store to talk to a pharmacist in a private consultation room. If the pharmacist thinks Viagra Connect is the right solution for you then the medicine can be bought in store or online and then delivered using a discreet home delivery service.
See related
If I buy Viagra Connect over the counter, will everyone in the pharmacy know?
LloydsPharmacy has taken away the embarrassment factor when it comes to buying Viagra Connect over the counter. To purchase the medicine, customers can simply pick up a card off the shelf to hand over – they don't even need to ask for the product by name. From there, the pharmacist will initiate a brief and private discussion to determine whether the treatment is safe for the patient to take before Viagra Connect is dispensed. They will also offer advice on taking the medication and managing erectile dysfunction.
Jonathan Shannon has been the editor of the Coach website since 2016, developing a wide-ranging experience of health and fitness. Jonathan took up running while editing Coach and has run a sub-40min 10K and 1hr 28min half marathon. His next ambition is to complete a marathon. He's an advocate of cycling to work and is Coach's e-bike reviewer, and not just because he lives up a bit of a hill. He also reviews fitness trackers and other workout gear.
Sign up for workout ideas, training advice, the latest gear and more.
Thank you for signing up to Coach. You will receive a verification email shortly.
There was a problem. Please refresh the page and try again.