Use Macmillan's Support Service To Get Accurate Information About A Cancer Diagnosis
By Nick Harris-Fry published
The internet can be a great resource for those living with cancer, but only if you look in the right places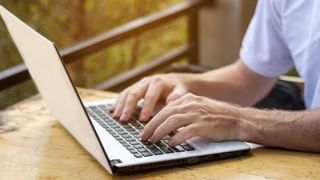 (Image credit: Unknown)
If you or someone close to you have been diagnosed with cancer then it's only natural to want to get as much information about the diagnosis as possible. The internet can be incredibly helpful on that front but it can also be incredibly unhelpful, because there is plenty of unreliable information out there.
Research released by Macmillan – a charity that fundraises, researches treatments and provides practical support for those dealing with cancer – has found that 250,000 people with cancer in the UK have been left feeling anxious, depressed or confused after searching for information about their diagnosis online. More than 50,000 people thought they were going to die after an online search and similar numbers found bogus cures.
In short, you need to go to a trusted source if you're going to research your diagnosis on the internet. Macmillan has launched a support service (opens in new tab) that is tailored to you and your diagnosis. Once you've signed up to this service you'll receive information that will help you cope with the impact cancer can have on your life.
See related
The service provides information about the cancer you've been diagnosed with, including any possible side effects of treatment. It also covers the financial side of things, with information about benefits you might be entitled to, and will help you approach the task of discussing your condition with family, friends and colleagues.
Macmillan has other options for those looking for support with their diagnosis too. You can call the Macmillan Support Line on 0808 808 00 00, which is open every day from 8am to 8pm. There is also a support community on the Macmillan website (opens in new tab), plus information about local support groups (opens in new tab) if you'd prefer to speak to someone in person.
The key thing to know is that there is support and helpful information available, and if you go direct to a reliable source like Macmillan you can avoid causing yourself unnecessary stress.
Sign up for workout ideas, training advice, the latest gear and more.
Thank you for signing up to Coach. You will receive a verification email shortly.
There was a problem. Please refresh the page and try again.