Lose Weight By Changing The Way You Think
By Nick Harris-Fry published
Weight-loss app OurPath uses cognitive behavioural therapy to help people make long-term lifestyle changes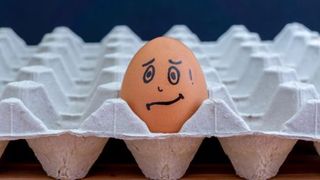 (Image credit: Unknown)
Losing weight isn't easy. No matter how motivated you are to do it and how much support you have around you, it still takes time to make the changes to your lifestyle that will help you maintain a healthy weight in the long term.
It often requires changing your mindset and even your emotional relationship to food, which is where cognitive behavioural therapy (CBT) can help. Weight-loss app OurPath uses CBT in its programme, which is geared to creating sustainable lifestyle changes. We asked OurPath founder Mike Gibbs how CBT can help people lose weight.
What are the principles of CBT and how can it help you lose weight?
CBT is a type of therapy that focuses on stopping negative thought cycles and changing behaviours in a positive way. Unlike other styles of therapy, CBT doesn't focus on the past, but concentrates on the current issues at hand.
CBT aims to help people cope with overwhelming problems in a more manageable way by breaking them down into smaller parts. This type of therapy can come in several formats, such as individual sessions, group sessions, self-help books and self-guided apps.
CBT has been shown to aid with weight loss, even though this isn't the primary goal of the therapy. CBT helps to address certain obstacles that make weight loss difficult and addresses behaviours around food, rather than the food itself. For example, it's highly effective in treating binge eating disorder, emotional eating and food-specific self-sabotaging behaviours.
See related
What is the evidence like supporting the effectiveness of CBT?
The evidence supporting the effectiveness of CBT is quite strong. It's especially effective in regard to individuals with binge eating disorder or binge eating behaviours, but CBT has also been effective in addressing goal-setting, dealing with stimulus control, self-monitoring and the development of coping strategies for individuals trying to lose weight. Combining CBT with a weight-loss programme has been shown to be 5-10% more effective than traditional dieting alone. That's even though, as mentioned before, CBT itself does not promote weight loss, but helps individuals reach their goals through a shift in mindset.
In a trial investigating the efficacy of adding CBT to traditional behavioural weight loss compared with only behavioural weight loss for obese patients with binge eating disorder, subjects whose treatment included CBT saw a greater reduction in binges and also achieved a larger BMI loss after a year, indicating its effectiveness in both the short and long term.
Does CBT work for everyone?
Unfortunately, there is no one-size-fits-all approach to weight loss, especially in regard to the use of psychological approaches. Multiple factors go into making a behaviour change modification, such as willingness or motivation to change and external environments. But the evidence indicated that combining a traditional behavioural weight loss with CBT may lead to increased success compared with dieting alone.
How does the OurPath app work?
The OurPath programme is all delivered through an app and its key focus is to help people make sustainable lifestyle changes by creating a holistic approach to behaviour change. Through daily learning articles, the app addresses multiple aspects that can influence your lifestyle, including nutrition, exercise, mental wellbeing, sleep and stress.
You will be paired with a qualified nutritionist or dietitian who will help to coach you towards your goals, and you will also be placed in a digital peer support group with up to ten other members to share the journey with. You chat to both your group members and your health coach via the app. There is also a strong emphasis on individual goal-setting and self-monitoring – tracking weight, physical activity and food intake – all of which are done through the app.
What makes OurPath stand out compared to other weight loss apps?
We are evidence-based and proud to be the first online behavioural change programme to be commissioned by the NHS [OurPath is one provider of the Healthier You: NHS Diabetes Prevention Programme]. We draw on the latest scientific research in nutrition and behavioural psychology to make change as easy and sustainable as possible.
Compared with other weight-loss apps, there is a strong focus on education, empowerment and self-belief. We believe in providing people with the knowledge, skills and confidence to set their own goals and create lasting healthy habits. While most other weight-loss plans will only focus on one aspect of lifestyle change, we take a holistic approach and address your thought patterns, behaviours, sleep and stress levels, as well as diet and exercise. Weight loss and lifestyle change can often be challenging, which is why we provide access to a qualified nutrition professional and a peer support group.
Finally, we know our programme works. With an 85% completion rate, people using the programme achieved an average 8.2% weight loss at six months, which is equivalent to a 50% reduction in their risk of developing type 2 diabetes.
OurPath (opens in new tab) offers 12-week weight-loss programmes starting at £30 a month
Sign up for workout ideas, training advice, the latest gear and more.
Thank you for signing up to Coach. You will receive a verification email shortly.
There was a problem. Please refresh the page and try again.