New Campaign Will Provide Mental Health First Aid Training To Sports Coaches
By Nick Harris-Fry published
The #21by21 campaign will train 21,000 coaches to help young people and their mental health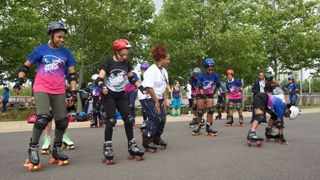 (Image credit: Unknown)
While the primary role of a coach is to improve sporting performance, they usually do far more than that for the athletes they work with, especially when they're working with young people. It's important for coaches to be trusted role models who support youngsters in all kinds of ways to help them develop both physically and emotionally.
Recognising this, the Sport for Development Coalition is co-ordinating a new campaign called #21by21 (opens in new tab), which aims to provide 21,000 community sports coaches and volunteers with mental health awareness training by 2021, so they are better able to support the young athletes they work with.
The campaign launches today, 13th May, with the support of more than 200 organisations and 40 national and regional sports agencies, including UK Coaching, the Premier League, the Rugby Football Union and the mental health charity Mind.
The Dame Kelly Holmes Trust, which supports young athletes in disadvantaged communities, is also supporting the campaign.
"I know from personal experience that sport has the power to support young people to develop emotionally as well as physically," says Holmes. "It builds self-esteem, confidence and often lifelong friendships. Making sure that everyone delivering sport for young people can spot signs of mental ill health and provide appropriate help when it's needed adds to its benefit."
See related
A new report, "Sport For Better Mental Health", published by youth charity StreetGames in partnership with Brunel University London, highlights the roles that coaches can play in supporting young people.
The report found that 43% of the 14- to 24-year-olds it surveyed said they would turn to their coach for emotional support and advice, and 20% would confide in a coach about something that was worrying them.
Those living in households with an annual income of £20,000 or less were even more likely to confide in their coach than those from more affluent backgrounds, which is particularly important because disadvantaged teenagers are three times more likely to suffer from mental health problems than those from more privileged families.
However, many of those surveyed said it was far harder to discuss mental health problems than physical ones, and the older the person the harder they found it to open up. Part of the training provided to coaches through the #21by21 campaign will help coaches encourage their athletes to talk about any mental health problems they might be suffering with.
"Coaches across the country tell us that they regularly see signs of mental ill health in their sports projects – young people experiencing depression, anxiety, alienation, and sadly sometimes self-harm and suicide," says Jane Ashworth, chief executive of StreetGames. "They say that they want to help but feel ill-equipped, not knowing what to say or how to direct youngsters to appropriate specialist support.
"Our aim is to make Mental Health First Aid training for youth sport coaches and volunteers across the UK as commonplace as physical first aid."
Coaches looking to get involved in the campaign can head to the #21by21 website to find a mental health first aid training provider near them. Employers can help the campaign while also getting mental health training for their staff through the Buy One Give One initiative. By paying for training for their staff, employers also fund mental health training for coaches working with disadvantaged young people.
For more on this initiative, visit the Street Games website (opens in new tab) or call 0161 707 0782.
Sign up for workout ideas, training advice, the latest gear and more.
Thank you for signing up to Coach. You will receive a verification email shortly.
There was a problem. Please refresh the page and try again.