The Best Sun Creams And What To Look For When Buying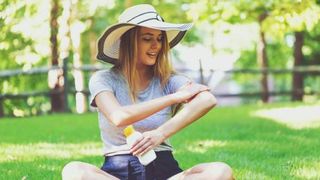 (Image credit: Unknown)
The sun has got his hat on, hip-hip-hip-hooray! A lovely, jaunty song, but one that does absolutely nothing to make people aware of the risks of the sun's rays. To be fair, sunburn and skin cancer are tricky to fit into a rhyme scheme.
Fortunately, most of us already know that there is some risk to our skin when going out in the sunshine, so we cover up with a hat and long sleeves, avoid going out between 11am and 3pm when the sun's UV rays are the strongest, and regularly(-ish) apply sun cream. But how do you choose between the many different sun creams available? By using the explainer below and sticking to our picks of the best sunscreens, lotions and blocks available, that's how.
The Best Sun Creams
(opens in new tab)
Garnier Ambre Solaire Dry Mist Sun Cream Spray
Best Spray Sun Cream
This spray manages to pull off the trick of being highly protective against both UVA and UVB rays without being sticky or greasy. The fine mist makes it easy to cover your body from all angles and it's rapidly absorbed by your skin so you'll be protected quicker.
---
(opens in new tab)
Boots Soltan Protect & Moisturise Lotion SPF30
Best Budget Sun Cream
It might be a little greasier than some of the more expensive sun creams, but Soltan has a lot going for it. It offers five-star UVA protection matched up to the SPF of 30, it's cheaper than most other brands and, perhaps most importantly, it's almost always available in airports when you get through security and realise you've forgotten to pack sun cream in your checked luggage.
Buy from Boots (opens in new tab) | £7.50 for 400ml
---
(opens in new tab)
LifeJacket Sun Gel
Best For Exercising Outdoors
We could have called this the best for men, since that's who this sun protection is aimed at, but since Mrs Coach has been helping herself to our sample, we'll say it's unisex. While calling it a gel is a stretch, it rubs in faster than other creams and it doesn't leave any greasy residue. There's a screw-on cap so you can slip it into the rear pocket of a cycling jersey for a reapplication later, safe in the knowledge that that the cap won't pop open and leak. There are also sachets in case you're travelling light, perhaps just with a running belt – just don't get it mixed up with an energy gel. The protection offered is high with SPF 30 or 50 available, and a five-star rating.
Buy from LifeJacket (opens in new tab) | £14 for 100ml
---
(opens in new tab)
Avene Very High Protection Cream SPF50+ Spray
Best Sun Cream For Your Face
When you need the utmost in protection from the sun, reach for this SPF50+ spray. It's easy to apply evenly to help ensure no patches of skin are left uncovered, and despite the high SPF it doesn't feel too thick or oily on the skin.
---
(opens in new tab)
La Roche-Posay Anthelios Anti-Shine Sun Cream Gel SPF50
Best Sun Cream For Acne
If you have acne-prone skin, sun cream can sometimes be a trigger for outbreaks – but not if you go for this gel specifically designed for use on oily and sensitive skin.
---
Green People Scent Free Sun Cream SPF 30
Best Sun Cream For Sensitive Skin
(opens in new tab)
Taking a "best of both worlds" approach, organic brand Green People combines both chemical and physical approaches (which absorbs and emits, or reflects UV radiation, respectively) to achieve good levels of protection, while swerving some of the chemical ingredients which may cause skin irritation in some. Plus, there are no silicones or mineral oils which may cause that prickly heat sensation.
Buy from Green People (opens in new tab) | £25 for 200ml
---
(opens in new tab)
Nivea Sun Kids Roll On
Best Sun Cream For Babies
The gentle formula of this sunscreen means it's suitable for children from the age of six months, and it offers high protection against both UVA and UVB rays. A larger, standard bottle is available, but a roll-on may make application easier – it'll depend on the kid, though.
---
(opens in new tab)
Altruist Dermatologist Sunscreen
Best Sun Cream For Outdoorsy Families
Altruist is a non-profit dedicated to reducing rates of skin cancer by making good-quality sun cream affordable. Both SPF30 and SPF50 are available and both have a five-star UVA rating. Unusually, Altruist sells a one-litre dispenser (opens in new tab) designed to be placed by the entrances of schools and sports clubs, but it's just as useful by your own front door to make frequent application easier. The cream is absorbed quickly, non-sticky, fragrance-free and hypoallergenic, making it suitable for daily use. Perhaps best of all, Altruist supports the charity Under The Same Sun, and will donate 10p for every purchase to help children with albinism in Africa.
---
(opens in new tab)
Lifesystems Mountain SPF50+
Best For Endurance Athletes
If you're training outside for long periods or travelling to compete in an endurance race in hotter climes, reach for this small but mighty sun cream. As well as the high SPF it's got five-star UVA protection and one (proper) application will last you six hours on dry land and 80 minutes in the water. Speaking of the water, it claims to include a jellyfish repellent, which will save you from a sting if you brush past one. And it comes in a small, rounded bottle so you can easily stow it on your person for reapplication if you're out all day on the trails or in the saddle.
---
(opens in new tab)
Hawaiian Tropic Duo Defence Sun Lotion SPF30
Best Sun Cream For Cities
As well as offering excellent protection from both UVA and UVB rays this sun cream has an anti-pollution layer, made from antioxidants and green tea extracts, making it a good pick for those out and about in the city on sunny days.
---
(opens in new tab)
Piz Buin Mountain SPF 50+
Best Sun Cream For High Altitudes
A mistake many first-time skiers and snowboarders make is not using sun cream on the mountain. The sun's rays are stronger at higher altitudes than it is on the beach and with the snow reflecting UV rays back at you as well, any exposed skin will quickly burn.
Piz Buin's Mountain sun cream has a suitably high SPF rating (you can pick from 30 or 50+) and also comes in lip-salve form. The cream also acts as a moisturiser to protect your skin from the windy and cold conditions that are part of the snowsports experience. While the 50ml bottle won't last too long, it's easy to take with you up the mountain and you'll only need to apply lotion to the exposed areas like your face and ears, rather than slathering on full-body protection like you would at the beach. You're not skiing in shorts and a T-shirt are you?
---
(opens in new tab)
Alphanova Sun Organic Sunscreen SPF 50
Best Vegan Sun Cream
Let us tell you that it is very hard to find strong protection from the sun in a vegan sunscreen. In fact, this is the first SPF 50 one we've found that's certified by the Vegan Society. That would be enough for us – but it's also got a decent level of UV protection, gaining the EU's UVA in a circle marking (see below) and is waterproof. There's also a SPF 50 spray for kids.
---
(opens in new tab)
Ren Clean Screen Mineral SPF 30
Best Vegan Sun Cream For Your Face
This physical-barrier sunscreen combines high levels of UVA and UVB protection with a mattifying effect, making it particularly good for people with oily skin. Managing this trick while also sticking to vegan-friendly ingredients goes a long way to justifying that premium price.
Buy from Ren (opens in new tab) | £32 for 50ml
---
How To Choose Sun Cream
To ensure this sun cream advice is the best available, we checked in with the British Association of Dermatologists (opens in new tab) (BAD), Bupa and Well Pharmacy (opens in new tab).
When should you wear sun cream?
The UK is not known for its scorching summers, and even when the sun does have his hat on many of us don't feel the need to slap on sunscreen if it doesn't feel all that hot outside. This, however, can be a costly mistake.
"UV rays from the sun cause sunburn, but you can't actually feel them hitting your skin," says Dr Petra Simic from Bupa UK (opens in new tab). "The heat you feel from the sun is caused by infrared rays, which are different to UV rays and don't cause the skin to burn.
"It doesn't have to be hot and sunny for the UV index to reach burning point – you can burn on a cool and cloudy day, even in the UK."
You can use the UV Index (opens in new tab) to monitor whether you're likely to burn outside, even if you don't feel the heat from a bright sun. This is especially useful for those prone to burning.
"You need to protect your skin as soon as the sun's UV Index reaches your individual burning point," says Simic. "This burning point can be as low as UV Index 3 for those with light-coloured skin. Use Bupa's guide to identify your skin type (opens in new tab) and establish when you need to take the necessary precautions to stop any skin damage."
What does the SPF rating mean?
It stands for sun protection factor, and it provides the simplest measure of how good a cream is in protecting against sunburn. The SPF rating only refers to how well the sun cream protects against UVB rays, not UVA (we'll explain in a second). The SPF rating runs from two to 50+, with anything up to 14 counting as low protection, 15 to 29 medium, 30 to 50 high and 50+ very high. The BAD recommends an SPF of 30 as a minimum.
What's the difference between UVA and UVB rays?
The easy way to remember the difference is to think of the B in UVB as standing for burn (although it doesn't stand for that), because UVB rays are the ones responsible for sunburn and raising the risk of skin cancer. UVA rays aren't harmless, however – they lead to sun-induced skin ageing, so let's say the A in them stands for ageing (it doesn't). As mentioned above, the SPF rating refers to the amount of protection from UVB rays a product offers, while the UVA star system indicates the protection from UVA. What's the UVA star system? Way ahead of you.
What's the UVA star system?
You'll see a UVA star rating from zero to five on the packing of some sun creams. Do not panic if you don't see it on there. The system was developed and is owned by Boots. Just because the star system isn't on there doesn't mean there's no protection against UVA rays – but we'll come on to that.
But back to the star rating – and pay attention because this is where it gets a bit tricky. The rating refers to the UVA protection offered relative to how well the sun cream protects against UVB. So five-star UVA protection might not be all that great if the SPF is very low.
The British Association of Dermatologists suggests an SPF of 30 and a star rating of four out of five is "generally considered as a good standard of sun protection" as long as you pair it with periods spent in the shade and protective clothing. Don't fall into the trap of thinking you can buy five-star factor 50 then ignore the rest of the advice. You can't, and you need to keep reapplying regularly.
What do the letters UVA in a circle mean?
This is a European Union marking. The EU Recommendation is that all sun creams should have UVA protection that is at least a third of the SPF. If a sun cream meets that minimum it can whack that logo on the packaging. That level of protection is equivalent to three stars in Boots' rating system, but remember that the actual UVA protection could be higher, although there's no easy way for you to assess that.
What ingredients should I look out for?
There are two main types of sun cream. Chemical sunscreens absorb the UV radiation and expel it as infrared, while physical sunscreens contain titanium dioxide or zinc oxide to reflect the UV radiation away. Both are effective, but chemical sunscreens are thinner and so easier to apply, while physical sunscreens don't block your pores so much, which can help avoid the spots that are a common, unfortunate side effect of using sun cream.
Can you rely on a water-resistant sunscreen after swimming?
If a sun cream says it is water resistant you can be sure it is – products bearing that label are tested with two 20-minute-long intervals of moderate activity in water. However, these products are not towel-resistant, so if you rub yourself down after being in the water you'll need to reapply your sun cream.
Are once-a-day sun creams effective?
Some sun creams offer over eight hours of protection from one application, and if you absolutely nail that initial application and then stand completely still for eight hours the chances are you will be protected from the sun for the duration. However, most of us apply sun cream poorly and then move around, rubbing or sweating the cream off. It's best to reapply frequently to be safe, no matter what claims are made on the bottle.
What should I look for in sun cream for babies and children?
First things first, know the limits of sun cream. "Any child under six months should be kept out of the sun altogether," says pharmacist Wendy Lee from Well Pharmacy. And once they are older then that? "Do not rely on sunscreen alone to protect yourself from the sun. Wear suitable clothing and sunglasses and spend time in the shade."
"Children have particularly sensitive skin," says Lee, "so make sure they wear SPF 50. Ideally, choose a sun protection with a four- or five-star UVA rating to protect children against the sun's UV rays. If your child has sensitive skin because of conditions such as eczema, there are sun creams specially formulated for sensitive skin. It's best to speak to your pharmacist about what they recommend for SPF and UVA protection and to prevent the skin from feeling irritated.
"If you know your little ones are going to be spending the day hopping in and out of the water, whether it be a pool, the sea or a paddling pool in the garden, buy a sun cream that is extra water-resistant. This means they can swim while staying protected. However, don't forget to reapply your sun cream once out of the water."
What about vegan sun creams?
"The main ingredient you need to look for is beeswax," says Lee. "Also check whether it is tested on animals – if it isn't cruelty-free, it isn't vegan. However, just because something is not tested on animals does not mean it does not contain animal products.
"Other ingredients to watch out for are chitin – a polysaccharide which in skincare products can be derived from the exoskeletons of crustaceans, insects and arachnids – collagen, elastin, lanolin, and stearin or stearic acid.
If you are determined not to support animal testing in any form, Lee says, "it's also worth checking the parent company of the brand you are buying from. Just because the brand you're looking at doesn't test on animals, does not mean that the parent company does not.
"Lastly, you can also check to see if your sun protection is 'reef safe'. This means that your sun cream of choice is free from oxybenzone and octinoxate. These are two common UV-blocking chemicals which have been found to cause coral bleaching. If your sun cream does not contain these, then it is a 'reef safe' sunscreen."
Sign up for workout ideas, training advice, the latest gear and more.
Thank you for signing up to Coach. You will receive a verification email shortly.
There was a problem. Please refresh the page and try again.