The Biggest Heart Health Myths For Men
By Nick Harris-Fry last updated
Don't fall foul of these common misperceptions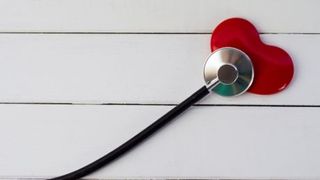 (Image credit: other)
Heart disease is the cause of more than a quarter (26%) of all deaths in the UK each year according to the British Heart Foundation (opens in new tab). And while the risk rises in line with age, it's never too early to make lifestyle changes to protect yourself from ticker-related issues.
Most people probably already have a good idea of what they should be doing to boost their heart health – exercising regularly, not drinking too much, not smoking at all, eating a healthy diet and avoiding stress (as much as possible) – but Dr Luke James, medical director for Bupa Health Clinics, stopped by to let us know about some common myths that have arisen around the subject. And since we love busting myths we're sharing them with you. Take it away, doc.
"I'm Fit And Healthy, So I'll Be OK"
Well done you for being fit and healthy, but you can't judge your risk of heart disease solely by a rippling physique or an impressive half marathon time.
"There's some research that suggests men can inherit a form of heart disease from their fathers via the Y chromosome," says James.
"Although this affects just one in five British men, it's an example of why it's good to know what's happening on the inside and not necessarily just judge your health based on your fitness levels and how you look.
"It's important to know your blood pressure and your cholesterol and have your cardiovascular risk (QRisk) calculated. This is a straightforward test to do so speak to your GP, or pop into one of our clinics."
RECOMMENDED: What Is A Healthy Resting Heart Rate And Why Does It Matter?
"I'm OK Because None Of My Family Has Ever Had Heart Problems"
Bragging about your good genes as you sink your fifth pint of the night and light up your 20th cigarette is, well, not a good approach to heart health. Or health in general.
"We often see patients dismissing the risk of heart disease because there is no family history," say James.
"Genetics play a role, but how you live your life also plays an enormous part in safeguarding against poor heart health further down the line.
"There are plenty of ways people can learn about their own risk, and manage their lifestyles accordingly. A coronary assessment is an obvious option, but even a general health assessment which looks at lifestyle influences is a good place to start. Regular checks on cholesterol levels and blood pressure are also great ways to keep on top of your heart health, whether you have a family history or not."
"A Few Drinks Can't Do That Much Damage"
The government guidelines for alcohol are to drink no more than 14 units a week, and to spread those units over several days. Those guidelines are the same for both men and women, and they're worth following.
"Drinking in moderation is key because excess alcohol can increase your risk of heart problems," says James.
"I know from my own experience that men tend to view the government guidelines on how much you should drink more loosely than women. It's important to understand the long-term damage that excessive drinking can cause."
RECOMMENDED: Five Easy Ways To Cut Down On Drinking Alcohol
And really, stop smoking.
"Smoking is the single biggest reversible risk factor for heart health and health in general. Don't start, or if you currently smoke – stop ASAP!"
"I'll Worry About It Later – It's Something Older Guys Deal With"
It's never too early to make healthy changes to your lifestyle. Or too late. It's basically just a good idea to be healthier, obviously.
"Coronary heart disease is the single most common cause of death for men aged 65 and under – so it's important to get into a good health and fitness routine in your younger years to protect yourself when you're older," says James.
"It's never too late to start. Making some healthy adjustments can help even if you already have a condition affecting your heart."
Bupa offers health assessments that give the  body  a full MOT, including heart health. Prices start at £180. Visit bupa.co.uk (opens in new tab) for more information
Sign up for workout ideas, training advice, the latest gear and more.
Thank you for signing up to Coach. You will receive a verification email shortly.
There was a problem. Please refresh the page and try again.