Answers To All Of Your Very Important Blood Donation Questions For National Blood Week
By Coach Staff published
Yes, it's very important you give blood. Yes, you will get a biscuit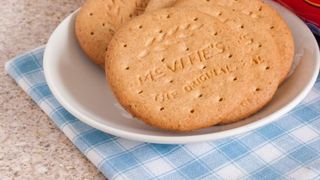 (Image credit: Unknown)
We're pretty sure that not a day goes by when it's not a national week for this or a national day of that. Some are spurious bits of fun that you might as well take part in, while some can and should be safely ignored, but some are very important indeed – like, life-saving important. National Blood Week, which begins Monday and runs until Sunday 25th June, is one of those.
During National Blood Week, NHS Blood and Transplant wants people, especially young and/or black people, to register to donate blood. You can register:
Online at blood.co.uk

(opens in new tab)

By calling 0300 123 23 23
Or through the NHSGiveBlood app (App Store

(opens in new tab)

, Google Play

(opens in new tab)

)
If you're thinking about registering to donate blood but still have some questions, we reckon they'll be included in these seven FAQ. So we asked Katrina Davies, matron for care quality at NHS Blood and Transplant, to provide answers.
How long does giving blood take?
NHS Blood and Transplant aims to ensure that your blood donation journey lasts no more than one hour from your planned arrival time. The donation part itself – the bit where your blood is going into the bag – usually takes between five and ten minutes to complete.
Do you have to travel a long way?
NHS Blood and Transplant has donation centres and a range of local community sessions across the country. You can use the session finder on blood.co.uk (opens in new tab) to find out when and where you can give blood.
Will it hurt?
While there may be some initial discomfort on needle insertion, this should quickly pass and the rest of the donation will be pain-free. In my experience, once donors have completed their first donation, they are comfortable with the blood donation process because they know what to expect.
How do you feel afterwards?
Most people feel absolutely fine after donating blood. In fact, you're likely to feel pretty good about yourself, but we do ask people to take things easy, particularly after their first donation.
To help you stay well after you have given blood, we advise you to:
Keep the pressure dressing on your arm for about 30 minutes after you have given blood, and the plaster on for six hours.
Rest for a short time after giving blood.
Eat and drink – you will be encouraged to have at least two drinks and a snack before you leave.
Avoid using the donation arm to carry anything very heavy for the rest of the day.
Avoid having a hot bath after you have given blood.
Do you get biscuits?
Drinks and snacks are available at the refreshment table once you've completed your donation. It's important to have something to drink and eat after you give blood, and the post-donation biscuits can't be beaten! Around six million biscuits are eaten by donors every year.
Are there any specific groups of people that should come forward?
In the UK, there is a need for 200,000 new donors every year to maintain life-saving blood supplies for people in vital need. And because the country is ethnically diverse, it's important that donors come from diverse backgrounds too.
At the moment, there is a particularly urgent need for 40,000 new black donors to enable the health service to improve the lives of thousands of patients with sickle cell disease across England.
Sickle cell disease is the most common and fastest-growing generic blood disorder in England and in the UK. Blood transfusions can help prevent or relieve these symptoms, and these patients need blood that is closely matched to their own to get the best treatment.
Black donors are also more likely to have blood with the Ro sub-type which is needed by many sickle cell patients. Unfortunately only 1% of current blood donors are black.
If you've been travelling a lot in far-flung places, how can you check if you can give blood?
If you have any questions about your eligibility to give blood after travelling or in general, you should check the Health, (opens in new tab)Eligibility & Travel section on blood.co.uk (opens in new tab) before you book an appointment.
Register to become a donor today. You can do it at blood.co.uk (opens in new tab), call 0300 123 23 23 or use the app (App Store (opens in new tab), Google Play (opens in new tab))
Coach is the place to come for all your health, fitness, and personal wellness needs.
Sign up for workout ideas, training advice, the latest gear and more.
Thank you for signing up to Coach. You will receive a verification email shortly.
There was a problem. Please refresh the page and try again.