Five A Day Good, Ten A Day Even Better
By Nick Harris-Fry published
A new study suggests the benefits get bigger with twice the fruit and veg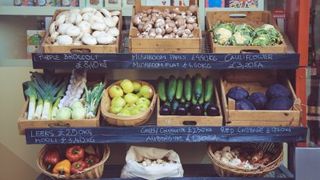 (Image credit: Unknown)
When it comes to fruit and vegetables, it seems that the benefits keep growing the more you eat. A new study suggests that eating ten portions a day cuts the risk of early death and several diseases.
The research, from Imperial College London, pooled data from 95 studies involving two million people and concluded that eating around 800g of fruit and veg a day would prevent 7.8 million premature deaths worldwide every year.
Compared with eating no fruit and veg, eating 800g a day was linked with a 28% reduction in the risk of cardiovascular disease, a 13% reduction in the risk of cancer and a 31% reduction in the overall risk of premature death.
Different items were more effective for different diseases. Lower risks of cancer were linked with green and yellow veg, like spinach and peppers, and cruciferous vegetables like broccoli, while lower risk of heart disease was linked with apples, pears, citrus fruits, salads, green leafy vegetables and cruciferous veg.
This all sounds very desirable, but is it achievable? Dr Dagfinn Aune, one of the researchers behind the study, said that it didn't mean the five-a-day message should be changed. "There are many different considerations if changing policy," Aune pointed out. "It's not just the health effects – is it feasible?"
"Our findings are quite clear in that they do support five-a-day, but there are even some further benefits for higher intakes."
Public Health England also responded to the study by backing the five-a-day recommendation, and suggesting that shooting for ten might backfire in creating unrealistic expectations and pressure on people.
RECOMMENDED: How to Get Started with a Plant-Based Diet
When James Young tried a nine portions a day diet for four weeks for us the going was tough and the results weren't great (although it didn't help that he drank like a fish throughout).
It's also important to note that the study also showed significant benefits to eating just 200g of fruit and veg a day, or around 2.5 portions.
Compared to eating no fruit and veg, 200g a day reduced the risk of cardiovascular disease by 13%, cancer 4% and premature death by 15%.
The message to take away is not to despair if you can't imagine eating 800g of fruit and veg a day – it's still a good idea to try to increase the amount you are eating. To help you with that, here's five tips for eating more fruit and veg.
1. Max out your meal deal
Ditch the crisps and Coke, opt for carrot sticks or fruit and a smoothie. There's two portions for lunch.
2. Embrace the "veg carb" craze
Courgetti, cauliflower rice, butternut squash mash – they all count towards your five a day, while the pasta, rice and potatoes they're replacing don't.
RECOMMENDED: Cauliflower Couscous Is One Of Our 10 Quick And Healthy Recipes
3. Bump up your rice
Speaking of rice, chuck in a portion of peas every time you cook some to grab some extra veg.
4. Swap ready-made sauces for chopped tomatoes
No more Dolmio days. Whipping up an easy tomato sauce (garlic, canned chopped tomatoes, herbs and – if you like – salt) can be done in the time it takes to cook pasta. It gives you at least a portion and avoids the added sugars in many ready-made options.
5. Fail to prepare, prepare to fail
Cooking a massive veg feast on Sunday that you can use for a couple of work lunches is a great way to ensure you get more midweek portions.
RECOMMENDED: The Grain Store's Chilli Con Veggie Recipe
Sign up for workout ideas, training advice, the latest gear and more.
Thank you for signing up to Coach. You will receive a verification email shortly.
There was a problem. Please refresh the page and try again.