Drinking Just One Beer A Day Could Lead To Heart Disease
By Nick Harris-Fry published
It adds up to exceeding the NHS's weekly booze limits, and a new study suggests this can result in hardening of the arteries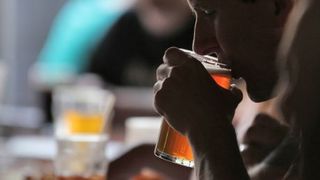 (Image credit: unknown)
Consistently drinking more than the 14 units of alcohol a week limit recommended by the NHS can increase the risk of cardiovascular problems in men, according to a new study from University College London.
Whether you smash through 14 units in one wild night, or exceed the maximum by drinking a single pint each day, it can lead to increased stiffness in the arteries, raising the risk of cardiovascular problems like heart disease.
The study analysed data on 3,869 people aged 30 to 60 over a 25-year period. Interestingly, alcohol did not seem to have the same effect on women's arteries – it was worse in men, who made up 73% of participants in the study.
There has been some confusion in the press over this figure and you might have seen reports suggesting that just half a pint of beer a week will increase the risk of heart disease. That's not what this study suggests.
Heavy intake of alcohol was defined as exceeding 112mg of ethanol per week, which is around the the 14-unit limit currently recommended. A pint of beer was assumed to contain 16mg of ethanol, with a measure of spirit counting as 8g, meaning heavy intake works out at over seven pints or seven double whiskies a week.
Sticking to the 14-unit weekly limit for alcohol can be tricky for regular drinkers, especially as keeping track of anything becomes harder when you're three pints deep. One very handy tool the team at Coach have started using is the Drinkaware app (opens in new tab).
This free units-tracking app is available on the App Store and Google Play and allows you to quickly and easily keep track of the alcoholic drinks you've had. It then converts them to units, calories and money spent on that booze (you can adjust the price and strength of the drink yourself).
It can make for alarming reading, and not only when you have to add £3 to the estimated price for any drink you buy in a London pub. The app shows your drinking over time and can even flag up danger spots – places where you regularly drink alcohol.
Want to go cold turkey rather than cut down? Good idea, for one, any excess weight you're carrying will likely fly off. Check out the OneYearNoBeer guys for all the help you could need.
Sign up for workout ideas, training advice, the latest gear and more.
Thank you for signing up to Coach. You will receive a verification email shortly.
There was a problem. Please refresh the page and try again.