Five Weekend-Winning Breakfast Ideas From Alice Liveing
By Chris Sayer last updated
Start your days of rest the right way with these portions of Instagram gold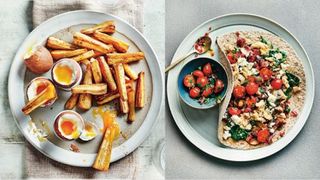 (Image credit: Unknown)
No alarm to hit. No job to dress for. No rush for the bathroom. No morning commute. No dark and sinister thoughts about the man coughing without putting his hand over his mouth on said commute. Sure feels like your workless weekend mornings are something to celebrate, right?
Incredible Instagrammer and healthy-food lover Alice Liveing (opens in new tab), (once known as Clean Eating Alice), reckons so anyway. Her mouth-watering feed of pics and recipes is bursting with breakfast inspiration, with plenty of ideas to get your juices a-flowing, oven a-blazing and belly a-rumbling before you've got dressed.
Here are five of our favourites that will set you up perfectly for the rest of the day, whatever you're doing.
1. Any-Given-Sunday Roast Veg, Chorizo Hash And Eggs
All the flavour. Plenty of protein. Stacks of micronutrients too. We're sold.
2. Post-Morning Run Chocolate Porridge
Soothe your burning thighs and appease your sweet tooth with this oaty winner, with enough slow-release energy to tide you over until your Sunday roast.
3. Fit-To-Burst Breakfast Wrap
Less of a recipe and more of a "why don't I do that more often?" idea – take the eggs, tomatoes, spinach and cheese you were going to turn into yet another omelette and instead scramble and stuff them into a toasted wholemeal wrap. Bonus points for slathering your favourite hot sauce over it.
4.Veggie Soldiers And Dippy Eggs
Off the bread for a bit? Even if you're not, you soon will be when you get a load of this boiled egg brekkie winner. Switch out the loaf for roasted parsnips and you'll never reach for the Hovis again.
5. Protein-Packed Fruit And Chocolate Yogurt
All right, all right, not all of us have the luxury of cooking time during the weekend mornings. Kids, right? But look. Look at that. It's Clean Eating Alice's "breakfast in a hurry". See? No excuse for boring, stodgy breakfasts ever again.
RECOMMENDED: Five Healthy Take-To-Work Lunch Ideas From Fit Men Cook
Craft beer drinker, Devonian, fisherman and former content director of Coach online, Chris contributed style coverage and features between 2016 and 2019.
Sign up for workout ideas, training advice, the latest gear and more.
Thank you for signing up to Coach. You will receive a verification email shortly.
There was a problem. Please refresh the page and try again.