The Best Smith Machines For Your Home Gym
By Jake Stones last updated
Bring a mechanical spotter home with a Smith machine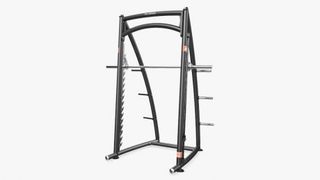 (Image credit: unknown)
Lifting heavy barbells doesn't have to be done in a gym, but there's one advantage to basing your training there – there are plenty of potential spotters. At home, not so much unless your partner or housemate is a fellow lifter. While you could lift solo, if you're training to shift more weight you may find yourself going too heavy and struggling to wrestle the bar back into a safe position. If that sounds like something that might happen to you, it may be worth investing in a Smith machine, which has a mechanism that allows you to bail out if you need to. It's not as reliable as a spotter, but it's better than nothing.
A Smith machine works by holding a barbell in two vertical rails lined with latch points on which the bar hooks. This means that at any moment and at any height in your lift, you can let the Smith machine take the weight with a slight rotation of the bar, a useful feature for the solo lifter or someone coming back from an injury. Some also have additional stopping brackets as an extra failsafe.
There are downsides, though. Smith machines do not come cheap and they take up a lot of space – you'll need a garage or basement to accommodate one, rather than a spare corner in your bedroom.
If you've got a nice big space and the budget for one you can consider models with some extra features. Most Smith machines come with racks for weight plates, while others include fixed or movable benches to increase the number of moves you can perform. If you go down this route we recommend a fixed bench to make the positioning consistent, which should help when it comes to your form, but a movable bench will open up a wider array of exercise possibilities.
Some Smith machines go down the multi-gym route by adding a whole host of extra attachments from leg curls on your bench, to weighted cables and a pull-down bar on the rig.
Next-level Smith machines are called Jones machines or 3D Smith machines. These contraptions allow the barbell to move horizontally as well as vertically, which opens up a wider range of exercises.
---
The Best Smith Machines
Marcy SM1000 Deluxe Home Gym Smith Machine
Best Budget Smith Machine
(opens in new tab)
Just because this Smith machine is a small fraction of the price of the others on this list doesn't mean it won't do the job – it just doesn't have the fancy extras. The weight rating of 135kg will certainly cover what most people can bench press, and there are four weights racks for storing your plates. The bench can be removed to increase the number of exercises you can perform with the machine, and it includes leg pads so you can add leg curls and leg extensions to your training.
Buy on Amazon (opens in new tab) | £503.99
---
Eleiko Atletica Smith Machine
Best For Lifting Heavy
(opens in new tab)
When you're choosing a Smith machine, it can be easy to forget to look at the barbell it comes with. It's worth checking out Eleiko's if only to admire the 15kg barbell, which is made with the same top-quality knurling we've praised when selecting an Eleiko model as one of our best barbells. And its build quality means the bar can handle up to 200kg – more than enough for even an experienced lifter. It also doesn't hurt that the whole machine is a bit of a looker.
Buy from Eleiko (opens in new tab) | £3,479
---
See related
Bodycraft Commercial Jones Machine
Best Jones Machine
(opens in new tab)
If you want to get the most out of the space you're giving over to a hulking piece of gym equipment, take a look at this Jones machine. It has stop brackets as well as 3D movement, giving you a full range of motion for a whole host of exercises. The weight rating is 200kg and the absence of a bench opens the entire device up to whichever lift you choose – whether that be an overhead press or deadlift. It does lack a weight plate rack, which is a bit of a let-down considering how much it will cost you.
Buy on Amazon (opens in new tab) | £2,499
Jake was formely an intern for Coach and now contributes workouts from some of London's top trainers. As well as training in the gym and running, he's competed in the eight-hours-long overnight event Europe's Toughest Mudder twice and the 24-hours-long World's Toughest Mudder once.
Sign up for workout ideas, training advice, the latest gear and more.
Thank you for signing up to Coach. You will receive a verification email shortly.
There was a problem. Please refresh the page and try again.