The Best Weightlifting Shoes
By Sam Rider published
Lift BIG with our best buys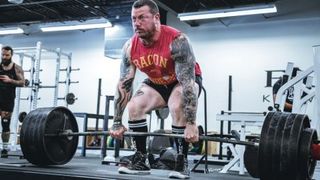 (Image credit: unknown)
Weightlifting shoes are built for a specific job: to help you lift big in technical, compound lifts (opens in new tab) like squats (opens in new tab), cleans, jerks and snatches.
Now gyms have reopened, the queue for the squat rack is snaking around the weights room (opens in new tab), so it's vital you maximise every second spent at the bar – and these kicks will help you do just that.
Unlike most gym shoes, which come with cushioned, springy soles, weightlifting shoes are engineered to be stable and allow for much greater ankle mobility. They tend to come with a rigid, raised heel, be flat-soled and, like cycling cleats, be completely impractical for anything else.
Despite the niche appeal, these shoes should be on the radar for anyone who's looking to master the barbell squat and hopes to reap all the health-promoting benefits that come with flawless technique.
To help you find the ideal pair, we consulted a functional training footwear specialist to draw up a buyer's guide, and asked three leading strength and conditioning coaches for their top picks.
Weightlifting Shoe Buyer's Guide
"There are two main points to consider when purchasing weightlifting shoes," says Will Griffiths, head of retail at WIT Fitness (opens in new tab), functional fitness specialist and global retail partner to the CrossFit Games. "First is the fit, and second is the features."
The fit
Weightlifting shoe fit can differ quite significantly between brands and styles, which is why Griffiths urges you to always try before you buy. "Essentially you want to aim for a close fit so that your foot can't move mid-lift, with enough space in the toe box so your toes aren't cramped," says Griffiths.
The features
When choosing traditional weightlifting shoes, there are three primary features to pay close attention to: heel, sole and strap.
Raised heel
The higher the heel, the greater the mobility. "The sweet spot for most uses is around 20mm," says Griffiths, although he cautions that it can depend on the sport you're competing in. "If you're training for strength-based sports, such as powerlifting (opens in new tab), you may benefit from the rigidity of a weightlifting shoe but not need the added heel height."
Rigid sole
The greatest stability is provided by the hardest sole. "Traditional weightlifting shoes are made from hardwood, but most modern shoes are now made predominantly from TPU or other hard plastics," explains Griffiths. "Cheaper options are often made from less rigid plastics, which are less stable, and will have a significantly reduced life."
Strap
Weightlifting shoes rely on a broad variety of strap configurations but, fundamentally, the purpose is the same: to lock your foot in place so it doesn't shift mid-lift. "Some use one large strap over the bridge of the foot, while others use multiple straps for a more specific hold over different sections of the foot," says Griffiths. "The set-up is largely a personal preference and another reason to try them on in person before you part with your cash."
Hybrid weightlifting shoes
We've included some hybrid weightlifting shoes below, such as the Nike Metcon 7. Diehard Olympic lifters might question their place in this line-up, but hybrid shoes are well suited to functional fitness workouts like CrossFit that can include technical moves like squats and cleans.
Hybrid shoes tend to come with additional bells and whistles, like rope wraps on the medial sole for climbing and heel clips to help them slide up and down walls when performing handstand press-ups. This makes them great all-rounders rather than specialist weightlifting shoes, but they're still built to help boost your big lifts.
---
Best Weightlifting Shoes For 2021
Now you have our buyer's guide under your weightlifting belt, it's time to introduce this season's latest releases. We canvassed three leading strength and conditioning coaches for their top picks for 2021, and rounded up the best of the rest.
Nike Romaleos 4
Best For Pure Strength
(opens in new tab)
"The Nike Romaleos is my all-time favourite lifting shoe," says Harvey Lawton, PT and founder of The Movement Blueprint (opens in new tab). "It has a great supportive medial arch, a good heel raise and is solid on fit."
Clocking in at the optimal 20mm heel height, the Romaleos 4 is optimised for efficient power transfer, absolute stability, and a locked-down fit. The substantial heel-to-toe drop helps reduce the amount of ankle flexion required at the bottom of a lift so everyone from novices to experts can focus on safely driving back up to standing. Combined with a rigid midsole, a wide, flat outsole and dual straps for a secure fit, the Romaleos 4 is primed to help you generate maximum power off the ground.
Buy from Nike (opens in new tab) | £179.95
---
WIT X Reebok Legacy Lifter II
Best For Max Power
(opens in new tab)
"The Legacy Lifter II is great for snatches, jerks and cleans," says Tom Eastham, founder of Minimal Fitness (opens in new tab). "Although 90% of the time I'll do squats and deadlifts (opens in new tab) barefoot to increase foot and glute function, on a heavy day when going for a big lift I'll use the Legacy II for my working sets because it gives me a little more support to push for a PB."
The Legacy Lifter is Reebok's go-to lifting shoe, worn by some of the stars who lit up this year's Olympic weightlifting circuit and CrossFit Games competition. The latest version combines a sturdy 22mm-high TPU heel clip that will keep you stable on the platform, a thick single cross-strap for a fuss-free fit, and a breathable upper to help keep your feet cool. In August, WIT released a limited-edition collaboration with Reebok for the Legacy Lifter II, featuring rose gold stitching and dark panelling.
Buy from WIT Fitness (opens in new tab) or Reebok (opens in new tab) | £160
---
Nike Metcon 7
Best For Hybrid Workouts
(opens in new tab)
"For all-around versatility when lifting and conditioning you can't look past the Metcon," says Naomi Heffernan, LIFT trainer at Barry's Soho (opens in new tab). "The new Metcon 7 is perfect for most general fitness classes because not only does it have stability for heavy lifting, but it has enough flex in the sole for moves like lunges and mountain climbers."
Named after max-effort conditioning (opens in new tab) synonymous with activities like CrossFit (opens in new tab), the seventh generation Metcon has been upgraded to provide greater stability when lifting and added spring when on the move. While it's a functional fitness all-rounder instead of a pure weightlifting option, the wide, flat heel has a plate running through it to distribute pressure from beneath the heel to the perimeter of the shoe; that means when in a deep squat, you'll feel more firmly planted and secure. An open spring air unit on the heel also allows the shoe to flex without compressing for more dynamic moves, and the introduction of Nike React foam cushioning in the midsole provides more comfort and spring for short runs and HIIT classes. Finally, a hook-and-loop strap will keep your laces tied and tucked out the way so they don't unravel mid-class.
Buy from Nike (opens in new tab) | £114.95
---
See related
Adidas Adipower Weightlifting II
Best For The Planet
(opens in new tab)
The vibrant red and indigo Adipower II looks rather less businesslike than some lifting shoes, but it stacks up where it counts. A 20.1mm heel lands on the money for the ideal ankle position during deep squats, a supportive non-compressive midsole allows for comfort without sacrificing power, and a wide hook-and-loop strap will ensure a snug fit from your workout's first lift to its last. Half of its woven upper is also made from high-performance recycled materials instead of unsustainable virgin polyester so, by choosing the Adipower II for your next workout, you'll be helping lighten the load on the planet while you lift.
Sam Rider is an experienced freelance journalist, specialising in health, fitness and wellness. For over a decade he's reported on Olympic Games, CrossFit Games and World Cups, and quizzed luminaries of elite sport, nutrition and strength and conditioning. Sam is also a REPS level 3 qualified personal trainer, online coach and founder of Your Daily Fix (opens in new tab). Sam is also Coach's designated reviewer of massage guns and fitness mirrors.
Sign up for workout ideas, training advice, the latest gear and more.
Thank you for signing up to Coach. You will receive a verification email shortly.
There was a problem. Please refresh the page and try again.