The Best Resistance Bands For Gym And Home Workouts
By Sam Rider Contributions from Nick Harris-Fry last updated
Grab a stretchy set of workout aids to increase the effectiveness of your training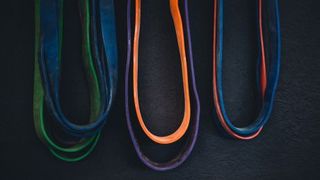 (Image credit: Unknown)
Frankly, no home gym is complete without a set of resistance bands. And they should absolutely be the first bit of fitness equipment you pick up when you decide to extend your home workouts beyond bodyweight.
That's because resistance bands are cheap, effective to use in a variety of ways, and easy to use without putting yourself at any risk of injury. A set of bands won't cost you more than £20 and you can use them to build strength, do rehab after an injury, increase your mobility, and in many other ways.
Resistance bands usually come in a set of three or five different resistances, with the colour of a band indicating how heavy it is. Generally yellow bands have less resistance, blue and black bands have a high level of resistance, and red and green bands are in the middle. But there is a lot of variation between brands, and special colours are often thrown into the mix – gold bands in particular are usually very strong.
The standard band options are open-ended strap bands, looped bands, or tube bands with detachable handles. Generally strap bands are good for mobility work and stretching, and can be tied off to create a loop, but proper looped bands are usually better for strength sessions, while tube bands with handles are the easiest kind to use for high-resistance strength workouts.
Given the low cost of resistance bands, we reckon it's worth having a few different types to hand for your workouts. Here are the best available right now.
Best For Guided Training
MyFit Resistance Bands Set
(opens in new tab)
Along with five tubed bands ranging from 5kg to 18kg in strength, this set comes with a door anchor, ankle straps and two foam handles, so you can rig up the bands in different combinations to get the right resistance for a wide range of exercises. The free partner MyFit app contains video instructions on how to do more than 50 different resistance band exercises, broken down by the muscles or area of the body they target. It's a handy bonus that will keep your resistance band workouts varied, and the set itself offers great value.
Buy from MyFit (opens in new tab) | £24.99
---
Cross Gym Silver Pack Resistance System
(opens in new tab)
This comprehensive set of five bands and attachments can be stacked for a combined 68kg of resistance and up to 31 weight combinations. The company claims its unique layering process allows the bands to stretch up to 900% their original length, compared with 400-500% for lower-quality latex rivals. Whatever your level of experience, the enclosed workout book will help you put the bands to good use.
---
Fitness Mad Pro Safety Resistance Tube
(opens in new tab)
This band's nylon protection sleeve helps negate the risk of its latex tube failing, while also extending its lifespan. The band comes with a 12-page training guide, covering 19 resistance band exercises.
---
Best Tubed Resistance Bands
Core Zone Heavy Duty Resistance Band Set
(opens in new tab)
You're getting the full package here. The set includes five bands ranging from 4.5kg to 23kg, two foam handles, two ankle handles, a door anchor attachment and a convenient carry case.
Buy from Core Zone Sports (opens in new tab) | £49.95
---
(opens in new tab)
This set comes with three interchangeable tubes and a tube sleeve for an extra layer of protection for when you sling it around a post anchor or step on it.
---
Best Large Looped Resistance Bands
(opens in new tab)
Large looped bands are ideal for increasing the challenge of bodyweight moves like press-ups and squats, and even for replicating fundamental free-weight exercises such as bench presses, chest flyes and curls. They're also the bands you need for assisted pull-ups, and having a range of bands means you can decrease the assistance you're getting as you become more adept at the exercise.
This set of four bands from Eleiko is expensive, but you're getting high-quality kit that will last, and the heaviest band here offers a hefty 50kg of resistance. There are also 15kg, 20kg and 35kg bands in the set. If you're trying to replicate your gym workouts at home without shelling out for expensive free weights, this set is an excellent option.
Buy from Eleiko (opens in new tab) | £113 for set of four bands
---
(opens in new tab)
These long loop bands come in six different strengths, ranging from the lightest, the blue band offering 2kg-7kg of resistance, up to the beastly black band, which offers 27kg-68kg. The bands are ideal for exercises like squats or providing assistance for pull-ups.
Buy from TRX (opens in new tab) | From £10.95
---
BLK BOX Harland Resistance Bands
(opens in new tab)
These wide, heavy-duty bands are great for explosive training to improve your power, as well as for warming up your hips, glutes and legs ahead of big lifting sessions. The Harland bands come in a set of two and aren't as versatile as thinner and longer loops, but will be useful to dedicated gym-goers since they are best used alongside free weights, rather than as your sole source of resistance in workouts.
Buy from BLK BOX (opens in new tab) | £65 (currently reduced to £52)
---
(opens in new tab)
These natural latex rubber bands span eight levels of resistance, with the toughest best reserved for especially experienced lifters looking to make heavy barbell lifts even more challenging. You can buy the bands individually, as a pair if you're planning on using them for barbell exercises, or in a pack of three with different resistance levels to cover all your bases.
Buy from Rogue Europe (opens in new tab) | From €12 (around £10)
---
(opens in new tab)
These bands use a multi-layered construction that helps prevent shearing when nicked to minimise the chance they'll snap mid-workout.
Buy from Wolverson Fitness (opens in new tab) | From £8.99
---
Best Mini Looped Resistance Band
Meglio Latex-Free Resistance Loops
(opens in new tab)
If you currently live in a band-free household, we recommend picking up a few of these stretchy loops immediately. They're excellent value and will enable you to take your home bodyweight workouts to the next level. You can opt for one band or a pack of four that has a range of resistances, from the red band (light) up to the black (extra heavy). If you have all four you can also combine the bands to increase the challenge involved in your workouts.
The loops are great for building strength and for rehab after an injury, and if you get a set of four it comes with a handy pouch to stuff them in after your workout is done.
Buy from Meglio (opens in new tab) | £4.99 (currently reduced to £2.99)
---
See related
---
(opens in new tab)
The king of suspension trainer brands also offers a set of durable mini bands, ranging from an X-Lite version that's ideal for Pilates moves up to a heavyweight option that's more at home in the weights room.
Buy from TRX Training (opens in new tab) | From £4.95
---
Myprotein Resistance Bands
Myprotein may be better known for its nutritional supplements, but you can also find other fitness products on the site as well. That includes a selection of resistance bands ranging from 2kg up to 54kg. You will need to make it up to £40 to get free delivery, but they're worth a look if you're putting in a bigger order.
Buy from Myprotein (opens in new tab) | From £16
---
Core Zone Resistance Loop Bands
(opens in new tab)
Core Zone's six-piece mini band set includes a rare XX-heavy orange option, packing 15-18kg of tensile strength.
---
Best Open-Ended Strap Resistance Band
Theraband Resistance Bands
(opens in new tab)
These straight bands are great for mobility and rehab exercises and come in a wide range of lengths and resistance levels, so you can get exactly what you need, whether that's a 1m-long light resistance yellow band or a 5m max resistance gold band, which will be handy for flinging rocks at castle during sieges even if you never summon up the strength to use it in your workouts.
---
(opens in new tab)
Meglio, which provides open-ended bands for commercial gyms and Pilates studios, offers 1.2m- and 2m-long bands. Suitable for sensitive skin, they're made from a durable eco-friendly, latex-free TPE material and range from extra light to extra heavy.
Buy from My Meglio (opens in new tab) | From £3.99 for 1.2m, from £5.99 for 2m
---
Fitness Mad Resistance Gym
(opens in new tab)
This kit includes three 1.5m bands ranging from light to strong resistance, and a pair of clips so you can connect the band ends together as a makeshift long loop.
Sam Rider is an experienced freelance journalist, specialising in health, fitness and wellness. For over a decade he's reported on Olympic Games, CrossFit Games and World Cups, and quizzed luminaries of elite sport, nutrition and strength and conditioning. Sam is also a REPS level 3 qualified personal trainer, online coach and founder of Your Daily Fix (opens in new tab). Sam is also Coach's designated reviewer of massage guns and fitness mirrors.
Sign up for workout ideas, training advice, the latest gear and more.
Thank you for signing up to Coach. You will receive a verification email shortly.
There was a problem. Please refresh the page and try again.