The Best Multi-Gyms For A Full Weights Workout At Home
By Sam Rider published
Got some spare space at home? We know just what to do with it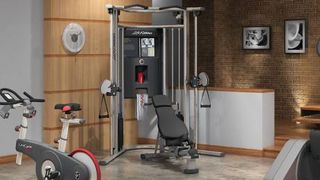 (Image credit: Unknown)
Home workout kit has never been more in demand and while most of us have been content to get hold of a pair of dumbbells or resistance bands, soaring sales of all-in-one workout stations, otherwise known as multi-gyms, demonstrate that some people need more.
Short of converting your garage, the multi-gym is as close as you can get to bringing the entire weights room home. The most basic models will provide a large enough range of resistance exercises to satisfy even experienced gym-goers.
There's no doubt they require a considerable outlay: our picks begin at £599 and go up to the cost of a decent second-hand motor. They can also be big, tricky to assemble and occasionally require maintenance, but if your ultimate goal is to save money on a gym membership and keep fit at home, one of these multi-gyms could well prove to be a smart investment.
Below we have picked our favourite multi-gyms. Some are available to buy now, some for pre-order only – but given the precariousness of these times, we're sure you'll understand the need to exercise patience and persistence.
---
Technogym Unica
Best Outrageously Expensive Multi-Gym
(opens in new tab)
At north of £5K, the Unica from Italian fitness giant Technogym is the dearest in our selection, but with its sturdy build and premium materials we feel confident saying the luxury merits the price – what other multi-gym gives you a choice of upholstery? The weight stack provides a more-than-adequate 90kg of resistance for up to 25 moves, from pec flyes and lat pull-downs to quad extensions and hamstring curls. It is a compact 1.5㎡ and can be wheeled around if you want to take your workout al fresco. Technogym also provides guided online workouts and training plans through the Unica Virtual Trainer app to ensure you make the most of this elegant machine.
Buy from Technogym (opens in new tab) | £5,390
---
DKN Studio 7400
Best Budget Multi-Gym
(opens in new tab)
The 7400's greatest selling point is its price-to-weight stack ratio – a mighty 80kg is unrivalled for a multi-gym under £1K. The dual high and low pulleys provide versatile options for upper- and lower-body exercises, and at 1.65m x 1.05m it's compact too. At just 144kg it might feel a tad lightweight, but that may be welcome if your home gym isn't on the ground floor.
Buy from Sweatband (opens in new tab) | £599
---
NordicTrack Fusion CST Fitness Machine
Best Multi-Gym For Guided Training
(opens in new tab)
The Fusion CST looks like a multi-gym from the future. NordicTrack has swapped out the clunky weight stack for an "inertia-enhanced flywheel" that provides silent magnetic resistance. Better still, with real-time performance tracking and live interactive controls, NordicTrack's virtual PTs will automatically adjust your exercise resistance while you're using the machine. Instead of the single planes of movement that most traditional multi-gyms use, the Fusion CST's pulleys can be used in any direction to create strength and mobility that will be more applicable to the real world. It's a seriously technical bit of kit.
Buy from NordicTrack (opens in new tab) | £1,799
---
See related
Life Fitness G7 Cable Motion Gym
Best Multi-Gym For An Authentic Weights Room Experience
(opens in new tab)
Two things catch the eye with the G7. First, its versatile pull-up handles provide an extra dimension you won't find on most multi-gyms. Second, the dual weight stacks combine for a whopping 146kg of resistance. Whether you'll ever use all that heavy metal is debatable, but having independent stacks means two people can use this machine simultaneously. The G7 also includes a workout bench – a valuable addition if you also own a barbell or pair of dumbbells – and the pulleys can be adjusted from top to bottom for dozens of multi-directional exercises, and to suit users of any height.
Buy from Best Gym Equipment (opens in new tab) | £2,995
---
BH Fitness TT-Pro Home Strength Multi-Gym
Best Multi-Gym For A Full-Body Workout
(opens in new tab)
While the G7 stands out for its pull-up bar, the TT-Pro takes the prize for best lower-body feature. A leg press station, connected to the main body like a sidecar on a motorbike, is a wonderful tool for safely strengthening all the lower-body muscles. The weight stack tops out at 100kg, which will provide more than enough resistance for most upper-body moves but might feel slightly limiting on the legs for experienced gym-goers. Nevertheless, the TT-Pro will provide a comprehensive workout for any level and at just over £2K it delivers an elite multi-gym experience at a mid-range price.
Sign up to be notified of availability from Best Gym Equipment (opens in new tab) | £2,199
---
Bowflex Xtreme 2 SE Home Gym
Most Versatile
(opens in new tab)
Bowflex has devised a unique alternative to the stack-and-cable combo, which is intended to feel as good as using free weights but without the risk of joint pain. The Xtreme 2 SE uses metal rods to create resistance equivalent to 95kg, an approach that means you can switch seamlessly between exercises without adjusting the weight stack: the harder you push, the greater the resistance. You can perform more than 70 moves using this lightweight and compact multi-gym, and you can even use it to perform squats, which will be music to the ears of anyone who's attached to their gym's power rack.
Buy from Fitness Superstore (opens in new tab) | £999
Sam Rider is an experienced freelance journalist, specialising in health, fitness and wellness. For over a decade he's reported on Olympic Games, CrossFit Games and World Cups, and quizzed luminaries of elite sport, nutrition and strength and conditioning. Sam is also a REPS level 3 qualified personal trainer, online coach and founder of Your Daily Fix (opens in new tab). Sam is also Coach's designated reviewer of massage guns and fitness mirrors.
Sign up for workout ideas, training advice, the latest gear and more.
Thank you for signing up to Coach. You will receive a verification email shortly.
There was a problem. Please refresh the page and try again.