The Best Epilators For Effective, Long-Lasting Hair Removal
By Caroline Preece last updated
Get fuzz-free without the fuss by choosing the right epilator for your needs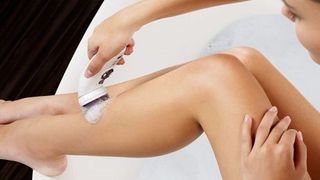 (Image credit: Unknown)
When considering hair removal, many prefer the quick fix of shaving or the relative ease of professional waxing. But those who discover epilation often find it's impossible to go back.
In its most basic terms, epilation is the removal of hair at the root using a device with dozens of tiny tweezers, which rotate to catch shorter and finer hairs than waxing does. Epilators can be used at home, are available for use in wet or dry conditions and, once you've made one upfront purchase, soon become more cost-effective than other methods.
But the real advantage of epilation its effects last as long as waxing (three to four weeks on average) without the associated costs or inconvenience of booking and attending sessions at the salon. Although some find it can be uncomfortable at first, epilation becomes easier and less painful with repeated use.
Many of the best epilators come with attachments that exfoliate the skin while they work, as well as a light that allows you to see what you're doing clearly. As you might expect, the more you spend the more comfortable the experience is likely to be, so take your general sensitivity into consideration when choosing your epilator.
1. Braun Silk-épil 9 Skinspa 5-in-1
Best All-Round Epilator
(opens in new tab)
After seeing the price, you'd be correct to assume that the Braun Silk-épil 9 SkinSpa epilator is the big noise in hair removal. This cordless epilator does everything you'd want it to when spending over £100. It works wet or dry, and comes with a shaver head that's designed for more sensitive areas as well as a trimmer cap, a deep massage pad and four exfoliating body brushes that help prevent ingrown hairs. In other words, it's several devices in one and is the natural choice for anyone whose skin tends to need extra TLC. And don't let the various attachments put you off – this is very much suitable for beginners.
Buy on Amazon (opens in new tab) | £125.99
2. Remington EP7010
Best Budget Epilator
(opens in new tab)
There are no fancy bells and whistles included with the Remington EP7010, but it does a good job at a much lower price than its competitors. The device promises to remove hairs as short as 0.5mm with its 40 tweezers, and the shape of the cap ensures you can get at hairs even at slightly awkward angles. It has two speed options, while the removable cap makes it easy to clean. For the money, this can't really be beaten.
Buy on Amazon (opens in new tab) | £26.98
3. Philips Satinelle Advanced
Best For Comfort
(opens in new tab)
If you're new to epilation and worried about the pain and discomfort involved, then the Philips Satinelle Advanced could be the one for you. The ceramic discs gently remove even fine hair and it also comes with a body massager, an exfoliator and other useful attachments, while the smart light makes it easier to see what you're doing. Even the handle is thinner, making it more comfortable to hold for longer periods.
Buy on Amazon (opens in new tab) | £92.06
See related
4. Braun FaceSpa Pro 911 Facial
Best For Your Face
(opens in new tab)
Your face is the first thing the world sees, so when it comes to hair removal you want the most effective solution possible. That's where the Braun FaceSpa Pro – the first facial epilator, cleanser and skin-toning device – comes in. Plucking eyebrows, upper lip and chin hair with traditional tweezers can be time-consuming and a facial epilator makes the whole process much more efficient, while the facial cleansing brush and micro-vibration toning head ensure the key areas remain blemish-free.
Buy on Amazon (opens in new tab) | £71.57
5. Braun Silk-épil 5 Power 5780
Best Dry Epilator
(opens in new tab)
While more expensive epilators have a wet and dry function, you shouldn't feel obligated to pay a premium for this feature – dry epilators can work just as well, as proven by the Braun Silk-épil 5 Power. The device comes with a high-frequency massage system built in, which lessens any pain associated with the process, as well as massage rollers and a cooling glove in the box to help soothe your skin after hair removal.
Buy on Amazon (opens in new tab) | £48.23
6.Panasonic ES-ED96 Wet And Dry
Best Luxury Epilator
(opens in new tab)
Most epilators have 40 pairs of tweezers but the Panasonic ES-ED96 Wet and Dry ups the ante with 48. What's more, it treats the hair removal process as a chance to pamper yourself rather than a necessary evil – it can be used with foams, lotions or in the bath depending on your preference. For facial epilation, the head's fine bristles and sonic vibrations help clean the face without irritating the skin, and the variety of attachments make the device a real one-stop shop for hair removal.
Buy on Amazon (opens in new tab) | £82.08
Sign up for workout ideas, training advice, the latest gear and more.
Thank you for signing up to Coach. You will receive a verification email shortly.
There was a problem. Please refresh the page and try again.