MF rounds up the best hair gels
By Jon Lipsey last updated
Use the right product in the right way and you'll get a lot more attention from the opposite sex.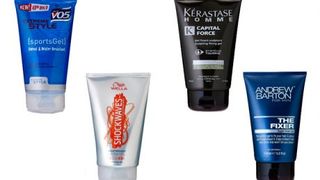 (Image credit: Unknown)
Rating :
4
Shockwaves Lightweight Styling Gel
Hair and music don't always go well together. Think of Limahl, the 80s pop singer who looked like he used an albino hedgehog for a hat. Or shrill act Jedward and their 'comedy' quiffs sculpted to a height that inversely corresponds to their musical significance. Shockwaves, on the other hand, has formed a strong alliance with the music scene, and this thick white gel will give you a backstage pass to the land of cool haircuts. It smells of shampoo and sugar and lets you sculpt your locks into styles that look effortless.
Price :
£1.77 for 150ml
Available from lloydspharmacy.com (opens in new tab)
---
Rating :
4
VO5 Extreme Style Sports Gel
MF is usually against gym preening. We prefer you to get on with your workout. But we'll make allowances for this product, which is aimed at sporty types and has sweat- and water-resistant technology that keeps your hair in check while you exercise. The makers also claim it lasts for up to 48 hours, but we hope that you'll have a shower and re-style rather than put that to the test.
Price :
£3.36 for 150ml
Available from superdrug.com (opens in new tab)
---
Rating :
3
It's not often that grooming products have macho names but The Fixer is an exception. With a moniker that would suit an East End gangster this gloopy gel (which sounds like it should associate with a pomade called The Enforcer) will give you long-lasting hold. With a whiff of lavender-infused cocktails it doesn't smell particularly villainous, but that's probably a good thing.
Price :
£1.48 for 150ml
Available from andrewbarton.tv (opens in new tab)
---
Rating :
4
Kerastase Homme Capital Force Sculpting Fixing Gel
If you are a control freak but would rather not give that away by looking as if you've tipped a bucket of grease over your head, style your hair with this clear high-hold gel. Strong gels are often very obvious but not Capital Force, which allows you to be precise with your style while keeping a natural look, and smells sweet and citrusy.
Price
£12.70 for 150ml
Available from lookfantastic.com (opens in new tab)
Jon Lipsey worked for Men's Fitness UK, which predated, and then shared a website with, Coach. Jon was deputy editor and editor from 2007 to 2013. He returned as editor-in-chief from 2016 to 2019. He also co-founded IronLife Media (opens in new tab) and the New Body Plan (opens in new tab).
Sign up for workout ideas, training advice, the latest gear and more.
Thank you for signing up to Coach. You will receive a verification email shortly.
There was a problem. Please refresh the page and try again.