The Best Sleep Headphones: Tech That Helps You Rest and Recover
By Nick Harris-Fry published
Struggling to block out the world and drift off? Sleep headphones may help you get a good night's rest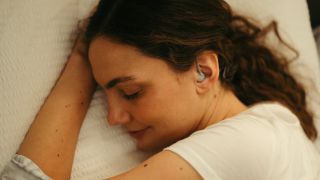 (Image credit: Kokoon)
There are many reasons why people struggle to fall asleep at night, but among the most common are annoying external sounds and stressful thoughts. A set of sleep headphones can block out the former, and many provide soothing audio that may help you manage the latter.
We've tested many of the headphones available to see if they can help you drop off and have picked out the best options.
The Best Sleep Headphones
Best For Comfort
Reasons to buy
+
Comfortable to sleep in
+
Large library of audio
+
Block out sound well
Reasons to avoid
-
Can't play your own audio
-
Sometimes didn't charge
-
Expensive
The Bose Sleepbuds II are a design marvel. They're tiny, and more comfortable than other headphones we've worn – so even side sleepers can use them without fear of their ears hurting during the night. The buds link with a partner app that contains a library of sounds designed to help you sleep, including a range of white noise and natural soundscapes.
The Sleepbuds II last for 10 hours on a charge and can be set to turn off after a certain time through the app, so they don't play sound all night. Charging takes six hours, though you need to be careful to position them in the case correctly. We found that sometimes they were dead when popping them in at night despite being in the case all day.
---
(opens in new tab)
Best For Value
Specifications
Battery life:
Eight hours
Reasons to buy
+
Cheaper than other options
+
Tracks your sleep
Reasons to avoid
-
Not comfortable when side sleeping
-
Can't play your own audio
If you can get on with the fit of the ZenBuds they offer a relatively affordable alternative to the likes of the Bose Sleepbuds II. In our experience, the ZenBuds were too large and uncomfortable to use when side sleeping, so we struggled to get the most out of the buds. They play soothing sounds from the partner app's audio library, and if you can sleep with them in, they can monitor your sleep as well to provide a sleep-quality score. The ZenBuds can detect when you fall asleep and turn off your audio at that point, or you can set them to play for a certain duration.
---
(opens in new tab)
Best For Connectivity
Reasons to buy
+
Can play your own audio
+
Tracks your sleep
+
Partner app with guided meditation sessions
Reasons to avoid
-
Not the most comfortable design
-
App requires membership
Central to the appeal of the Nightbuds is that they can play your own audio, a feature not easy to find on in-ear sleep headphones. If you prefer to listen to podcasts, audiobooks or your own music while drifting off, this makes them the obvious pick over the likes of the Bose Sleepbuds II, especially since you can also use the Kokoon Nightbuds during the day as regular Bluetooth headphones.
If you prefer to drift off to sleep-inducing sounds or guided meditations, the Kokoon app has those too, and you get access to the app for a year when buying the Nightbuds. However, all these benefits might be outweighed by the fit of the headphones, which have a wire in between the buds that curls behind the ear, plus a padded section that sits on the back of your head. We found that they were often uncomfortable when side sleeping – even though the buds themselves are tiny – and had to take them off to fall asleep most nights.
---
(opens in new tab)
Best For Active Noise Cancellation
Reasons to buy
+
Comfortable fit
+
Easy to use
+
ANC blocks certain sounds well
+
Long battery life
Reasons to avoid
-
Expensive
-
No Bluetooth audio
-
No sleep tracking
The QuietOn 3 are the easiest sleep headphones to use because they are essentially ear plugs with active noise cancellation (ANC) added. There is no audio playback or a partner app to fiddle with. You just pop the buds in and they block external noise, passively and actively.
They are tiny and we found them comfortable in all sleeping positions. The battery life is impressive: 28 hours for the buds, which can be recharged three times by the case. The ANC does a good job of filtering out sounds like the buzz of traffic or a train when travelling, but high-pitched noises will still be heard.
The downside is the £229 price, especially seeing as simple foam earplugs that cost a few pounds block out noise almost as effectively as the QuietOn 3 buds. They do the job they're intended for and will be particularly useful for people who travel a lot, but you can find more features on other sleep headphones.
---
Best For Travelling
Reasons to buy
+
Comfortable over-ear design
+
Extensive library of sleep-aiding sounds
+
Can be used as normal headphones
+
Sleep tracking
Reasons to avoid
-
Side sleepers can't wear them to sleep
-
ANC isn't powerful
-
Expensive
The Kokoon Relax over-ear headphones are huge and clearly not designed for side sleepers, but they can help you relax and drift off when travelling or if you sleep on your back. The large design makes for better sound quality and they can play your own audio, as well as tracks from the Kokoon app. The headphones come with a wire so you can use them as wireless or wired headphones.
While they do have ANC, we found this underwhelming compared with other over-ear or even in-ear headphones we have tried. However, you can block out external noise with white noise or other audio using the Relax headphones, which also track your sleep.
The headphone pads can be removed and washed, and are made of a breathable material, but they can still get hot if worn for long stretches. In general the Relax headphones are best for helping you to calm down and get ready to sleep, rather than wear in bed.
Sleep Headphones Buyer's Guide
What are sleep headphones?
Unlike regular headphones, most sleep headphones don't play audio from your devices. Instead, they either block external noise or play from a library of soothing sounds, such as white noise or atmospheric soundscapes from the natural world. They are primarily designed to help you get to sleep and as a result have a limited number of features.
Most sleep headphones tend to be smaller than regular headphones, so they can fit in the ear comfortably even if you sleep on your side. There are also bigger options designed for those who sleep on their back or are using them to drop off in a seat when travelling.
What are the key things to look out for?
The size and fit of sleep headphones are the most important characteristics because if they are uncomfortable when you are trying to get to sleep they become counterproductive.
Another important feature is how much external noise they block out, through either passive noise cancellation, as a result of an in-ear bud, or active noise cancellation – where they filter out sound.
Next, look at what audio can be played on the headphones, if any. Many will link to a partner app to play from a selection of soothing sounds or guided meditation sessions. There are some pairs that are able to play regular audio, too, though these are rare, because having the tech required to do so in the buds can make them too large to wear comfortably while sleeping.
Battery life is another important consideration, since you need the buds for at least one night of sleep. They will often come with a carry case that doubles as a charger, so you can charge them during the day before using them at night.
Finally, some headphones will track the duration and quality of your sleep, which you may find a useful feature.
How much do sleep headphones cost?
Considering that a set of foam ear plugs will cost a couple of quid, the price of sleep headphones can be hard to stomach. Some cost £300-plus and even the cheaper options are more than £100. Remember, most of these will not play your own audio, so they can't double up as regular headphones. However, if a set of sleep buds is the difference between you tossing and turning or dropping off with ease, then they may be worth it whatever the price.
Sign up for workout ideas, training advice, the latest gear and more.
Thank you for signing up to Coach. You will receive a verification email shortly.
There was a problem. Please refresh the page and try again.