I Tried The On Cloudneo, A Completely Recyclable Running Shoe
By Nick Harris-Fry last updated
The On Cloudneo is an exciting idea that makes running shoes more sustainable, but how does it perform on the run?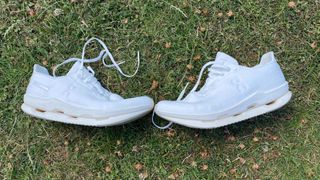 (Image credit: Nick Harris-Fry / Future)
To choose between the best running shoes, most runners consider a common set of features such as comfort, performance, durability and price. Increasingly, sustainability has become a concern as well, with many manufacturers using limited amounts of recycled materials. And the new On Cyclon (opens in new tab) scheme is a giant leap forward on this front thanks to the brand's adoption of a circular model.
The On Cloudneo is the first shoe launched as part of the Cyclon scheme. It is a completely recyclable shoe, with all the materials able to be reused to make another Cloudneo once you're finished with it. It sounds promising to us and to Dr Mark Sumner, a lecturer at the University of Leeds School of Design, who specialises in sustainability and gave his first take on the On Cyclon scheme last year.
The scheme goes live later this summer and costs $29.99/£25 a month. You receive a pair of the Cloudneo shoes and run in them until they are worn out, then send them back to On and get a new set in return.
On suggests the Cloudneo will last around 600km of running so most people will want to trade in their shoes for a fresh pair every six months, which averages out at around 25km a week. If you run more than that, it does seem that you can trade the shoes in after three to four months.
The Cloudneo is designed to be a high-performance running shoe and we applaud the ambition – I've found that other environmentally friendly shoes like the Allbirds Tree Flyer fall short of the performance of traditional shoes, making it harder for keen runners to switch to a more eco-friendly option.
The Cloudneo is made from two materials. The upper is made from PA11, a bio-based polyamide derived from castor beans, and the bottom half of the shoe is made from Pebax. The use of Pebax is exciting for runners because it's the same material that's used in some of the best midsole foams on the market, like Nike's ZoomX and Saucony's PWRRUN PB.
While the Cloudneo did not hit On's original targets of weighing less than 200g, it's still a fairly light shoe at 9.5oz/269g in my UK 9. It has a stack height of 33m at the heel and a 9mm drop, and a rocker profile with a Pebax speedboard running through the midsole to create a more propulsive ride.
Both the concept and the look of the Cloudneo are great, and I was excited to get running in the shoe. I went out for an easy hour, running around 8.5 miles (13.7km), and discovered that the shoe has a firm ride that's not really reminiscent of other Pebax midsoles I've tried.
Until around the six-mile (9km) mark, I found it a smooth and enjoyable shoe. The firmer ride is pretty typical of On shoes, and if you have enjoyed the likes of the On Cloud or Cloudflow in the past, then the Cloudneo should suit you well. However, by the end of the run it was starting to wear on my legs.
I would find it hard to use the Cloudneo regularly because most of my training runs are at least 13-14km long and the ride is a tad too harsh for my taste. It might soften up further with more use, though, and if you like a firmer ride and your regular base training runs are more like 5-10km it could be an option. The all-white look is pretty sharp for casual use too, though might not hold up so well in the winter.
We'll have our full review of the Cloudneo up on Coach in due course.
Sign up for workout ideas, training advice, the latest gear and more.
Thank you for signing up to Coach. You will receive a verification email shortly.
There was a problem. Please refresh the page and try again.