Garmin Fenix 7 Vs Garmin Fenix 6: Is It Worth Upgrading To Garmin's New Watch?
By Nick Harris-Fry last updated
The Garmin Fenix 7 has several updates compared with the Fenix 6, but it might be worth bagging a deal on the older model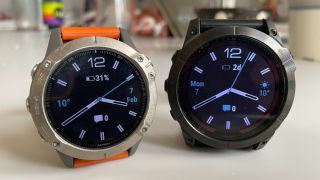 (Image credit: Nick Harris-Fry / Future)
Ever since it launched in August 2019, the Garmin Fenix 6 has had a solid claim to the title of best GPS sports watch, and it remains a cracking bit of kit even now the Fenix 7 has arrived to push it towards retirement.
I've reviewed the Fenix 6 and worn it in training for the past year or so, and have spent three weeks wearing the Fenix 7 for an in-depth review. The Garmin Fenix 7 is a better watch than the 6, with a variety of useful updates on the older model. However, that doesn't mean the decision to buy the Fenix 7 over the 6 is not cut and dried, because the Fenix 6 still has all the key features you need and is available in sales for a lot less than the new watch.
Garmin Fenix 7 Vs Garmin Fenix 6: The Range
Before diving into the differences between the two watches, it's worth looking at the range of designs each comes in. Both the Fenix 6 and 7 come in three sizes. The standard Fenix 6 and 7 hasa 47mm case and a 1.3in (33mm) screen; models with an S in their name are smaller and have a 42mm case and a 1.2in (31mm) screen; and models with an X are larger at 51mm with a 1.4in (36mm) screen. The bigger a watch is, the longer battery life it will have (details below).
Both the 6 and 7 ranges offer various combinations of materials: cheaper models generally have a steel bezel while more expensive ones use titanium, which makes them lighter. The screens are strengthened glass on the cheaper watches, and sapphire crystal on the more expensive ones, and you can get models with solar panels around the face to extend battery life in sunny conditions.
There are Pro versions of the Fenix 6 range that come with maps and music storage, while these are standard features across the Fenix 7 range.
One feature missing from the entire Fenix 6 range and the cheaper Fenix 7 watches is multi-band GPS tracking. This can improve the accuracy of outdoor activity tracking and is only available on the sapphire models in the range.
For this comparison I will be mainly talking about the Fenix 6 Pro watches when comparing them with the newer model, because the maps and music are key features across both.
Price
The cheapest model in both the Fenix 7 and Fenix 6 Pro range is £599.99 on RRP, but the older watch is now found regularly in sales – it's currently reduced to £449.99 on the Garmin website and was available for under £400 during Black Friday 2021.
At the top of both the Fenix 6 and 7 ranges you'll find the sapphire solar version of the larger X watch, which costs £1,409.99 for the Fenix 7X and £849.99 for the 6X Pro, which is not currently discounted on the Garmin website.
Shop the range on Garmin (opens in new tab)
Design And Hardware
While both watches use transflective displays, the Fenix 7's is a touchscreen. In my experience, it was responsive and enjoyable to use, though I still use the buttons during activities.
Both models are waterproof to 100m, and they have most of the same sensors on board with an altimeter, barometer and compass included in both. You can also link external sensors to both via Bluetooth and ANT+.
There are other hardware differences though. The Fenix 7 range has Garmin's Elevate Gen 4 heart rate sensor on board, a newer version than what you get on the Fenix 6, and it also offers more accurate GPS tracking. The entire Fenix 7 range can track outdoor activities using GPS, GLONASS and Galileo at once (all systems on mode), and the sapphire versions also have an all systems on plus multi-band option to further increase accuracy. On the Fenix 6 you can combine GPS with either GLONASS or Galileo, but not both, and there's no multi-band option.
One last difference to highlight is that the Fenix 7X has a built-in LED torch, which can be handy at times. This isn't on the Fenix 7S or 7, or any of the Fenix 6 watches.
Sports Tracking
The main sports tracking features on the Fenix are the same across the 6 and 7, with a vast range of sports modes and all the stats you could ever want tracked popping up on your wrist during your workouts. All of this info then feeds into Garmin's insightful training analysis to help you balance your workload between hard and easy efforts.
However, the upgrade in GPS accuracy with the Fenix 7 is noticeable. I have used the Fenix 6 Pro for much of the past couple of years and while it's a great all-round watch, it can be flaky on distance tracking, to the point where there are some spots I avoid because I know the watch struggles to get GPS there. While my overall distances on runs were always more or less right, current pace and lap pace during hard runs on the Fenix 6 Pro could be erratic and let me down on occasion.
The new GPS modes on the Fenix 7 are a worthwhile upgrade, even if just using all-systems-on mode where GPS, Galileo and GLONASS satellites are all used at once. The multi-band option available on the sapphire watches was sometimes a slight improvement on all systems on, but not enough that I would upgrade the watch just for that.
I saw far more accurate tracks from the Fenix 7X I tested than the Fenix 6 Pro, and it was more stable when using lap pace and even current pace – though I'd still recommend using lap pace as a more steady metric than current pace, which can jump around.
Unfortunately, the accuracy of the optical heart rate tracking across both the Fenix 6 and 7 range remains iffy. While it is often pretty good, it only takes one bad run to skew the data being fed into the training load analysis, and I found that with both the Fenix 6 and 7 the readings from the wrist were regularly at odds with those of a chest strap, which is more accurate by its very nature. If heart rate is important to your training, I'd say you need a chest strap whether you're getting the Fenix 6 or 7.
The Fenix 7 has one substantial new feature in its sports tracking which is stamina. This is a real-time rating of your stamina that the watch provides based on your recent training, and you can use it to judge the pacing of long activities so you don't go out too fast in particular.
It's an interesting and ambitious feature, but one that I'm not sure I'd rely on as an accurate reflection of how I feel. I certainly wouldn't call it a feature that makes it worth upgrading to the Fenix 7, especially since both watches have Garmin's PacePro feature which I find very handy for pacing races.
A smaller update is the new race prediction trend graphs you get on the Fenix 7. Both watches will estimate your times for 5K, 10K, half marathon and marathon events based on your training load and estimated VO2 max, but the Fenix 7 will also display how those predicted times have changed on a graph. That is handy because I think the trend shown is more useful than the actual times, which I have always found pretty inaccurate, to the point where I ran a 10K in training three minutes faster than my predicted time and it didn't update.
Both watches feature Garmin's excellent colour maps and navigation features, including turn-by-turn directions on routes, the ability to create routes on the watch itself, and the impressive ClimbPro, which analyses the climbs and descents on your route to help you judge your effort on hilly terrain.
Battery Life
One area where the performance of Fenix 7 takes a big leap forwards is in battery life, and it does it in two ways. The first is that the watches last longer despite being the same size, and the second is that the solar versions of the watches are more effective in adding life when in sunny conditions.
The battery life will still depend on a number of factors, such as which GPS mode you use, especially on the Fenix 7 where the multi-band tracking does drain the battery faster. Listening to music also results in a substantial drop in battery life.
I tended to get seven to 10 days of life out of my Fenix 6 Pro. This was running almost every day and with a power mode set up to reduce battery use overnight by turning some features off automatically. With the Fenix 7X, which is admittedly a bigger watch, it lasted three weeks even in the highest multi-band GPS tracking mode with no special power modes enabled at night.
Here's the complete comparison of the quoted battery life of the watches across the ranges.
Fenix 7 Vs Fenix 6 Battery Life
| | | | | |
| --- | --- | --- | --- | --- |
| | Fenix 7 | Fenix 7 with solar | Fenix 6 | Fenix 6 with solar |
| Smartwatch mode | 18 days | Up to 22 days | 14 days | Up to 16 days |
| GPS-only | 57 hours | Up to 73 hours | 36 hours | Up to 40 hours |
| All satellite systems GPS | 40 hours | Up to 48 hours | N/A | N/A |
| All satellite systems GPS, plus music | Up to 10 hours | Not given | Up to 10 hours (GPS-only, music) | Not given |
| All satellite systems, plus multi-band GPS | 23 hours | Up to 26 hours | N/A | N/A |
Fenix 7S Vs Fenix 6S Battery Life
| | | | | |
| --- | --- | --- | --- | --- |
| | Fenix 7S | Fenix 7S with solar | Fenix 6S | Fenix 6S with solar |
| Smartwatch mode | 11 days | Up to 14 days | 9 days | Up to 10.5 days |
| GPS-only | 37 hours | Up to 46 hours | 25 hours | Up to 28 hours |
| All satellite systems GPS | 26 hours | Up to 30 hours | N/A | N/A |
| All satellite systems GPS, plus music | Up to 7 hours | Not given | Up to 6 hours (GPS-only, plus music) | Not given |
| All satellite systems, plus multi-band GPS | 15 hours | Up to 16 hours | N/A | N/A |
Fenix 7X Vs Fenix 6X Battery Life
| | | | | |
| --- | --- | --- | --- | --- |
| | Fenix 7X | Fenix 7X with solar | Fenix 6X | Fenix 6X with solar |
| Smartwatch mode | 28 days | Up to 37 days | 21 days | Up to 24 days |
| GPS-only | 89 hours | Up to 122 hours | 60 hours | Up to 66 hours |
| All satellite systems GPS | 63 hours | Up to 77 hours | N/A | N/A |
| All satellite systems GPS, plus music | Up to 16 hours | Not given | Up to 16 hours (GPS-only, plus music) | Not given |
| All satellite systems, plus multi-band GPS | 36 hours | Up to 41 hours | N/A | N/A |
Smart Features
The Fenix 6 and 7 ranges offer the best of Garmin's smart features, the best of which are music storage and the ability to sync with paid-for Spotify and Amazon Music subscriptions for offline playback. There's also NFC payments through Garmin Pay. The Connect IQ app store is still lacking compared with what you get from the App Store and Google Play, and the Fenix range doesn't have the vibrant AMOLED screen of Garmin's Epix 2 watch, but both the Fenix 6 and 7 cover the key bases quite well when it comes to smarts.
Sign up for workout ideas, training advice, the latest gear and more.
Thank you for signing up to Coach. You will receive a verification email shortly.
There was a problem. Please refresh the page and try again.