All The New Apple Watch watchOS 9 Features Runners Should Get Excited About
By Jonathan Shannon last updated
Apple reveals a slew of improvements to its native workout app, but it's runners who got the most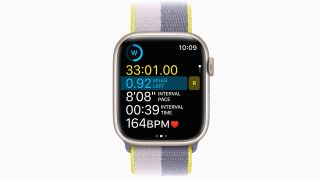 (Image credit: Apple)
Apple's WWDC 2022 keynote speech was a bonanza for Apple Watch owners who like to exercise, with some much-needed updates coming to the native workout app.
Runners have been especially well served, beginning with two new data screens added to the native workout app to help monitor your effort. As well as being able to swipe horizontally between three screens, you can use the digital crown to swipe up and down to find heart rate zones and running power, among other things.
The Apple Watch joins Polar and Coros by estimating running power from the wrist (the other option is connecting your watch to a footpod like Stryd). Cyclists are familiar with the power metric, runners less so; but like pace, it's a way of judging your effort, either to stick to a planned training session or to pace a race.
Heart rate zones are a far more common way to monitor your session and it's surprising it's taken Apple this long to add this to its native app, although there have been plenty of third-party apps only too happy to provide this information.
Another common feature Apple has integrated into its own offering is customised workouts, where you can set work and rest periods along with pace, heart rate, cadence or power targets. (If you need a few suggestions for sessions, our interval training for runners guide will help.)
If you set a target pace, the Apple Watch will also visually match your progress against your target. There's also a new feature we haven't seen elsewhere before called Race Your Route. If you run the same loop regularly, say a parkrun, you can choose to try to beat your last or best ever time, with the watch helping you pace your effort accordingly.
If you are particularly into poring over your stats, you'll be pleased to dig into three new metrics for runners: stride length, ground contact time and vertical oscillation, features often found on flagship multisport watches. The acid test for Apple will be how well they can help users make good use of this information.
This is on top of plenty of other new features. A SWOLF score – a measure of stroke efficiency – has been added to the swim tracking and a multisport option should appeal to triathletes who want to record brick sessions properly while training or track an entire race and time their transitions.
We don't expect triathletes to give up on Garmin or Polar any time soon, however. While the Apple Watch's hardware is up to snuff, it lacks the training analysis that's essential when your training volume is outlandishly high (no offence intended triathletes, all respect due).
Finally, we're delighted to see Apple join Fitbit, Garmin, Polar and others by offering a breakdown of the stages of sleep, estimating your REM, deep and light sleep.
Apple's watchOS 9 is due for release this autumn and is available for devices going as far back as the Apple Watch Series 4. If you've been considering picking up a still-on-sale Apple Watch Series 3 on the cheap, keep in mind you won't be getting any new features on it.
Jonathan Shannon has been the editor of the Coach website since 2016, developing a wide-ranging experience of health and fitness. Jonathan took up running while editing Coach and has run a sub-40min 10K and 1hr 28min half marathon. His next ambition is to complete a marathon. He's an advocate of cycling to work and is Coach's e-bike reviewer, and not just because he lives up a bit of a hill. He also reviews fitness trackers and other workout gear.
Sign up for workout ideas, training advice, the latest gear and more.
Thank you for signing up to Coach. You will receive a verification email shortly.
There was a problem. Please refresh the page and try again.