Strava Just Got Better At Revealing Popular Trail Routes Near You
By Nick Harris-Fry published
The app now features trail activity modes and new trail routes that will help you find off-road adventures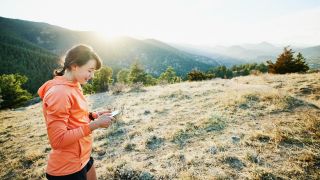 (Image credit: Getty Images / Thomas Barwick)
Strava has long been one of the best fitness apps, and a major reason for that is the way it uses the data it gets from its users.
By combining the routes of all the activities people log on the platform, Strava creates a heatmap highlighting the most popular stretches for people to run and cycle. And it's done on a scale no other app can match – more than seven billion activities have been uploaded to Strava since 2009.
Strava uses this information to automatically create popular routes that its users can then follow when in an unfamiliar place. It makes for an incredibly effective running route planner and one of the main reasons we think having a Strava subscription is worthwhile.
This routing application is now being improved for off-road runners and cyclists. In an update to the app that launches today (Wednesday 8th June), the new Trail Routes is the stand-out feature.
Four new activity modes are being added to Strava – Trail Run, Gravel Ride, Mountain Bike, and e-Mountain Bike – and the new routes will cater to them. Strava says the update is in response to a rise in the popularity of off-road activities in the app.
"We have been seeing off-the-charts growth of trail sports over the past several years, outpacing even the growth of road running and riding," says Michael Horvath, CEO and co-founder of Strava.
You'll be able to adjust your route preference to take into account distance and elevation, and once you have a route planned you'll get extra info like a difficulty rating and how long it might take to complete it, all based on historical data from people who have tackled the route. You'll even be able to tell how crowded the route might be based on past user data – ideal for those who like to hit the trails to get away from the world.
The routes will be available only to Strava subscribers, who will also be able to download them so you can access them when your exploring takes you beyond the realms of cellular coverage.
Another new feature in the update is the ability to use a 3D map for your activity uploads. Again, this is available only to Strava subscribers, but the maps will show in everyone's feed once you upload it, so you can show off the towering climbs and steep descents of your runs and rides in style.
If you've yet to venture off the paved path, our guide to how to start trail running will get you ready to go off-road.
Sign up for workout ideas, training advice, the latest gear and more.
Thank you for signing up to Coach. You will receive a verification email shortly.
There was a problem. Please refresh the page and try again.