The Best Women's Waterproof Trousers For Hiking
By Vikki Hughes last updated
There's no such thing as bad weather if you've got the right waterproof trousers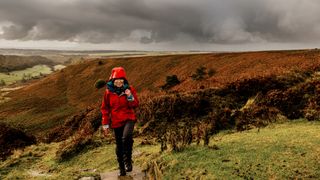 (Image credit: Getty Images / There's no such thing as bad weather if you've got the right waterproof trousers)
There's no escaping the fact that if you go hiking in the UK, at some point you're going to need waterproof trousers. For an in-depth explanation of waterproof jackets, along with the fabrics and technologies used, take a look at our guide to buying women's waterproof jackets. Much of that information applies equally to waterproof trousers.
All walkers should be prepared for changing weather conditions in Britain's hills and mountains, so it's advisable to carry a pair of over-trousers in your pack on all but the driest, warmest days of summer. Over-trousers also offer great protection against the wind and an extra layer of warmth if the temperature nosedives.
Pack lightweight waterproof trousers that are easy to put on and take off for rain showers, and pick a pair that has a long side opening in the legs, allowing you to get the trousers on and off without the need to remove your boots. If it's likely to rain non-stop then you'll want waterproof trousers for all-day wear.
Here are our top picks of trousers to keep your legs dry in a downpour.
Berghaus Women's Paclite Pants
(opens in new tab)
Made from Gore-Tex Paclite, these are completely waterproof and highly breathable. They're also exceptionally light at just 185g and can be jammed into a stuff pack. An elasticated waist and three-quarter length, two-way leg zips make these easy to get on and off over boots, and allow for a bit of venting if it's warm and wet. These simple, functional trousers are the perfect addition to a hiker's backpack for walks in uncertain and changing weather conditions.
Buy from Cotswold Outdoor (opens in new tab) | Sizes 8-20 | £120
---
Rab Women's Downpour Eco Waterproof Pant
(opens in new tab)
The waterproof products in Rab's Eco range are all made from 100% recycled polymers and can be recycled at the end of their useful life. These 2.5-layer Pertex Revolve trousers offer a waterproof rating of 20,000 HH and are breathable. There's an elasticated waist, and the knee-length side zips will fit over most boots without much of a struggle. As well as being practical and planet-friendly, the light and packable design makes them a useful addition to your hiking pack for those walks with changeable conditions. They come in short, regular and long leg.
Buy from Rab (opens in new tab) | Sizes 8-18 | £75
---
Rab Women's Kinetic 2.0 Waterproof Pant
(opens in new tab)
Rather than over-trousers, these are closer-fitting waterproof trousers to wear all day in inclement weather. Made from three-layer Proflex Kinetic 2.0 fabric, they're waterproof (20,000 HH), breathable and stretchy for comfort and easy movement. The elasticated waist has a secure silicone grip so they won't ride up or slip down and the ankle area is reinforced for increased durability. There are also zips on the lower leg that means these pants fit nicely when wearing a sturdy boot. The Kinetic 2.0 Waterproof Pants come in a choice of two colours.
Buy from Rab (opens in new tab) | Sizes 8-16 | £130
---
Rohan Women's Dry Roamers Waterproof Trousers
(opens in new tab)
The Dry Roamer trousers from Rohan are a rare breed of waterproof trousers among waterproof trousers. They look exactly like a regular pair of walking trousers, with all the waterproof and windproof technology provided by an internal drop liner. The membrane in these is breathable, but it's worth noting that thanks to the double layers, with no side vents, they do keep you very warm. That means they suit cold, damp conditions when you're not overdoing it and want a more casual style to last you for the whole day. There's a choice of three colours and three lengths.
Buy from Rohan (opens in new tab) | Sizes 8-18 | £120
---
Mountain Equipment Ama Dablam Women's Pant
(opens in new tab)
These are serious waterproof trousers designed for challenging days in the mountains. Made from durable Drilite with a reinforced weave, the fabric is hard-wearing, and full-length side zips with an inner storm flap means that you can put them on when wearing full winter boots and crampons. Additional features include fully adjustable braces and a drop seat, articulated knees, internal gaiters, a reinforced hem and kick strips for durability. These trousers are probably more than you need for a wet walk in the hills, but a worthwhile investment if your adventures take you to more challenging places.
Buy from Mountain Equipment (opens in new tab) | Sizes 8-16 | £200
---
Berghaus Women's Deluge 2.0 Overtrousers
(opens in new tab)
If you're a fair-weather walker and think you'll rarely want to don a pair of waterproof trousers, these are a good option. At £60 they're great value and are more than up to the task of most general walks. For warmer days they also feature side zips with a set of poppers to aid ventilation. There's a decent size range too – they're one of only a few waterproof trousers on the market to go to a size 20, with short and long leg options too.
Buy from Berghaus (opens in new tab) | Sizes 8-20 | £60
Vikki Hughes (opens in new tab) is a full-time mountain leader and outdoor activity instructor, and covers outdoor and hiking kit for Coach. She also spends a lot of her free time outdoors, so has plenty of opportunity to put gear through its paces.
Sign up for workout ideas, training advice, the latest gear and more.
Thank you for signing up to Coach. You will receive a verification email shortly.
There was a problem. Please refresh the page and try again.