The Best Tennis Balls For Different Surfaces, Value For Money And Training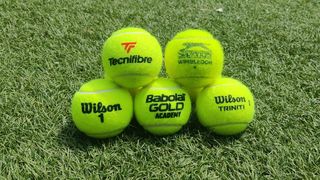 (Image credit: Will Grice / Future)
What's in a tennis ball? You'd be forgiven for thinking they're all the same – round, yellow and covered in felt – but in fact there's never been greater variety available, and the differences can feel enormous depending on the surface you're playing on.
From weight, bounce and thickness of the felt to durability and pressure, the intricacies of a tennis ball all add up and it's surprising how much better a good ball feels versus a cheap one. So give your fluffed-up old tennis balls to the dog and bag yourself an upgrade with one of the best tennis balls.
If you're in need of more tennis kit, our recommendations of the best tennis rackets for beginners and best tennis shoes may be of interest.
The Best Tennis Balls
Tecnifibre X-One
Best all-round tennis ball
Reasons to buy
+
Thick felt
+
Lasts a long time
+
Great, consistent bounce
+
Quick, but not uncontrollable
The Wilson US Open ball has finally been usurped as the best all-round ball on the market. While Tecnifibre is relatively new to the ball market, the X-One lays claim to being the most well-constructed ball out there. Not only do these balls have a tendency to keep their pressure for longer, the felt is also tough and thick, meaning an X-One will last for ages. It's a great option for players of all abilities and all surfaces.
---
Wilson Triniti
Best for value
Reasons to buy
+
The longest-lasting ball available
Reasons to avoid
-
Bounce is low
-
Some players may not like the feel
The Wilson Triniti balls certainly aren't cheap, and the combination of a less-responsive feel, lighter construction and lower bounce isn't to everyone's tastes. But if you're looking for a ball that will give you the most amount of decent playing time for your money, the Triniti is the ball for you. A slightly thicker rubber core means the ball stays pressurised for longer, so you can throw your Trinitis into a bag safe in the knowledge that they're unlikely to "go dead" by the next time you play.
---
Head Team
Best cheap tennis ball
Reasons to avoid
-
Not the longest life once opened
A favourite among club-level players, the Head Team ball is one of the cheapest options available. While it may be competitively priced it certainly isn't of poor quality, with Head having designed the Team ball for longevity and control. It's the ideal option for those looking for a high-quality performance tennis ball at a competitive price.
---
(opens in new tab)
Slazenger Wimbledon
Best for artificial grass
Reasons to avoid
-
Weight may be tough on the arm for some players
-
Can fluff up quite quickly
It's little surprise that the ball designed for Wimbledon performs well on both real and artificial grass courts. It's one of the heaviest around, which makes it the ideal choice for artificial grass because the weight slows the ball down on the quick surface. Slazenger claims the Hydroguard construction makes the ball 70% more water-repellant than other balls on the market – useful because astro courts tend to feel damp.
---
Dunlop ATP Championship
Best for hard courts
Reasons to buy
+
Quick playing ball
+
Felt keeps its shape and doesn't fluff up
Reasons to avoid
-
Could be too quick for beginners
These balls are criminally underrated. They feel fast without being uncontrollable, are durable, and are covered with felt that is less prone to fluffing up than the competition. These are designed for the ATP tour, where most games are played on hard courts, making them an ideal choice for acrylic or asphalt playing surfaces.
---
Wilson Roland Garros Clay Court Ball
Best for clay courts
Reasons to buy
+
Felt keeps dirt off the ball
Reasons to avoid
-
Quite a specialist ball, unless you regularly play on clay
Those lucky enough to play on clay courts will be aware of the problem of balls getting coated in dust and dirt, and eventually feeling more like a cricket ball than a tennis ball. However, Wilson's Roland Garros ball uses felt designed to shed grit and moisture, and other elements that help maintain its pressure for as long as possible, helping with the elongated rallies you expect on clay.
---
Babolat Gold Academy
Best pressureless tennis balls
Reasons to buy
+
Good bounce
+
High-quality construction
+
Last a long time
Reasons to avoid
-
Felt could be higher quality
-
Better-value pressureless balls available
A word of warning: do not buy pressureless balls if you're planning on using them for anything other than training. Pressureless balls are designed for use in ball machines and for basket drills, so are made to be long-lasting and capable of taking a beating.
One complaint many players have with pressureless balls is that their bounce can feel different from regular balls and they can often appear slow, meaning training doesn't always translate very well to match play. However, Babolat seems to have engineered a nearly perfect training ball with the Gold Academy. It's quick without being too hard for beginners, and the bounce is close to matching that of a pressurised ball, making it a great option for coaches and players alike.
Improve Your Game With Workouts, Drills And Advice
Will Grice works in audience development and is a recovering journalist and tennis fanatic. He has played tennis for close to 20 years, and currently plays for two clubs in Hertfordshire competing in both singles and doubles. He contributes to Coach's coverage of the sport.
Sign up for workout ideas, training advice, the latest gear and more.
Thank you for signing up to Coach. You will receive a verification email shortly.
There was a problem. Please refresh the page and try again.