The Best Scooters For Kids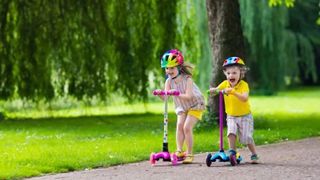 (Image credit: unknown)
Nowadays, a scooter is the first set of wheels most kids have. As well as being a great way to get them to match your walking pace to nursery or school, a scooter is a fun toy to take to the park and a great way of getting some exercise. Children as young as two can scoot happily on sturdy three-wheeled scooters like the Micro Mini and can carry on scooting well into their teens thanks to stunt scooters like the Fuzion X-5 Pro.
Scooters usually have a rear foot brake while some scooters for older kids have a caliper handbrake on the handlebar as well. The handlebar should be positioned around waist height – if it's much higher the scooter will be harder to control. Check the ABEC-rated quality of the bearings: higher ratings means the scooter will go faster, so it's best to go for lower-rated bearings for younger kids to limit their speed.
A well-fitting helmet is imperative, and if your child is just learning, especially on a less stable two-wheeler, some elbow and knee pads can limit bumps and bruises, and provide protection against nastier injuries.
---
Best Scooters For Under-Fives
(opens in new tab)
They're everywhere and for good reason: the Micro Mini is a very lightweight 1.8kg, stable to ride, and the intuitive lean-to-steer system is easy for youngsters to pick up. While they're significantly more expensive than other brands, all the parts can be replaced so the scooters never really wear out and can be passed down or sold on ad infinitum. The Micro Mini Deluxe has an upper weight limit of 35kg and is recommended for use by two- to five-year-olds – the bold colour options and dynamo-powered light-up wheels will appeal to that age group too. The height-adjustable handlebars suit children 80 to 110cm tall and the stem can be removed from the base for easy storage, although the release button is a bit fiddly.
Buy from Micro Scooters (opens in new tab) | £84.95
---
Globber Primo Foldable Lights
(opens in new tab)
Available in five bright colours with multi-coloured light-up wheels, this starter scooter has plenty of appeal. It's stable and intuitive, offering a smooth ride and the standard rear wheel brake. The height-adjustable handlebar has three settings and the scooter is easy for an adult to fold, although a child may struggle. It's recommended for children aged three and over, and will take up to 50kg. The front wheels can be locked straight, which is useful when a child is learning for the first time.
---
(opens in new tab)
A cheap and cheerful option, the Evo+ has handlebars that can be adjusted to the exact height required. It doesn't fold, but the T bar can be removed for storage. It's lightweight at 2.2kg and has a maximum rider weight of 20kg.
Buy from Halfords (opens in new tab) | £25
---
Trunki Small Folding Kids Scooter
(opens in new tab)
This is a sturdy, colourful three-wheeler from a brand known for ride-on kids' suitcases. The Small Folding Scooter weighs 3kg and suits kids 95 to 115cm tall, with a max rider weight of 50kg. The easy but child-proof folding method requires two buttons to be pressed. There's also an integrated tow strap to save your back from bending down to pull your child along, plus a carry bag to limit muddy wheels spreading dirt everywhere. It's available in a not-very-gender-neutral choice of pink or blue.
Buy from Halfords (opens in new tab) | £50
---
Best Scooters For Over-Fives
(opens in new tab)
If your child prefers stability and speed over manoeuvrability and stunts, this larger but lightweight (2.5kg) three-wheeled scooter will be right up their street. It uses the same lean-to-steer method as the Micro Mini and can be adjusted to suit riders 110 to 152cm tall (roughly five- to 12-year-olds) with a 50kg max weight. It's a high-quality scooter which should last for years, especially since all the parts can be replaced if anything breaks or wears out. You can also remove the stem for easy storage. It's available in seven colours, plus some limited-edition versions including one with a deck made from recycled plastic (opens in new tab). There's also a version with LED light-up wheels (opens in new tab) and one that's foldable (opens in new tab).
Buy from Micro Scooters (opens in new tab) | £124.95 (some colours currently reduced to £114.95)
---
(opens in new tab)
Aimed at children aged six and above, this two-wheeled scooter is great for stunts, and the generous maximum weight allowance of 100kg means parents can have a go too. Very lightweight at 3.5kg, it doesn't fold, but it's a tough scooter that will withstand daily use and is a lot cheaper than the Micro equivalent.
---
(opens in new tab)
This entry- to intermediate-level scooter for age seven and up is great for those looking to try some tricks and stunts. The small wheels make for a nimble, lightweight ride on the streets or in the skatepark.
---
(opens in new tab)
The larger wheels on this folding option offer a smooth, comfortable ride for kids aged eight and over. The aluminium tubing is strong and lightweight, supporting up to 100kg, and is designed to adapt to taller riders. There's a kickstand too.
Buy from Scooter Hub (opens in new tab) | £93.99
---
See related
(opens in new tab)
This very lightweight (2.7kg) scooter is a solid choice for a long-lasting two-wheeler for five- to 12-year-olds (suiting riders 110 to 152cm tall). It's great for urban scooting, school runs and some tricks at the skatepark. It takes up to 100kg, so adults can ride rather than carry it if they find themselves unexpectedly lumbered with it when out and about. The Sprite is foldable and has a kickstand, and is available in ten or more colours.
Buy from Micro Scooters (opens in new tab) | £109.95
---
(opens in new tab)
Suiting riders aged nine to 14 (125 to 175cm tall), this two-wheeler has front suspension and large wheels for a more comfortable ride. There's a handlebar brake in addition to the one on the rear wheel for more stopping power. It's fairly lightweight for its size at 5kg.
Camilla Artault is a writer and keen runner. She has covered women's running gear – testing leggings, jackets, bras, tops and shorts – for Coach since 2018, as well as interviewing experts and writing about a range of health and lifestyle topics.
Sign up for workout ideas, training advice, the latest gear and more.
Thank you for signing up to Coach. You will receive a verification email shortly.
There was a problem. Please refresh the page and try again.