The Best Women's Gym Tops
By Lucy Gornall published
Work out more comfortably in our pick of women's gym tops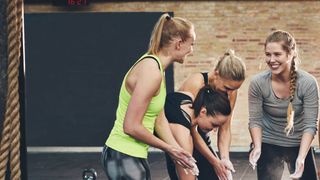 (Image credit: Shutterstock)
What you wear at the gym can help your workout, but wearing the wrong thing to exercise in can lead to all kinds of problems. Chafing under the armpits, a hem that rides up, sleeves that get in the way, fabric that makes you feel like you're working out in a furnace… the list is endless.
So how do you know which one is a winner and which will just let you down? Well, you're in luck, because we've tried and tested a bunch of them. Get set to upgrade your workout with our favourite gym T-shirts, tanks and tops.
And if you're in the mood for shopping, peruse our picks of the best sports bras, then browse the best women's gym wear, casting your eyes over the best gym shorts for women, flicking through the best gym leggings, before finally bagging one of the best gym bags for women.
The Best Gym Tops For Women
(opens in new tab)
MP Women's Short Sleeve Crop
Stretchy yet supportive, this is a gym tee with a twist
Reasons to buy
+
Stretchy
+
Doesn't chafe underarms
+
Supportive around the chest
MyProtein rarely disappoints with its gym kit, and this cute black cropped tee is no exception. Although we found getting our head through the neck hole a little tough, once it's on, the top allows for plenty of movement while still feeling quite supportive around the chest. It's thick, which is welcome because sometimes a cropped top will leave you shivering, but it also felt breathable during a gym workout. The small sleeves don't chafe, which is a relief, and the length isn't too revealing, pairing perfectly with a pair of high-waisted shorts or leggings.
---
(opens in new tab)
Pokita Leopard Crop Top
A comfy and supportive alternative to a gym tee in a fresh print
Reasons to buy
+
Easy to get on and off
+
Gorgeous colourways
+
Supportive bra inserts
Reasons to avoid
-
Cropped style might not be for everyone
When the weather warms up, you might want a top that will keep you cooler. This sports bra-gym top hybrid is ideal for gym workouts because it offers the support of a bra with removable cups, while also giving a little extra coverage thanks to the longer crop length. We wore this for a HIIT and weights-based workout and found that it kept us pretty cool and didn't stick to us when sweaty.
Often, this style of top can be difficult to get on and off – sometimes a workout in itself – but Pokita's crop top is easy to wriggle in and out of and the fabric is super-soft. It's also made primarily from recycled polyester.
---
(opens in new tab)
DHB Women's Run Singlet
A well-made basic
Reasons to buy
+
Affordable
+
Fits well with no chafing
Reasons to avoid
-
Lighter colours may show the dirt
Although its name suggests it's solely for running, this vest is ideal for the gym thanks to its lightweight feel. The mesh back helps keep things airy, and the fabric used for the rest of the vest has inbuilt odour management, so sweaty summer workouts needn't be smelly ones. It washed well, retaining its shape and not shrinking. Available in a range of bright colours and usually discounted in all of them, this top is ideal for that end-of-the-month feeling when we're holding the purse strings a little tighter.
---
(opens in new tab)
New Balance PMV Kimbia Fitted Tank
An eye-catching cropped tank that's highly breathable
Reasons to buy
+
Bright summer colour
+
Mesh back panel to keep you cool
Reasons to avoid
-
Crop style isn't for everyone
This gym top's sunshine yellow colour just screams summer, and the crop style and mesh back allow for extra breathability when it's warm. Although it's a snug fit it doesn't feel too tight or restrictive, while the racerback allows your arms to move freely. It works well for bigger busts, with a high neckline that offers extra coverage. New Balance says that this top uses an innovative dye method that reduces water consumption by at least 80% compared with traditional dyeing methods.
---
(opens in new tab)
Lorna Jane Indie Active Eco Rib Tee
A super-feminine oversized tee that's eco-friendly and moisture-wicking
Reasons to buy
+
Made from 100% recycled materials
+
Good at wicking sweat
+
Fast-drying
Reasons to avoid
-
Colour is not for everyone
The colour of this V-neck tee is what made us want to try it. The bright lilac looks great paired with black leggings or shorts. The oversized fit drapes nicely – perfect for those days when tight clothing doesn't appeal. In the gym, it didn't stick to our sweaty backs, and it stayed dry throughout, which makes a nice change. With its effortless, casual style, this tee would work well away from the gym too.
---
(opens in new tab)
Lorna Jane Half Zip Iconic Long Sleeve Top
A ribbed, long-sleeved top that's suited to cooler strength workouts
Reasons to buy
+
Long body
+
Subtle Lorna Jane branding on the zip
+
Attractive ribbed design
Reasons to avoid
-
Longer sleeves can get too warm
Ideal for cooler days thanks to the half zip and long sleeves, this workout top is comfortable, super-stretchy and long in the body, so there's no chance of your top riding up. We wore this on an upper-body workout day and found it really easy to move in, though it's not one for a sweaty HIIT workout. The fabric is soft, and it washes well, maintaining its slimline shape.
---
(opens in new tab)
Nike Dri-Fit Run Division Convertible Women's Running Vest
Is it a top? Is it a bag? It's the most versatile gym top we've come across
Reasons to buy
+
Bungee cord at the hem transforms it into a carry pack
+
Front pocket for essentials
+
Seriously lightweight
If you're after something breathable and lightweight, this Nike vest fits the bill. The pretty pastel colour is ideal for summer, and the slightly cropped length stops you from feeling too restricted. The beauty of this vest is that it can quite easily convert into a carry pack: the bungee cord hem of the vest tightens to make a chic little tote-style bag, ideal for a few small items. Fashionable and practical – that's what we love! If you're packing this for your travels, be sure to roll instead of folding it because the fabric creases easily.
---
(opens in new tab)
WIT Seamless High Neck Bra
A perfect crop top for lifts and cardio, offering medium bust support and a comfortable fit
Reasons to buy
+
Great padding
+
Thick and supportive
+
No underarm chafing
Another option for the hotter workouts, when a top won't do but neither will a sports bra. Instead, a crop bra like this WIT beauty is just the ticket since it offers full coverage of the chest area, with an extra-thick band underneath so there's no budging. The padding in this bra is a rare find, as it actually fits the entirety of the cup, and when we washed it the padding didn't fold in half or slip out – a very common (and annoying!) problem. The racerback style means extra breathability for your back and greater ease of movement when you're doing bent-over rows, for example. The entire top is seamless too so there won't be any annoying itching or chafing.
---
Under Armour Fly By Women's Running Vest Tank Top
Pretty in pink, this staple vest fits snugly while still being breathable
Reasons to buy
+
Breathable and fast-drying
+
Low back and large arm holes keep you cool
Reasons to avoid
-
Light pink shows sweat easily
This feminine-looking vest is extra breathable with a loose, open back and mesh panels. You won't overheat in this – useful during those really sweaty summer workouts – but the fabric is also of a decent thickness in case the temperature drops. The loose racerback style is fused with a stretchy piece of elastic, which is a nice touch, keeping the straps in place. This top washes well too and we found that it retained its shape.
---
Adidas Aeroready Designed To Move Sport T-Shirt
The LBT (little black tee) every gym wardrobe needs
Reasons to buy
+
Made with 100% recycled materials
+
Longer hem at the back for more coverage
For those workouts where it's not quite warm enough for a vest, or perhaps you're not ready to expose your arms just yet, a staple black gym tee is essential. This one ticks all the boxes: it's a nice length (longer at the back should you want the extra coverage), a comfortable fit, and loose enough under the arms to avoid chafing, while the design is simple and uncomplicated with a small Adidas logo. This tee isn't a tight fit: it's fairly loose and breathable – ideal when you're feeling a little bloated or puffy.
---
PE Nation In Play Tee
A crossover piece that works for gym and daily wear
Reasons to buy
+
Statement colour
+
Baggy tee allows for full movement
Reasons to avoid
-
Expensive
-
The colour might not be to everyone's taste
A payday treat, this tee is ideal not just for low-intensity or weights workouts, but also for general day-to-day wear so you do get a bit more bang for your buck. The fit is baggy, making it easy to get on and off and allowing for movement, plus you have the option to knot it or tie it differently to suit your style. It's also ideal for those days when you just don't feel like wearing tight clothing and it goes with everything from leggings to shorts. The fabric is organic cotton, so it's soft against the skin.
Lucy is a freelance journalist, and former health and fitness editor across various UK women's magazines. She is also a level 3 personal trainer and is trained in pre- and post-natal fitness.
Sign up for workout ideas, training advice, the latest gear and more.
Thank you for signing up to Coach. You will receive a verification email shortly.
There was a problem. Please refresh the page and try again.