The Best Women's Gym Shorts
By Lucy Gornall last updated
Give your fit kit a warm-weather refresh with our pick of the most stylish – and functional – gym shorts around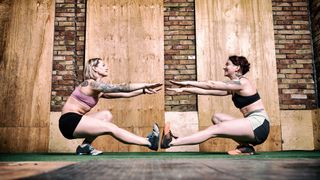 (Image credit: Shutterstock)
Call us optimistic, but as soon as temperatures start to rise, we're thinking about switching our go-to leggings(opens in new tab) for a pair of breezy gym shorts. Whether you're gagging to get back to group exercise classes or getting excited about al fresco workouts, if you like your sessions sweaty, shorts are non-negotiable.
But, much like shopping for jeans and swimwear finding the perfect pair of workout shorts can be a minefield. How short is too short? Should you go two-in-one or cycling style? Do they pass the squat test? And, the dealbreaker, are they going to ride up mid-sesh and chafe your thighs? So many questions.
Fear not, we've done the legwork (sorry) for you and picked out the best women's gym shorts to shop now for running, weight training, yoga and more.
To round out your workout wardrobe, shop the best women's gym wear including the best gym leggings, best women's gym tops, best high-impact sports bras and best gym trainers. And of course, you'll want to carry your kit in one of the best gym bags for women.
The Best Women's Gym Shorts
The North Face Flight Series Stridelight 2-In-1
A high-performing pair with supportive inner pants and serious breathability
Reasons to buy
+
Tie waistband
+
Thick, comfortable inner pants
+
Hidden zip pocket
Reasons to avoid
-
Not that much give in the waistband
In true North Face style, these contain all the tech needed to ensure you stay comfortable and dry while exercising. The FlashDry fabric is moisture-wicking so there's less damp-shorts drama, plus the outer shorts – upon close inspection – are perforated, making them extra breathable.
The inner pants are thicker and supportive than most, making them some of the best we've come across. In fact, if you felt comfortable doing so, you could go without underwear and there'd be no risky exposures while in the gym.
The waistband is thick and although it's not particularly stretchy, it's still comfy and has a discreet tie-cord waistband. A hidden zip pocket in the back is ideal for storing little items, plus there's a larger mesh pocket on top. Although slightly more expensive than most pairs of shorts, the technical features and fit impress.
---
Contur Newfound
Sleek, well-fitting shorts available in a range of colours
Reasons to buy
+
Sleek and shiny
+
High waist
+
Several colours
Reasons to avoid
-
Waistband is pretty tight
There are plenty of attractive hues in the seven choices available, but we fell in love with the bright-blue shade called petrol. The comfortable fit and supportive high waistband make these shorts suitable for all gym-based workouts. They offer impressive coverage when squatting and don't wrinkle, crease or move around during HIIT workouts. Instead, the smooth, almost wet-look fabric stays put. This fabric also contains UV sun protection to help guard your skin against damage during outdoor workouts.
---
Lorna Jane Trackside
A brilliant combo of chic and soft
Reasons to buy
+
Useful phone pocket down the leg
+
High waistband for good coverage
Reasons to avoid
-
Lighter colour does show crotch sweat
This fashionable pair work well as daywear and while light-coloured tight shorts can be risky, we can report these are camel-toe free! The fabric is thick and feels delightfully soft, even after a wash. The phone pocket on the side of the leg is handy and means your phone is always by your side, quite literally. We did think the phone pocket might cause the shorts to slip down, but it doesn't seem to make any difference. It might be a different story if you wear them running, but for our gym workouts, it was a welcome addition.
---
Pour Moi Energy
Quality black shorts elevated with summery florals
Reasons to buy
+
Pretty floral design
+
Relatively affordable
These plain black shorts have gorgeous floral panelling down the side of the leg. Although these don't have inner pants, they don't gape excessively; still, they might not be the best shorts to wear for hip thrusts.
The two side pockets are useful to carry odd bits in, and the thin waistband doesn't dig in and can be worn at any height you please. We wore ours a little higher for extra tummy coverage and found the shorts practical for all types of exercise. Wear them a little lower when squatting to avoid exposing any bum cheek.
---
Under Armour Play Up 3.0
An affordable, practical pair that suit all styles of workout
Reasons to buy
+
Roomy without being too baggy
+
Side pockets
+
Comfortable inner pants
Reasons to avoid
-
No way of tightening the waistband
Although described as running shorts, we've worn these for both resistance and HIIT workouts, and can confirm they were perfectly suitable. There are side pockets, although no zips, and the inner pants are really comfortable and don't rub or itch. The shape means they can sit comfortably either higher up the stomach or on the hips.
---
Nike Air Dri-Fit Fast 7in Mid-Rise
Best for an unmoving waistband
Reasons to buy
+
Large waistband pocket
+
Pretty design
Reasons to avoid
-
Can be a squeeze to get on
The first thing that stands out with these Nike shorts is the pretty abstract print which means they can easily work as daywear on hot days, and the bonus is that the pattern keeps sweat patches well hidden. They are a little tough to get on because the thick waistband doesn't have that much give; however, when they're on they don't budge, avoiding the danger of camel toe or wedgies, and they sit at a comfortable level on the stomach. The waistband has a built-in zip pocket, plus there's a small pocket down the leg which can fit a phone.
---
WIT High Rise Shorts
Best for squatting
Reasons to buy
+
Totally squat-proof
+
High-waisted
+
Super-soft
Reasons to avoid
-
May be too short for some
If it's short shorts you're after, these little WIT numbers are for you. We wore these for a tough leg day workout – squats, lunges, hip thrusts… you name it, we did it – and had a friend keep an eye out to catch any see-through moments and there were none! Made with an opaque knit, these offer full coverage and a high waist that provides excellent support. They're also super-stretchy, so we were able to move freely.
---
Nike Pro 365 Shorts
A gym wardrobe staple that can handle any workout
Reasons to buy
+
Smooth fabric
+
No camel toe
+
Short with just enough cover
Reasons to avoid
-
If you want a high waist, avoid
-
Relatively thin
-
Very short
These great shorts will fit the bill for most activities, from gym-based exercises through to running and cycling. The fabric is a little thin, but we didn't experience any see-through issues when squatting and although they're short, we can confirm that our bum cheeks stayed covered.
If you're a fan of a thicker waistband, then these might not be to your liking, but they're still tight and supportive, even with a thinner band. These also wash well and never lose their shape.
---
MP Women's Velocity Seamless Cycling Shorts
Pretty ombre shorts that keep everything tucked in
Reasons to buy
+
Very high-waisted
+
No seams so no chafing
+
Handy key pocket in the waistband
Reasons to avoid
-
Very tight-fitting – you may need to size up
These aren't just great for the gym – the ombre design makes them great for day-to-day wear too. The extra-high waistband keeps everything tucked in and the high waist is so thick that it even comes with a small zip pocket that's ideal for keys or a card. Plus, the fact there are no seams means no chafing.
One thing to consider, though, is the tight fit. These are incredibly close-fitting, and although they may stretch in time, it may be worth ordering a size up.
---
Adidas Marathon Shorts
A more affordable pair with a classic design that's suitable for all workouts
Reasons to buy
+
Not restrictive
+
Comfortable inner pants
+
Fashionable
Reasons to avoid
-
Might gape a little too much for some
Everyone needs a pair of staple black gym shorts, and these are ideal for runs as well as gym workouts. They aren't too tight-fitting and the waistband has plenty of give as well as a tie which can tighten or loosen the shorts.
Although they are baggy (which helps avoid chafing and makes them more breathable) these come with inner pants so you can rest assured that you won't be exposed. A very well hidden inner pocket is also built in.
---
PE Nation Gravity Short
A payday treat with a colourful design that's summer-ready
Reasons to buy
+
Mid-rise shorts
+
Hidden pocket on the inner
+
Tie waistband
PE Nation's shorts will set you back a fair bit, but they're thick and of superb quality, comprising a comfortable tight pair of inner cycling shorts covered by a looser pair of mesh shorts. These shorts have actually been created for tennis, with a mesh pocket that's ideal for holding a spare tennis ball, but we found they were brilliant for gym workouts. The waistband is thick with a drawcord, and who doesn't need to loosen their shorts on days when feeling a little bloated? The colour also stands out, without being garish. We're big fans!
---
Pocket Sport Claude Shorts
Longer shorts that offer extra coverage and won't slip
Reasons to buy
+
Handy hidden pocket
+
A little longer on the leg
+
Waistband gripper so no falling down
Reasons to avoid
-
Lighter colours show sweat
These cycling-style shorts are a little longer on the leg than most and the nine-strong range of colours is brilliant – the deep burgundy fig's our fave. There's also a built-in waistband gripper that removes any risk of them slipping down when exercising.
As well as gym-based workouts, these are great for running. An inner pocket is handy and the stretchy fabric is flattering without being too tight. We also found them easy to get on and off, where some similar styles can be quite tough to pull on.
Lucy is a freelance journalist, and former health and fitness editor across various UK women's magazines. She is also a level 3 personal trainer and is trained in pre- and post-natal fitness.
Sign up for workout ideas, training advice, the latest gear and more.
Thank you for signing up to Coach. You will receive a verification email shortly.
There was a problem. Please refresh the page and try again.