Best Garden Hose: The Best Hosepipes And Reels To Take Care Of Your Garden
By Caroline Preece published
Keep your garden looking lush this summer and around the year with the best rubber, vinyl and sprinkler hoses worth your money...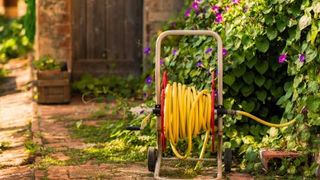 (Image credit: unknown)
If you're looking for ways to keep your garden looking fresh this summer, finding the right hose pipe should be right at the top of your to-do list. While it might be a surprise to learn that there are so many different options and choices available, whether it's getting the right material, length or storage method, you'll want to avoid choosing a product that's not quite fit for purpose.
We've collected up some of the best garden hoses available online to help make the decision process a little bit easier, as well as a guide for what to look out for.
How To Choose The Best Garden Hose
How many different types of garden hose are there?
Rubber hoses are likely the kind that you've come across most often, and there's a reason for that. These are the most durable type of garden hose and can thus cope with higher levels of water pressure, and there's also less impact from general wear and tear that can happen over the years. Rubber isn't your only option though.
There are also vinyl hoses which, despite being more inclined to kinking than their rubber counterparts, are usually much cheaper and so are good for those who only use their garden hose every now and again. You can also buy hoses made from a combination of rubber and plastic, which split the difference by being stronger than vinyl but cheaper than rubber.
Are there other features to look out for?
Whether you're going for a rubber or a vinyl hose, note that it will be sold with between 1-6 plies or layers, ranging from the weakest to the strongest. Stronger hoses with more layers tend to be that bit more expensive but, if you plan on using it on a regular basis, then it could be worth spending slightly more.
After material, the most important thing to consider is the length of hose you'll need, as they are generally sold in increments of 25ft. It may be tempting to go for a hose on the longer side to remove room for error, but if you want to ensure water pressure then only get the length you'll think you need.
See related
The Best Garden Hoses To Buy
1. Karcher HR4.525 PrinoFlex Hose
Best Overall Hose
(opens in new tab)
Coming with a convenient reel that can be mounted on the wall to save space, the Karcher HR4.525 is lightweight, simple to use and rather robust for a plastic model. The material is the reason for the lower price, but for those who only need to use their hose infrequently, it will do the job quite nicely. Unfortunately, we were less impressed with the reel, which feels cheap and not quite sturdy enough for our liking, but the strong and reliable hose itself compensates for this relatively minor quibble.
Material: Plastic; Length: 25m
Buy from Karcher (opens in new tab) | £50
---
2. Hozelock 60m Assembled Hose Cart With 50m Hose
Best For Large Gardens
(opens in new tab)
If you've got access to a large outdoor space then it can be difficult to adequately water the entire area. This Hozelock 60m Assembled Hose Cart gives you more control as it unspools with you while you move around the garden, and can be used with hose pipes up to 50m long. The tradeoff with this is the lack of a spring mechanism, so you'll need to use the integrated handle to wind your hose back in after watering. Nevertheless, this comes recommended for bigger watering jobs.
Material: Plastic; Length: 50m
---
3. Draper 15m Soaker Hose
Best Sprinkler Hose
(opens in new tab)
A slightly different solution for those who want to cover a bigger garden more easily, the Draper Tools' Soaker does a brilliant job of distributing water more or less evenly across a large area with its sprinkler-style hose. The sizing of the holes isn't perfect, however, so depending on your requirements and standards, you may want to shell out a little more for something higher-end. This is, however, a great budget option to consider.
Length: 15m
---
4. Hozelock Compact 2in1 Reel With 25m Hose
Best Budget Hose
(opens in new tab)
Another product from Hozelock, we're particular fans of this more compact 2-in-1 manual hose and reel combo. The reel's design, which protects the hose pipe while not in use by keeping it covered, and large, easy to turn handle make it good for those who are concerned about the general wear and tear that can happen while storing the hose. The carry handle also makes it simple to use anywhere around the garden.
Length: 25m
---
5. VonHaus 20m Garden Hose
Best For Auto-Winding Reel
(opens in new tab)
Unlike other entries on this list, the Vonhaus Garden Hose has an auto-rewind mechanism that could be a dealbreaker for some shoppers. It certainly makes things easier when you're done watering the garden, as there are no awkward handles to deal with. You should be aware of certain customer complaints that the bolts and attachments for mounting the reel to the wall aren't great, however, so you may have to pay slightly extra for replacements if you want to make sure it's as sturdy as possible.
Length: 20m
Sign up for workout ideas, training advice, the latest gear and more.
Thank you for signing up to Coach. You will receive a verification email shortly.
There was a problem. Please refresh the page and try again.