Stay Charged With The Best Power Banks
By Matt Breen published
Got a device that needs the kiss of life? Here's our list of the best power banks, for all situations and budgets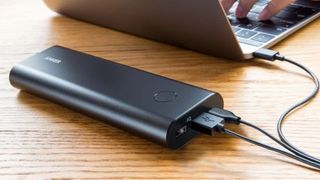 (Image credit: unknown)
From fitness trackers to running headphones, there are all sorts of devices that can accompany and assist your workout. Of course, they all rely on regular charging – and there's little more irritating than going for a run or bike, only to discover your gadget is running on fumes. That's a problem easily sorted by carrying a power bank around with you.
A power bank might sound like a simple purchase, but they come in a rather overwhelming variety of sizes, capacities and prices. We've picked out the six best power banks available right now, followed by a buying guide that will talk you through charging capacities, port types, wireless technology and more.
See related
The Best Power Banks 2020
Anker Powercore 20000 Essential
Best Value High-Capacity Charger
(opens in new tab)
This power bank from Anker features a 20,000mAh capacity for a price that you'd usually expect for those with just 10,000mAh – and it has plenty else to offer. It features dual USB Type-A ports, along with Type-C and micro-USB inputs, so you'll have a breadth of charging types compatible with this device. Sadly, there's no support for USB-PD charger, but Anker's PowerIQ and VoltageBoost technologies will deliver a good 15W of power through each of those Type-A ports. There's also a trickle-charging mode, which is the best way to charge low-power accessories like Bluetooth headphones.
Weighing in at 280g and larger than most phablets, it's certainly a beast of a power bank. Unsurprisingly, then, it took 11 hours to recharge: this is one to plug in overnight before a day of use. There are faster power banks out there, but in terms of value for money, the high-capacity PowerCore 20000 can't be beaten.
Capacity: 20,000mAh
Inputs: USB Type-C, micro-USB
Outputs: 2 x USB
Dimensions: 74 x 158 x 19mm
Weight: 280g
---
Poweradd Energycell 5000
Best Lightweight Power Bank
(opens in new tab)
Despite its featherweight status at a mere 99g, the Poweradd EnergyCell 5000 packs an impressive punch with a capacity of 5,000mAh. Measuring just 11cm in length and 2.7cm in width, this is a power bank you can easily stow away about your person, and quite possibly forget you have on you such. It features a micro-USB port for charging, while the button on the top activates the four LED lights that indicate its levels of charge.
When we hooked up the EnergyCell 5000 to our Xperia X10 Ultra, we were pleased to discover it brought it to 25% in 30 minutes and 52% in an hour. That's quite some charge for such a lightweight power bank - by our estimates, it's the best one available, and will serve you well over a weekend away.
Capacity: 5,000mAh
Input: micro-USB
Outputs: 1 x USB
Dimensions: 27 x 110 x 27mm
Weight: 99g
---
Aukey PB-N54
Best lightweight charger for USB Type-C
(opens in new tab)
This dinky little power bank, designed in the classic lipstick-style shape, is a great choice if you have a smartphone or tablet with an USB Type-C port, which is increasingly the case these days. For a 10cm-long power bank that weighs a mere 136g, it boasts an impressive 5,000mAh capacity, and a maximum output of 5V 3A.
The PB-N54 also features a low-charging mode, and has an LCD display to let you know its levels of charge. If you frequently find that your Android phone is running on fumes come mid-afternoon, keep this little stalwart stowed away in your pocket.
Model: PB-N54
Capacity: 5000mAh
Input: USB Type-C
Output: 1 x USB
Dimensions: 102 x 30 x 30mm
Weight: 136g
---
Aukey PB-XN10
Best Slimline Power Bank
(opens in new tab)
Just because you want a slim, light power bank doesn't mean you need to dispense with extra features – not if you pick up the Aukey PB-XN10. It packs both USB Type-C and Type-A connections into a svelte 195g body that can easily fit into a jeans or jacket pocket. The Type-C port functions as both input and output, and handles a 5V 3A charge in both directions. The Type-A port, meanwhile, delivers an extra 5V 2.4A for an extra-quick charge. To complete the array of ports, there's also a micro-USB option too.
Speed-wise, it charged our Xperia X10 Ultra to 31% in 30 minutes, and to 61% in an hour: not too shabby at all. Our only real gripe was the way our fingerprints showed up on matte-black case – but if you're looking for a highly portable power bank that's compatible with a variety of connections, this is a smart choice.
Capacity: 10,000mAh
Input: micro-USB and USB Type-C
Outputs: 1 x USB Type-A, 1 x USB Type-C
Dimensions: 125 x 70 x 15mm
Weight: 195g
---
Cygnett ChargeUp Wireless 10,000
Best Wireless Charging Power Bank
Wireless charging is still the exception rather than the rule – but that will undoubtedly change in the next few years. If you own a device with Wireless Qi charging, or you want to be ahead of the curve, then take a look at this power bank from Cygnett. Most devices charge at a 2W rate via this charge, although recent Apple and Samsung products will charge between 7.5W and 10W.
In the case of a Galaxy S8, that was speed enough to replenish the battery by 25% in 28 minutes: not as quick as with a cable, but enough to serve you for an important call or some admin. Wired charging is swifter: our test phone got to 28% in 30 minutes and 54% in an hour. Yes, that £70 asking is markedly higher than others on this list, but it's justified by the extra capabilities.
Capacity: 10,000mAh
Input: Micro-USB
Outputs: 2 x USB, Qi Wireless charging with up to 10W fast charge
Dimensions: 142 x 69 x 22mm
Weight: 243g
Buy from Cygnett (opens in new tab) | £70
---
Anker PowerCore 26800 PD
Best Power Bank For Long Periods
(opens in new tab)
Are you someone who finds they're often surrounded by a number of charge-thirsty devices, and 20,000mAh power bank isn't enough to keep them happy? Step forward, the Anker PowerCore 26800 PD, a super-sized charger that boasts an astonishing 26,800mAh capacity, dual USB Type-A ports with a maximum output of 5V/3A, plus a USB Type-C port that supports USP-PD for both charging and recharging. All packed, we might add, inside a highly durable aluminium alloy casing.
It also includes a USB-PD charger, a catch-all charger that works with all USB cables. PD chargers also boost charging and recharging speeds – our Xperia test phone reached 55% within the space of an hour, and our Samsung Galaxy S8 rose to 27% in 30 minutes. We were particularly impressed to see that our Acer Chromebook 13 charged at the same with the USB Type-C output that it did with its own main charger.
The chief disadvantages are, unsurprisingly, heft and price: it weighs a mammoth 576g, and will set you back just over £100, albeit with the PD charger. Cheap it ain't, but the PowerCore 26800 PD is a smart investment for people who do a lot of travelling, and with a lot of devices stowed away in their bag.
Capacity: 26,800mAh
Input: USB Type-C
Outputs: 2 x USB, 1x USB Type-C
Dimensions: 18 x 80 x 24mm
Weight: 576g
---
How To Pick The Right Power Bank
There are four factors to consider: size, speed, capacities and price. The more you spend, the higher the capacity, and the faster your power bank will charge the attached device. We've divided them into three broad categories below.
Budget
The cheapest, smallest power banks will have anywhere between 2,000mAh and 5,000mAh in charging capacity. That will offer you between three-quarters or two lots of the average full smartphone charge. Don't pay any more than £15 for a power bank with this level of capacity.
Mid-range
If you go up a little in size and weight, you can pick up a newer slimline power bank that will offer around a 10,000mAh capacity. That's enough to charge a Samsung Galaxy S10 nearly three times over, or else provide enough charge for two devices at the same and leave a little leftover charge. Expect to pay between £15 and £25 for a device of this capability.
High-end
The largest and heaviest power bank will deliver 20,000mAh in charging capacity – that's enough to cover a small family's smartphones over the course of a weekend, or recharge a Nintendo Switch three times. They also tend to be rather heavy: you probably won't want one for everyday use. They will likely set you back between £25 and £35.
Other features to consider
If you think you'll need your power bank to charge more than one device at any one time, you should buy one with two or multiple ports. Most banks will sport one micro-USB port - which can be used to charge itself – along with one or more USB Type-A ports for delivering charge to connected devices. Many models also now feature USB Type-C port too, which we're seeing increasing using over Type-A ports in devices like laptops, e-readers and tablets.
Then there's the matter of charging capabilities. Put simply, the higher the output of your ports, the faster the connected device will charge – providing that device can work with that level of charge. Your basic USB 2 port is designed to output 5V/500mA, while a USB 3.1 port will output 5V/900mA. Check the specs of the device you'd like to charge, as there's little point in buying a power bank that has unnecessary levels of charge.
There's also the question of whether you want a power bank with fast-charging ability, for which you'll have to pay a little extra. Qualcomm's Quick Charge is probably the most prevalent – variants range from Quick Charge 1 (5V/2A) to Quick Charge 2 (5-12V/2A) to Quick Charge 3 (3.6-20V/2.5-4.6A). Quick Charge 4.0+ (3.6V-20V/2.5-4.6A) is also slowly taking off, and is supported by devices like the Razer Phone and Razer Phone 2, the Xiaomi Mi 9 and Mi A2 and the Samsung Galaxy A70 and A80. Is it worth coughing up extra for? That really depends on whether you've got the compatible devices, of course – and whether you're someone who needs a dead device brought back to life quicksmart versus, say, in a matter of hours or overnight.
Sign up for workout ideas, training advice, the latest gear and more.
Thank you for signing up to Coach. You will receive a verification email shortly.
There was a problem. Please refresh the page and try again.