The Best Travel Pillows: Stay Comfortable And Say Goodbye To Post-Trip Aches
By Caroline Preece last updated
Whether you're on a plane, in a car or on a train, these will help you arrive refreshed and feeling chipper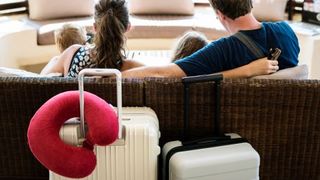 (Image credit: Unknown)
If you've ever woken up on a plane with a stiff neck or wrist pain from leaning on it for hours, or simply not been able to sleep at all, chances are you've glanced enviously at the person across the aisle using a travel pillow and sleeping soundly. While they're most commonly seen on planes, they're equally effective in cars, buses, trains and boats, and can help you avoid arriving at your destination feeling out of sorts.
Most travel pillows work by supporting the neck and providing a soft surface for you to lean on. The traditional U-shaped cushions allow you to stay in an upright position as you doze off, without worrying about hurting your neck or back. But there are plenty of other options beyond the original style – if you're a side sleeper and want to recreate that position, say, or need something that can pack down small and be stowed away when not in use.
These days there's a travel pillow that's suited to every kind of sleeper, every mode of travel and every size of carry-on. However you prefer to sleep, arrive at your destination well rested and ache-free with one of these pillows.
---
The Best Travel Pillows To Buy
(opens in new tab)
Made from memory foam for optimum head and neck comfort, Cabeau's Evolution pillow ticks all the key boxes. It's soft and comfortable, with two straps which can be looped around an airplane seat's head rest to stop your head from lolling from side to side too much while asleep and reduce the risk of waking with an aching neck. The vents on the side also help to keep you from overheating on long journeys when all you want to do is snooze.
Buy on Amazon (opens in new tab) | £37.03
---
(opens in new tab)
If your priority is being able to stow your travel pillow in the smallest form possible when not using it, an inflatable version may be your best bet. The Purefly is easy to blow up to full size by simply pressing the button on its arm, making it far superior to other models that require manual inflation. It has a raised back designed to provide extra support for your neck, and a cover that can be removed and washed as needed.
Buy on Amazon (opens in new tab) | £15.99
---
(opens in new tab)
If you've had trouble finding a travel pillow that affords you a secure place to rest your head, try this innovative pillow. Rather than the usual U shape, the British-designed J-Pillow goes instead for – have you guessed? – more of a J, in an attempt to prevent the annoying head-bobbing motion that can occur when using standard travel pillows. It's a design that's likely to suit those who prefer to sleep on their side in bed. The only caveat is that the J-Pillow does not condense or deflate so you're obliged to attach it to the outside of your luggage – and likely explain what it is and how it works to curious fellow travellers.
Buy on Amazon (opens in new tab) | £22.95
---
(opens in new tab)
The Travelrest focuses as much on your body as on your head and neck. You inflate it into a boomerang shape and strap it across your torso to create a more natural sleeping position with full lateral support. It can be attached to a plane or car seat and, once deflated, it rolls up small to slip into your luggage. It's ideal for people who don't get on with the standard U-shaped travel pillows and those who naturally sleep better on their side.
Buy on Amazon (opens in new tab) | £19.95
---
See related
(opens in new tab)
The versatile Twist memory foam pillow can be bent and twisted into any shape you desire. If you're a back sleeper you can wrap it around your neck; if you prefer to sleep on your side you can position the pillow against a window or surface. Because it's made with memory foam it's soft and comfortable however you use it, and when it needs cleaning you'll find the cover comes off and goes back on easily. The only downside is that it's slightly more tricky to store than others.
Buy on Amazon (opens in new tab) | £15
---
(opens in new tab)
A more subtle-looking option, this travel pillow could be mistaken for a scarf when you're wearing it. The Trtl appears to just be fabric but has internal supports designed to cradle your head and neck – the tighter you wrap it, the more support it gives – and afterwards can be easily folded up and stored away. The fleece material is beautifully soft (and hypoallergenic), and it can be adjusted to work on either side.
Buy on Amazon (opens in new tab) | £24.95
---
(opens in new tab)
If find the original travel pillow design perfectly satisfactory then the Aidapt Super Soft memory foam version is a comfy and economical option. It's firmer than its similar rivals, which means it offers more comfort when worn for longer periods. If you only need a travel pillow for one trip or don't have too much trouble getting comfortable on flights, at under a tenner this could well be the one for you.
Buy on Amazon (opens in new tab) | £7.99
---
(opens in new tab)
The highly versatile Huzi Infinity takes the form of a big loop made of breathable bamboo rayon fabric. You can use it in many different ways, whether you want to get comfy lying down or in an upright position, and it works just as well if you're in a middle or aisle seat. It's not just for travel, either – it's equally useful for uncomfortable beds and when you just can't get cosy on the sofa.
Buy on Amazon (opens in new tab) | £34.99
---
(opens in new tab)
If you really can't bear to forgo creature comforts while you're on the road, the Tielle pillow is for you. It's posher than anything bar actual bedding, with a filling made up of 20% duck feather and 80% duck down, and a 600 thread count pillowcase measuring 40cm x 50cm. You can't reduce it in size for packing purposes but if you don't mind carrying it around, your dreams are guaranteed to be sweet.
Sign up for workout ideas, training advice, the latest gear and more.
Thank you for signing up to Coach. You will receive a verification email shortly.
There was a problem. Please refresh the page and try again.