Coach Approved: The Rigorously-Tested Best Buys You Need To Know About
By Coach Staff last updated
Introducing the Coach stamp of approval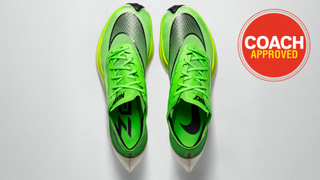 (Image credit: Unknown)
You may have noticed a small red badge appearing on Coach's product reviews. You also may not have because they are few and far between. We've launched this badge to mark truly superlative products we think you should be aware of.
We only give this badge to products which we've spent a long time getting to know. Not only that, but we'll have used most of the competition too, so we know exactly how the product stacks up and where it stands out.
And it's standing out that matters. Our picks aren't necessarily the best of the best, because that's normally (but not always) just the most expensive, and they may not be flawless – but there will be something that sets them apart.
Coach-Approved Fitness Trackers
The Coach team spends weeks using each fitness tracker or smartwatch, assessing their performance when tracking running, cycling, swimming, activity and sleep, as well as the battery life, design, app and smart features. We've tested models from traditional wearable brands like Fitbit, Garmin, Polar, Withings and Misfit, electronic giants like Samsung and Huawei, and upstarts like Coros and Amazfit. Here we've listed the wearables that truly wowed us.
---
(opens in new tab)
Unlike wrist trackers, these goggles are a one-sport pony, but since there is nothing else out there like them it'd be fairer to call them a one-sport unicorn. The motion sensors in the goggles accurately track lengths, stroke type, stroke rate, distance per stroke, pace and more, then project that info into the corner of one lens so you can keep an eye on your performance without stopping to check a screen on your wrist. It's nothing short of a delightful experience, and there's plenty more detail to dig into in the partner app.
Buy from Form (opens in new tab) | $199 (around £151), plus international shipping from $26 (around £20)
---
(opens in new tab)
When we're not strapping on the latest watches to review, we tend to use a Garmin Fenix 5 Plus or Forerunner 945 to track our running. However, after a month with the Forerunner 245 Music, we realised it would be quite hard to justify spending £520-plus it costs to get one of those watches when the 245 is available for under £300. That's because the 245 Music contains everything a runner needs. It has accurate tracking, excellent training analysis, breadcrumb navigation, structured workouts and training plans you can follow on the wrist, plus music. It even has a big battery, with 24 hours of GPS, and the lightweight design means it's comfortable to wear 24/7.
Buy from Garmin (opens in new tab) | £299.99 | Garmin Forerunner 245/245 Music review (opens in new tab)
---
(opens in new tab)
While the 245 will satisfy the needs of all runners, if you are out to get the best of the best regardless of cost, this is the sports watch you should buy. The Forerunner 945 offers best-in-class sports tracking and training analysis, plus colour maps for on-the-go route planning, and music.
The training analysis in particular is where the 945 is an upgrade on the cheaper Garmin models. It breaks down your past four weeks of training into three categories – short, sharp anaerobic workouts; hard, long high-aerobic sessions; and easy low-aerobic training – and then advises you on whether your training has the right balance. The watch also packs a monster 36 hours of GPS battery life despite its slim, lightweight frame. In short, it's everything an obsessive runner or triathlete could want.
Buy from Garmin (opens in new tab) | £519.99 | Garmin Forerunner 945 review (opens in new tab)
---
(opens in new tab)
The Ignite offers a compelling package of genuinely useful and novel features, an attractive design and a more than reasonable price, which is why we're happy to overlook a few problems and bestow a Coach Approved rating upon it. The best of those new features work in tandem: the detailed sleep and recovery analysis rates how fit you are to train on any given day, and you then get a set of recommended workouts to do that fit that rating. The workouts cover cardio and strength sessions and are detailed but easy to follow, and there are also supportive routines to do that help you stretch. If you follow the Ignite's advice every day, you'll get seriously fit – what more could you ask for from a device designed to help you get fit? Throw in the colour touchscreen, slim build and sub-£200 price and we fell for the Ignite within a day of strapping it to our wrist.
Buy from Polar (opens in new tab) | £174.50-£199.50 | Polar Ignite review
---
(opens in new tab)
Having tried all manner of wearables over the past few years we've come to the conclusion that Garmin is top dog for serious sports tracking, with its Forerunner and Fenix lines offering in-depth training analysis that can genuinely help you improve. The Forerunner 645 Music takes the key sports-tracking features from top-end models like the Forerunner 945 or Fenix 5 Plus and puts them into a smaller, more stylish and more affordable watch. It was also the first Garmin to have space for music, and has since added the capability to sync playlists over from Spotify wirelessly. Quite the package.
Buy from Garmin (opens in new tab) | £399.99 | Garmin Forerunner 645 Music review
---
(opens in new tab)
Generally, great smartwatches are lousy fitness trackers and vice versa. The fourth edition of the Apple Watch undoubtedly offers the best smartwatch experience, with the array of available apps in particular putting the Apple Watch well clear of the competition. And that variety of apps means that the failings in the Apple Watch's native sports tracking – of which there are several – are easily remedied by finding a third-party option, while the everyday step and activity tracking is done superbly well on the Watch.
Buy from Apple (opens in new tab) | From £399 | Apple Watch Series 4 review
---
(opens in new tab)
The Fenix 5 Plus is the complete package, offering unparalleled sports tracking, exceptional navigation through colour maps and on-the-go route planning, plus smart features like music storage and the ability to sync with Spotify. On top of that, the premium design makes it a watch you can wear everywhere. It doesn't come cheap, but if you're a serious endurance athlete and don't want to compromise when choosing fitness tracker, the Fenix 5 Plus is the best in the business. If you like to explore the great outdoors then no other tracker compares, and the only ones that come close are other Garmin models like the Forerunner 945.
Buy from Garmin (opens in new tab) | £599.99 | Garmin Fenix 5 Plus review
---
(opens in new tab)
The Apex isn't a flawless device – it lacks the ability to track activity beyond running, cycling and swimming – but it stands out by delivering an easy-to-use device with a premium feel and exceptional battery life while seriously undercutting the competition on price. The 42mm watch offers 25 hours of GPS and costs £269.99, which the 46mm brings 35 hours of GPS to the table for £299.99; for reference the Garmin Fenix 5 Plus (above) offers 18 hours of GPS. If you're a keen runner or triathlete coveting a high-end multi-sport GPS watch but can't face splashing out £500-plus, the Apex deserves consideration. It has in-depth sports tracking including training effect and a nifty stamina feature that estimates how much juice you have left when running, and it recently added route planning through breadcrumb navigation.
Buy on Amazon (opens in new tab) | £269.99-£299.99 | Coros Apex review
---
Coach-Approved Running Shoes
Coach is blessed with a committed runner who will happily knock out six runs a week, all of different types. That means when we review a shoe we've covered at least 80km in it and – barring exceptionally light track shoes – covered all paces and styles of training from long, slow runs to tempo to intervals to progression sessions.
---
(opens in new tab)
It's not easy to improve on something as good as the Vaporfly 4% but Nike has managed it with the NEXT%, which offers a more stable ride and should be more durable than its notoriously short-lived predecessor. Nike added 15% more ZoomX foam to the midsole of the shoe, mostly in the forefoot to change the heel-to-toe drop from 11m to 8mm. This makes the shoe feel more stable, especially on sharp turns in the wet, which are also easier to make thanks to the extra traction of the redesigned outsole. More rubber there should also mean the NEXT% lasts longer than the 4%.
Despite the extra foam in the midsole and rubber on the outsole, the shoe is still a featherweight at 190g (men's size 9), the same as the 4%. Part of that is down to the redesigned upper, with Vaporweave material that's lighter and more comfortable than the Flyknit upper on the 4%, and it also absorbs less water if you're running in the wet. The NEXT% is even more expensive than the 4% and you really have to consider whether spending £240 on any running shoe is worth it, but there's no doubt it's the best shoe to have on your foot when you go PB-hunting, especially over 42.2km.
Buy from Pro:Direct Running (opens in new tab) | £240 | Nike ZoomX Vaporfly NEXT% review
---
We gave the Rebel a baptism of fire, cracking through an 8km race and a pacy 20km long run in our first couple of days wearing the shoe, and it immediately became a favourite. The FuelCell foam is delightfully comfortable and bouncy, and helps you to tick along at a fast pace with what seems like less effort than normal. The foam is also very light – the men's version weighs just 208g despite the plentiful cushioning on the sole – which helps make the Rebel a solid racing pick, as well as a great training option for fast days in particular. It's not the softest shoe for easy runs but it's not uncomfortable, so you really can use the Rebel for everything. While £120 isn't cheap, it's substantially cheaper than Nike's £159.95 Pegasus Turbo, which is the only other all-rounder we've come across in the Rebel's class.
Buy men's from New Balance (opens in new tab) | Buy women's from New Balance (opens in new tab) | £120 | New Balance FuelCell Rebel review
---
(opens in new tab)
The consummate all-rounder, this shoe offers plush comfort on easy runs and is still light and bouncy when you decide to up the pace. The Pegasus Turbo uses the same ZoomX foam found in Nike's ultra-expensive (and forever out of stock) Vaporfly 4%, and it is this foam that produces the impressive energy return in every step you take. To ensure the Turbo is more durable than the Vaporfly 4%, Nike has also added in a layer of its hardy React foam, and the result is a lightweight, long-lasting shoe that's great for all kinds of training and races. That's the remit of any good all-round running shoe and, while we are also fans of the Brooks Launch and Saucony Ride ISO, we've found the Pegasus Turbo hits that sweet spot of comfort and speed. We love it so much that we've run our review pair into the ground, covering almost 1,000km in them.
Buy from Nike (opens in new tab) | £159.95 | Nike Zoom Pegasus Turbo review
---
(opens in new tab)
When you're on the hunt for a PB you need a fast shoe on your foot, and the Boston 7 is a terrific race-day option from 5K all the way up to a marathon. The bouncy Boost foam in the sole of the Boston helps you power on at pace kilometre after kilometre, and it also means the shoe is cushioned enough for easy running as well. We set PBs at every distance from one mile to half marathon in the Boston 7 last year, finding it more supportive than a pure, short-distance racer like the Brooks Hyperion and a little faster than the Reebok Floatride Run Fast, which is another great lightweight cushioned option.
Buy from Adidas (opens in new tab) | £119.95 (currently reduced to currently £76.97) | Adidas Adizero Boston 7 review
---
(opens in new tab)
It's very expensive and not especially durable, but the Zoom Vaporfly 4% has a better case than most to claim the title of the best running shoe ever made, so it's worth the investment – especially if you're a serious runner lining up an ambitious attempt at a marathon or half marathon PB. The combination of a carbon fibre plate in the midsole and Nike's bouncy ZoomX foam creates a soft but ridiculously quick ride that is perfect for propelling you to those PBs. The 4% used to be nigh-on impossible to get hold of – we stumbled across our first pair in a Nike outlet store after weeks of searching – but is now widely available. We've notched two marathon PBs in the shoe and it would probably be the first possession we rescued if our house was on fire.
Buy from Sports Shoes (opens in new tab) | £209.99 | Nike Zoom Vaporfly 4% Flyknit review
---
(opens in new tab)
We reckon this is the best running shoe for beginners. The Triumph ISO offers an incredibly comfortable and cushioned ride, but still is still responsive enough to help you log some fast times as you get fitter and start taking on your first races. It's also impressively durable, so although it does cost a pretty penny that outlay will usually be rewarded with well over 800km of running, more than enough to help you fall well and truly in love with the sport.
Buy from Saucony (opens in new tab) | £140 | Saucony Triumph ISO 5 review
---
Coach-Approved Sports Headphones
We receive and test lots of earbuds, both wireless and truly wireless, but only a few have our ears for very long and we find ourselves going back to the same models over and over again. These are those models.
---
(opens in new tab)
These are the first truly wireless headphones to have day-long battery life, offering nine hours of juice on a single charge. And with their impeccably comfortable earhooks and remarkable stability when exercising, they're also among the very best-fitting headphones we've ever tried. The sound quality is great too, and the Powerbeats Pro connected quickly and reliably with any device in our tests, including Garmin watches. The only downsides are the bulky carry case, which only extends the overall battery life to 24 hours despite its hefty size, and the high price – they're significantly more expensive than most other premium truly wireless options.
Buy from Beats (opens in new tab) | £219.95 | Beats Powerbeats Pro review
---
(opens in new tab)
Truly wireless sports headphones have to offer three things in our book: a comfortable non-slip fit, battery life that can outlast long runs and rides, and solid sound quality. The Jabra Elite Active excels on all these counts, with an immovable fit, five hours of battery plus a 15-minute quick charge feature that delivers 90 minutes of playback, and an adjustable sound set-up which you can tinker with in the partner app. There are also several useful extras on the buds, including activity tracking and the nifty Hear Through feature which helps to keep you more aware of your surroundings.
Buy from Jabra (opens in new tab) | £169.99 | Jabra Elite Active 65t review
---
(opens in new tab)
We were skeptical of bone-conducting headphones at first, but Aftershokz won us over with the Trekz Air. These lightweight headphones leave your ears completely open so you can stay aware of what's around you when running and cycling on busy streets, while still being able to listen to music or podcasts through your cheekbones. For once, these are headphones that offer something truly different and worthwhile.
Buy on Amazon (opens in new tab) | £99.95 | Aftershokz Trekz Air review
---
(opens in new tab)
The stand-out feature of these wireless headphones is the monster 14-hour battery life, but they also excel in several other areas. The fit is perfect, whether you opt for the under-ear or over-ear configuration of the headphones, which you can switch between by simply twisting the buds. The sound quality is also top-notch, and you can adjust the EQ settings in the partner Jaybird app to suit your preferences. The Tarah Pro headphones are also fully waterproof and sweatproof, and the cable between the buds has a rugged braided design to ensure durability. The Tarah Pro headphones are nigh-on perfect, and unless you want the complete freedom of truly wireless buds they should be at the top of your wishlist.
Buy from Jaybird (opens in new tab) | £139.99 | Jaybird Tarah Pro
---
(opens in new tab)
Anyone seeking great value will find it here: with a rock-solid fit, eight hours of battery life and a waterproof design, this pair outclass some headphones that cost twice as much. The sound quality is solid rather than exceptional, and the touch controls can be a little hit and miss at times, but for less than £50 you're getting a reliable set of buds that we haven't managed to make fall out once, no matter how vigorous our workouts.
Buy from JBL (opens in new tab) | £44.99 | JBL Endurance review