The Best Puffer And Down Jackets For Men
By Chris Sayer published
Get ready for a winter spent outdoors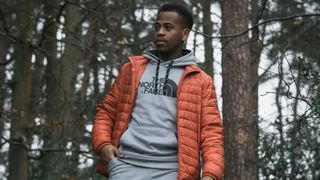 (Image credit: unknown)
You know where's really nice this time of year? Outside. Outside is really nice this time of year, especially because those people who complain about it being absolutely freezing and perpetually damp stay away, and all you need is the right protection to get out there and enjoy it.
A puffer jacket – stuffed with either duvet-like feather down or a synthetic version like Primaloft – is one such choice of protection. It's the go-to jacket for Himalayan explorers and high-street cool kids alike, and because it has firm roots in the outdoor industry, it often comes with the added bonus of being able to go absolutely anywhere, without the fear of it falling apart on your back playing on your mind.
Yep, deciding to wear a puffer jacket this season is the easy part. Deciding which one, though, is not. Pretty lucky, then, that we've trawled through the very best puffer and down jackets out there to bring you a concise snapshot of the very best on offer this season. We've got a timeless classic from The North Face, a homegrown climbing essential from Rab, a retro sportswear doozy from Fila, one made from corduroy courtesy of H&M, and a puffer from streetwear masters Stussy that's so loud it'll leave your ears ringing. Take a look, why don't you?
---
Patagonia Nano Puff Hoody
(opens in new tab)
Do you consider your carbon emissions when picking up a puffer jacket? Probably not, but that's OK, because Patagonia does it for you. The latest edition of this line is made with PrimaLoft recycled polyester insulation, which is cosy even when it's wet, and its liner and shell are completely recycled as well. The jacket is windproof and water-resistant, and there are high-neck jacket and vest versions as well – the latter is an underrated option for the UK winter, which usually contains many milder days when a full jacket is overkill.
Buy from Alpine Trek (opens in new tab) | £195
---
Fohn Micro Down Hooded Jacket
(opens in new tab)
Sure, it'll work around town, but this one's a smart buy if you're planning on going off the beaten track as this 750-fill power jacket is both at the upper end of that warming scale and slim enough to work as a midlayer – it can even pack into its own pocket when you're working up a sweat yomping up hill and down dale. It's not waterproof, but the filling is hydrophobic so you don't need to seek shelter at the first sign of rain (not a good look among your fellow intrepid explorers). It's also a steal at the moment, having been reduced to well under three figures.
Buy from Wiggle (opens in new tab) | £130 (currently reduced to £71.50)
---
The North Face 1996 Retro Nuptse Sherpa Print
(opens in new tab)
Close your eyes and draw yourself a puffer jacket from memory, and the likelihood is that you'll be staring down at a Nuptse when you finally peel back your peeper lids. Introduced in 1992, adored by everyone from peak-seeking athletes to hip-hop royalty, and worn everywhere from Base Camp to Birmingham and Manhattan to the Matterhorn, it's safe to say it's the puffy archetype. This version, which harks back to the glorious mid-90s and smartly packs down into its own pocket even though it uses real goose down, is a real stand-out thanks to its eye-catching fleecy print.
Buy from the North Face (opens in new tab) | £250
---
Filson Featherweight Down
(opens in new tab)
Filson does not mess about when building hardy garms to withstand the harshest conditions. The company, based in the rugged Pacific Northwest, has learned all there is to know about clothing that lasts in dire winter conditions through its 120-plus years of existence, and as such, we feel confident vouching for this ultralight but exceptionally warm down jacket (filled with responsibly sourced and traceable goose feathers) as a top-off-the-food-chain puffer.
Buy from Filson (opens in new tab) | £335
---
(opens in new tab)
Just because it has half the zipper doesn't mean this smock from Rab is any less of a puffer. The Kinder Smock cut its teeth on the dark gritstone walls of Yorkshire, where Sheffield's hardy climbing scene fell in love with its hydrophobic treated down and warmth, eye-catching colour, and shape that allowed it to be worn without getting in the way of the equipment. And because climbing is very much the hobby du jour, there's been no better time to dress like you're about to go *checks How To Talk Like A Climber notes* send a slabby 8c+ with Alex Honnold.
Buy from The Brokedown Palace (opens in new tab) | £170
---
Uniqlo Ultra Light Down Compact
(opens in new tab)
Do we bang on about Uniqlo too much? Quite possibly! But are we still childishly excited when we pick up its wares, feel the quality and gaze down at the frankly ludicrous price on the tag? You'd better believe it. Spend less than fifty notes on the Ultra Light Down Compact and you've near enough stolen a warming puffer, one with a unique V-neck collar that makes it just as good-looking worn as a top layer as it is functional under your big woolly number.
Buy from Uniqlo (opens in new tab) | £49.90
---
See related
---
Berghaus Ronnas Reflect Insulated Jacket
(opens in new tab)
Would you just look at the high neck on this jacket? It just screams snug, especially since the Reflect lining on the jacket bounces your body heat back at you. While the jacket isn't fully waterproof, it will repel mild showers, and Berghaus's hydrophobic Hydrodown material doesn't get soggy and heavy when wet.
Buy from Berghaus (opens in new tab) | £200 (some styles currently reduced to £140)
---
(opens in new tab)
Whether you're looking to fill your quota for heritage sportswear or slightly confused Neapolitan ice cream colourways this season, you're on to a good thing with this cosy coat from Fila. Even more so at that nice price.
Buy from Fila (opens in new tab) | £100 (currently reduced to £50)
Main image by Collins Lesulie (opens in new tab)
Craft beer drinker, Devonian, fisherman and former content director of Coach online, Chris contributed style coverage and features between 2016 and 2019.
Sign up for workout ideas, training advice, the latest gear and more.
Thank you for signing up to Coach. You will receive a verification email shortly.
There was a problem. Please refresh the page and try again.