The Best Foam Rollers
By Nick Harris-Fry last updated
Ease your aching muscles after exercise with a spot of self-myofascial release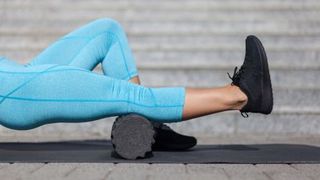 (Image credit: unknown)
Everybody's foam rolling these days. Runners, cyclists, weightlifters – you name it, they're doing it. That's because anyone who exercises can benefit from the practice, which is also known as self-myofascial release. If you've embraced foam rolling, or have been sufficiently convinced by its reported benefits to want to start, then you need a foam roller. And although the effects of foam rolling largely remain the same with different rollers, they come in all shapes and sizes, so to help you decide which is right for you we've put together this buyer's guide – and listed some of our favourite options.
Foam Roller Buyer's Guide
Why foam roll?
"It starts to break down tension and tightness in the muscles, promotes blood flow to aid with muscle fatigue and increases your flexibility," says Hannah Walsh, Runners Need store expert.
If you're doing it right, foam rolling will probably not be a comfortable experience, but grit your teeth and remember that the pain is doing you good.
What are the different kinds of foam roller?
The key differences between foam rollers relate to their size, firmness and surface pattern. Longer rollers are good for working on large muscles and your back, while smaller (sometimes handheld) rollers can target smaller muscle areas and are, obviously, more portable.
"Handheld rollers have pinpoint precision that can target hard to reach areas such as the achilles and shin," says Walsh, "and you can more easily control how much pressure is applied to the muscle."
When it comes to firmness, check the colour-coding: white often indicates a softer roller, black is the firmest, with blues and pinks or reds in between. While beginners might want to start with a softer roller, there are benefits to braving the extra discomfort that comes from using a firmer roller.
"Firmer foam rollers are perfect for dense tissue and anyone who prefers more intense compression," says Walsh.
The surface pattern also changes from roller to roller, including some that have alarmingly large spikes to really dig into your muscles.
"Foam rollers vary in surface design and rigidity to connect with the skin and fascia accurately," says Walsh.
Different patterns on foam rollers' surfaces are also sometimes designed to mimic different parts of the hand in order to simulate a sports massage. High nobbles match up to fingertips and longer tubular sections mimic the fingers, while flatter parts simulate palms.
There are also vibrating rollers to consider. These make the whole experience a little less painful and are said to ramp up the benefits of foam rolling considerably, but they do come at a greatly increased cost. And speaking of cost…
How much should you look to spend on a roller?
"You would need to invest around £35 for good-quality traditional foam roller," says Walsh, "and you can spend up to £170 for the vibration technology."
What should a complete beginner look for as the key features in a roller?
A medium-sized traditional roller is a good place to start your foam roller collection. As always the temptation will be to opt for a cheap one if you're not sure how much you'll use it, but there are durability concerns to consider.
"A solid EVA foam core makes it firmer than most traditional rollers and also gives the product some longevity," says Walsh. "You can buyer cheaper foam rollers for around £20 but without a solid EVA foam core it won't last and is likely to collapse under your bodyweight."
See related
The Best Foam Rollers
This traditional foam roller design features three patterns on the surface to mimic different parts of a massage therapist's hands. There are large flat sections which stand in for the palms, tubular bits for the fingers and nobbles for the fingertips. The EVA foam used is pretty firm and the roller itself is 13cm long, which is long enough to accommodate any muscle while still being short enough to make it easy to manoeuvre around your back.
---
(opens in new tab)
Our favourite vibrating foam roller, but one that people in flats should probably steer clear of because the intensity of the vibrations – even on the lowest setting – were enough to get our whole building shaking, prompting alarmed texts from the person on the floor above. The Vyper 2.0 lasts two hours on a single charge and has three intensity settings, the highest of which we were never brave enough to use for more than a couple of seconds. We found the smooth exterior ideal for a good roll without too much discomfort, and the vibrations seemed to help tight muscles, as experienced by many runners.
Buy from PerformBetter (opens in new tab) | £188.40
---
Pulseroll Vibrating Foam Roller
If you want a vibrating roller but your budget doesn't stretch beyond £100, this is a great option. The Pulseroll Roller offers four levels of intensity, and has both smooth and textured sections on the outside. It's also reasonably light and comes with a carry bag so you can take it to the gym.
Buy from Pulseroll (opens in new tab) | £99.99
---
JAXJOX FoamRoller Connect
This roller vibrates at five different intensity levels and has a variety of patterns on the outside to help you work on different muscles effectively. However, what really sets it apart are the rolling sessions you can set up in the partner app, where the JAXJOX roller will vibrate at the right intensity and for the optimal duration to help you recover from activities like running, cycling or strength workouts.
It's a good way to avoid skimping on your self-myofascial release, because you're more likely to do a full three minutes on your calves if the roller says so – when rolling without guidance we're often tempted to call it a day after 30 seconds or so.
The app also keeps a record of how much time you've spent rolling each muscle group in the past week or month, so if you have been skipping your recovery rolling session it will be brought to your attention.
The only thing it's lacking is a guide showing the best position to adopt when rolling each muscle group, which would be useful for beginners.
Buy from JAXJOX (opens in new tab) | £99.95
---
(opens in new tab)
If you're on the hunt for a foam roller to tackle the runner's nightmare that is plantar fasciitis, a mini foot roller like this could be your best option. It's the ideal size for rolling the arches of your feet, with the raised nubs massaging the sole to hopefully alleviate the pain in the plantar fascia tissue.
---
(opens in new tab)
Smooth rollers provide even pressure across their entire length, unlike those with a surface pattern designed to dig into the muscles. This roller comes in two sizes, with the 45cm one the more versatile option for rolling a range of body parts, though the 90cm roller is especially good for rolling your back.
---
(opens in new tab)
An essential in every roller's arsenal, the lacrosse ball is used to target hard-to-get to areas on the body like the soles and arches of the feet. This will be especially useful for runners who suffer with plantar fasciitis – inflammation of the tissue that forms the arch under the foot. You can also use a golf ball to roll your sole if you have one handy.
---
(opens in new tab)
This massage ball has a liquid core that you can freeze for a side of ersatz cryotherapy alongside the self-myofascial release as you roll your aching muscles on it. The ball will remain cold for up to six hours after a couple of hours in the freezer, and it has a textured silicone side to hold so your hand doesn't get frostbite as you roll it.
Buy from Riixo (opens in new tab) | £19.98
Sign up for workout ideas, training advice, the latest gear and more.
Thank you for signing up to Coach. You will receive a verification email shortly.
There was a problem. Please refresh the page and try again.