The Best Gym Shorts For Men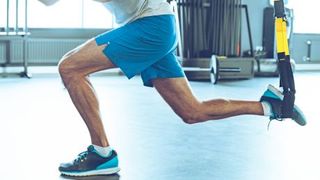 (Image credit: unknown)
Shorts are shorts, right? Wrong! The shorts you wear in the gym can make a bigger difference to your workout than you might expect. There are comfort issues to consider, along with how free your movement will be in your shorts – especially if you're dropping into deep squats or huge lunges – and it never hurts to have odour-killing tech in the fabric, if only to cut down on the amount of washing you have to do. You also need to consider whether you want to wear sports underwear you already own with these shorts, as many contain liners (like swim shorts) or a tight inner layer.
Not convinced? That's fine, we have shorts for everyone, including a "shorts-are-shorts" option that will leave you with change from a fiver.
---
Allbirds Natural Run Short
(opens in new tab)
Don't let the word "Run" put you off – we've tried these shorts for both running and strength workouts and they are much better for the latter, with a baggy design that's a bit too loose and large on the run, but comfortable during strength sessions and for wearing to and from the gym. The shorts are made from a mix of three sustainable materials and Allbirds uses offsets to make them carbon neutral, which is always a positive.
Buy from Allbirds (opens in new tab) | £68
---
Under Armour RUSH Seamless Long Shorts
(opens in new tab)
Only you will know if you're happy walking into a gym wearing shorts this tight, but if you are (or are content to pop another pair on top) then the RUSH shorts are among the best you can get. The compression fit is just the right level of tightness to be supportive but still comfortable for longer workouts, and Under Armour even claims the mineral-infused fabric absorbs the energy you emit and fires it back at you to boost endurance.
Buy from Under Armour (opens in new tab) | £55
---
Reebok United By Fitness Epic+
Reebok has long been associated with functional gym training and these shorts are the perfect showpiece of years of experience when it comes to squatting, lunging and box jumping. Evidence of this can be seen in the stretchy ripstock fabric that expands depending on your chosen exercise but always revert back to its original sleek look. Reebok has also added laser-cut perforations in the back to allow airflow when things start to heat up and included two large side pockets and one smaller zip pocket for valuables. The durable design makes them one of the best options out there if you want a pair of shorts that'll last you for years of gym sessions.
Buy from Reebok (opens in new tab)| £55
---
TCA Utility 2-in-1 Shorts
(opens in new tab)
These shorts have one very appealing feature for those who take a large phone with them during their workouts: a massive slip-in pouch on the inner layer. This holds even the largest of phablets tight against your thigh so it won't bounce around annoyingly while you train, and we've found that the phone's connection to Bluetooth headphones is as strong as ever when in this pocket. The inner layer has a compression fit, while the outer is pleasingly loose and features a couple of pockets of its own – with zips no less. Pocket city.
Buy from TCA (opens in new tab) | £24
Nike's top-of-the-range gym shorts are made from its Dri-FIT fabric, which wicks sweat and dries quickly, and is stretchy so you can power through squats, sprints and anything else that requires you to pump those pistons without feeling constricted. There's also an impressive range of sizes to choose from, including tall options for each size, so it's easier to find the right fit for you.
Buy from Nike (opens in new tab) | £54.95
---
Slender shorts may look better when you're wandering around town to grab a latte, but when it comes to comfort in the gym you want something that gives you a bit of breathing room. These shorts from Adidas are designed specifically to support movement when you're training, offering a looser fit that means you can lunge and squat without the material restricting you. The Aeroready fabric will also absorb sweat while you're training, so you're not that guy that leaves wet marks on all of the machines. Not bad considering they're made from 100% recycled materials as well.
Buy from Adidas (opens in new tab) | £30
---
(opens in new tab)
There's very little, if anything, to dislike about these simple, durable shorts, which come at a reasonable price in seven colours – a wide enough range for most to find a hue to suit. The design includes side pockets and allows you to move freely and comfortably throughout your gym routine, staying close to the thigh without being figure-hugging.
Buy from Gymshark (opens in new tab) | £25
See related
---
Zone3 RX3 Compression 2 in 1
(opens in new tab)
A winning combination of a supportive compression layer and a looser upper that protects your modesty. The RX3 shorts are comfortable to wear for any workout, and we've taken them out for runs as well. There are also two large side pockets, which is always a bonus.
Buy from Zone3 (opens in new tab) | £60
---
(opens in new tab)
If the £60 price tag on those Zone3 shorts had you spluttering with disgust, maybe these might be more agreeable. Decathlon's cheap-as-chips Domyos shorts will do a job in keeping your nethers covered during your workout and the loose fit is comfortable for Pilates too.
Sign up for workout ideas, training advice, the latest gear and more.
Thank you for signing up to Coach. You will receive a verification email shortly.
There was a problem. Please refresh the page and try again.