The Best Water Filter Jugs To Buy For Fresher-Tasting Water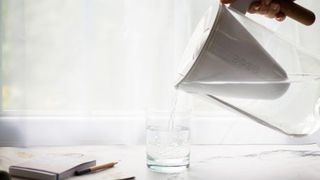 (Image credit: Unknown)
Glugging water is good for us – you don't need us to tell you that – and while in the UK tap water is safe, healthy and among the best in the world, water filters can have their uses, not least in altering the taste. If you avoid drinking tap water because you're not a fan of the flavour in your area and prefer to quench your thirst with sugar-laden soft drinks or – public enemy number one – bottled water instead, a filter jug makes sense.
Plus, if you live in a hard water area, using filtered water in a kettle or a coffee machine can significantly reduce limescale build-up, leading to much nicer cuppas and cremas.
We'll dive straight in with our top picks, but if you'd like a bit more information about what to look out for, jump to our buyer's guide for water filter jugs.
---
The Best Water Filter Jugs To Buy Now
---
(opens in new tab)
If you have a large household to hydrate, this jumbo jug is a top choice. It's easy to fill with a flip-up flap and produces 2.3 litres of filtered water (total capacity 3.6 litres). Unlike older Brita models, the electronic cartridge replacement indicator – a small LED which uses a simple traffic light system – can be removed so the jug, filter and lid can all go in the dishwasher. The Brita Maxtra+ filter cartridges take about five to ten minutes to prepare – you have to dunk one in a full jug of water, insert it, then run two full jugs worth of water through it.
---
(opens in new tab)
The Oria is well designed and well priced. For less than £30 you can net a jug and six 30-day cartridges, giving you six months' worth of filtered water straight out of the box. You don't have to fear the ol' "start 'em cheap then jack up the price" trick either – a pack of refills that will last you three months only costs around a tenner. Despite its bargain price, it doesn't feel cheap, although the cartridges can be a little fiddly to insert. One of the standout features is its slatted lid that slides open, so you never have to bother removing the lid completely to fill it up. There's no meter to alert you about replacements but you can download an app if you need a nudge.
---
(opens in new tab)
The big difference with BWT is that its proprietary cartridges up the magnesium content, which can lend a more mineral-y flavour, reminiscent of bottled water, and is important for making a good cup of coffee. You will need to soak each cartridge for five minutes before first use and the jug is a little slow to fill, but replacements are pretty affordable at around a fiver a go. The jug is available in a range of bright colour options including yellow, pink and blue.
---
Aquaphor Time Water Filter Jug
(opens in new tab)
This Aquaphor jug is extremely good value and there are often cartridge-inclusive bundle deals to make your money go even further. The recommended Maxfor cartridges produce great-tasting water, and there's the option to use Brita's Maxtra cartridges if you prefer. Available in blue, white and orange, the jug has a flip-top lid and a slim design that slots easily into a fridge door. As you'd expect at this price, there's no electronic replacement indicator so you'll need to set your own reminder to replace the cartridge every month.
---
(opens in new tab)
If you're after a water jug that doubles up as a dinner party conversation piece, this is that jug. It's more sustainably made that anything else on this list, from the bamboo handle to the plant-based, compostable material used in the filter (which needs to be soaked for 15 minutes before inserting for the first time). Its handsome design means it won't ruin a carefully curated tablescape either. Refilling it is easier than the usual because the top hinges down like a trap door when you place it under a running tap and it'll take about five minutes to filter enough water to fill the jug. All this comes at a cost of course – yes, a monetary one, but also it's not dishwasher-safe and unlikely to fit in a standard UK fridge door.
---
pH Replenish Glass Alkaline Water Jug
(opens in new tab)
With its cool curvy design and stainless steel stopper, this glass jug is an elegant option. It comes with a porous pouch that drops into a mesh cylinder unit in the centre of the jug to operate like a tea strainer rather than a traditional cartridge. Not all the water necessarily passes through the filter so you're reliant on the mechanism doing some of its job while the water is at rest, but the design does mean you can also add fruit to the column to create an infusion, or tea for a cold-brew. It's certainly not cheap and replacement pouches are around £25 for three, although they should last around three months a pop based on two people drinking eight cups a day. On the plus side, it's dishwasher-safe, comes in two sizes and could easily pass as a carafe.
---
ZeroWater ZP-010 10-cup pitcher
Best For Removing Impurities
(opens in new tab)
When the ZeroWater jug first launched it was ludicrously expensive at more than £100, but the ten-cup model is now readily available for around £35, a decent price to pay for a fancy filtration system. Its five-stage filter process removes impurities like chlorine, aluminium and lead and there's a digital TDS (total dissolved solids) meter to reassure you that it's keeping its promise. The jug features a part-removable lid for easy filling and a handy spout at the back that dispenses water at the push of a button. Bear in mind, though, that this is a premium model so replacement cartridges are around £20 a pop and last between one and two months.
---
See related
---
Buyer's Guide: How To Choose The Best Water Filter System For You
The reasons for buying a filter jug are straightforward. Deciding which one to buy, on the other hand, is anything but. Here's what to consider when making your choice.
Choosing A Cartridge System
The biggest complication is that you're not just buying a jug, you're buying a cartridge system too, although you may be able to use another system in that jug depending on the jug. When choosing a system it's worth paying attention to three things: how long the cartridge in the system you're considering takes to filter water, how long you need to spend preparing the filter before putting them in (some are a real rigmarole), and how frequently they need replacing.
We won't detail each system here, but the most popular system is Brita, which uses Maxtra and Maxtra+ cartridges. Brita jugs are a good choice because many are compatible with non-branded cartridges and there are plenty of cheaper, longer-lasting alternatives to consider. Some jugs from other manufacturers will work with Brita cartridges.
How Much Do Cartridges Cost?
Water filter jugs are generally quite cheap, and that's because the real cost is in the cartridges, so it's vital that you check what you're signing up for when making your initial purchase. Don't be put off by the price of a single cartridge – it's worth persevering and finding out how much you can save by opting for multi-packs or even using more affordable third-party options if you can.
In general you can pick up the filters for about £5-£8 apiece, but if you can get a third-party replacement rather than a name-brand filter you can cut that price to nearer £3 per filter if buying a multipack. Some of the more exotic water filter jugs on our lists have filters that set you back around £10 and there won't be cheaper alternatives, so do make sure to take into account filter cost when making your pick.
Choosing A Jug
It's worth us pointing out that total capacity may be misleading – you have to subtract the space taken up by the cartridge, which can be substantial. Check the drinkable capacity if that information is given.
Just to put your mind at ease, every plastic jug on this list is BPA free – you'd be hard-pressed to find one that isn't nowadays. And, of course, if you like chilled water, make sure the jug you're considering fits your fridge.
Sign up for workout ideas, training advice, the latest gear and more.
Thank you for signing up to Coach. You will receive a verification email shortly.
There was a problem. Please refresh the page and try again.