Pun-Believably Silly Gym Kit
By Chris Sayer published
Pump some humour into your workout with DinoGym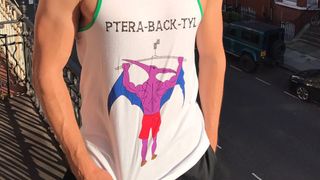 (Image credit: Unknown)
Before we begin, we'd like you to answer a question. An important question. Do you like dinosaurs? Of course you do. The Jurassic Park theme tune has its claws dug deep into the very fibre of your being. It's probably playing inside your head right now after just reading about it. God, it's good, isn't it? Dinosaurs. Great.
So, in a way, a very peculiar way, it stands to reason that combining your love of dinosaurs with your love of hitting the gym should be a good thing, right? Yes. Good. That is very good. We're all agreed on that.
With that cleared up, here's DinoGym – a line of dinosaur-emblazoned gym vests that throws in another of your (or maybe just our) loves, genuinely terrible puns, for what might be the most bizarre, bonkers and plain weird but also sorta lovable thing we've seen all year.
The new brand is the brainchild of Australian co-founders Sam Beagley and Alex Stewart, who brought the line to life fuelled by a love of both dinosaurs and working out, along with a bang-on observation that the major fitness brands all seem to suffer from a serious sense of humour failure.
RECOMMENDED: The Best (Serious) Gym T-Shirts
The cure? A winged dinosaur smashing the lat machine with the words Ptera-Back-Tyl above its head. And a toothy beast pumping iron under the legend Veloci-Trap-Tor. Sure.
There are seven designs currently available (opens in new tab), all at £15 a pop.
Whether you think the clothes are completely unnecessary and plain bad, or that they're just some harmless fun that fills a gap, or even if you have absolutely no idea what to think at all, it seems the brand is starting to work out for the duo.
"Feedback from friends has been really positive so far," said Beagley. "People seem to get the joke – we have already doubled our sales in the past year and ship merchandise all over the world. If you like dinosaurs and you like working out, DinoGym is the place to get your gym wear."
The dino-loving gym brand has just set up a Kickstarter (opens in new tab) to offer customers discounted pre-orders in order to fund its expansion and add to the colourful product range. Check it out here, and try to keep a straight face while scrolling…
Craft beer drinker, Devonian, fisherman and former content director of Coach online, Chris contributed style coverage and features between 2016 and 2019.
Sign up for workout ideas, training advice, the latest gear and more.
Thank you for signing up to Coach. You will receive a verification email shortly.
There was a problem. Please refresh the page and try again.