The Best Men's Gym T-Shirts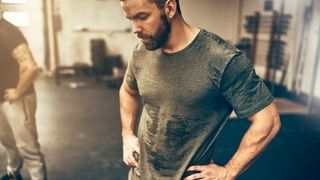 (Image credit: Unknown)
Gone are the days when heading to the gym meant reluctantly pulling on an old pair of Bermuda shorts and a baggy Oasis t-shirt. Gyms are cool now, which means that people want to look and feel their best when they through the door. Your gym t-shirt not only needs to fit you well, but it should have performance benefits that mean you can train to your max without feeling uncomfortable or ending up covered in sweat.
Another important thing you need to take into consideration when picking up a gym t-shirt is range of movement. If you're preferred activity is HIIT or compound weight training you're going to need a top that allows you to move freely, without rubbing or chafing as you work your way through sets.
Here we run through the best of the bunch when it comes to versatile t-shirts that won't let you down, meaning you can up your training in style.
---
Men's UA Rush Seamless Short Sleeve
No other tee on this list claims to proactively improve your performance. This one weaves in a mineral-enriched fibre created by the company Cellient (opens in new tab), which is supposed to reflect the infrared energy your body emits back where it came from, with the aim of boosting vasodilation, allowing your body to use oxygen more effectively. Do feel free to read that again – it's a bit of a head-scratcher and we can't seriously vouch for it, but there is some scientific research that backs up the concept. Regardless, from using it we can tell you that it's a pleasingly soft and comfortable tee for working out. The seamless design minimises the risk of any chafing, and while the tee is fitted, it's not skin-tight like Under Armour's base layers. If you still would prefer a looser cut you'll find that in the new long-sleeved seamless top (opens in new tab), and its longer sleeves also mean your forearms don't miss out on those mineral-enriched benefits.
Buy from Under Armour (opens in new tab) | £50
---
The North Face Mountain Athletics Hybrid
The North Face may be better known for kit designed to tackle the outdoors, but you still need to wear something when you're training for your next adventure. The Mountain Athletics range from the brand was created for that exact reason with a number of great options to wear whether you're in the gym or hitting the trails. The Hybrid T-shirt is one of our favourite picks from the collection. As well as being from 100% recycled fabric, it includes The North Face's FlashDry technology, a smart concept that wicks moisture away from the skin and ensures that you're kept dry, regardless of how much effort you're putting in. The selection of designs are also a great option if you're bored of monotone workout t-shirts.
Buy from The North Face (opens in new tab) | £35
---
Iffley Road Durham Lightweight
This performance t-shirt from running brand Iffley Road may not be the first item you think of when picking up gym kit, but trust us when we say it's a great option for anything from exercise machines to hitting the free weights. It's made from an incredibly light open mesh fabric that will keep you cool during any exercise, and the loose-fitting design allows for a high range of movement for anything from HIIT to barbell work. It's also a good option if you're the kind of person who straddles an active and personal life, and wants their kit to look good enough to wear even when you're not training.
Buy from Iffley Road (opens in new tab) | £70
---
(opens in new tab)
Another very solid tee that's available in a broad range of colours and at a reasonable price. The Vital has a fairly loose, comfortable fit and the stretchy, wicking material will ensure any sweat that makes its way out of your pores is whipped away from the skin instantly.
Buy from Gymshark (opens in new tab) | £25
---
See related
(opens in new tab)
This tee is designed to make training in the heat that a little more bearable. As Adidas says in the online description: "You can't do sprints in a walk-in freezer. You can't lift weights on ice. You can't do burpees in the frozen food section." Wise words.
The material used is lightweight and breathable, and the tee is cut to let you move freely no matter how energetic your workout gets. If you've been struggling with your training during the summer, give this T-shirt a go before causing a scene in the frozen food section.
Buy from Adidas (opens in new tab) | £34.95 (currently reduced to £17.48)
---
If you're working out every day and starting to worry that the amount of T-shirts you require is going to bankrupt you, give this budget option from Decathlon a look. Sure, it's not going to wick sweat and dry as effectively as the premium options on this list, but it's designed to let you move freely no matter what direction your workout takes you in, and it's really very cheap.
Buy from Decathlon (opens in new tab) | £4.99
---
Lululemon Metal Vent Tech Short Sleeve 2.0
An update to this popular high-performance gym tee weaves spandex into the fabric to help it retain its shape once you've drenched it in sweat. It's wonderfully comfortable and gives the impression of heft when you first pull it on, but the perforations mean it didn't become clingy when we wore it to a strength-based circuit class. Like the first edition, it has silver woven into the fabric to inhibit the growth of smelly bacteria, and it's so effective we wore it for a couple of cycle commutes after the class without stinking out the joint.
Buy from Lululemon (opens in new tab) | £58
---
Canterbury Core VapoDri Superlight
(opens in new tab)
Canterbury is well known as a rugby brand and this quick-drying tee has a lower neckline to accommodate the large deltoids and neck muscles players typically sport, but that also sounds like the perfect fit for hench gym rats to us. The VapoDri tech helps sweat to evaporate, and the back and arms are mesh to help keep you comfortable as you go for lifting glory.
Buy from Canterbury (opens in new tab) | £21
---
(opens in new tab)
The British outerwear brand makes its presence felt on the gym floor with this well-made training tee that gets the basics right – sweat-wicking fabric, split side lock seams, reflective details in case the class heads out for a short run – but excels in the style stakes. Yes, you can go for your basic greys, blues and blacks, but there's also bright "neon" mint or red. Go on, get yourself some colour – it's a gym, not a prison.
Buy from Superdry (opens in new tab) | £19.99
Sign up for workout ideas, training advice, the latest gear and more.
Thank you for signing up to Coach. You will receive a verification email shortly.
There was a problem. Please refresh the page and try again.