The Best Kettlebells And A Kettlebell Champ's Buyer's Guide
By Nick Harris-Fry published
Personal trainer and kettlebell champ Jamie Lloyd on what to look for when buying 'bells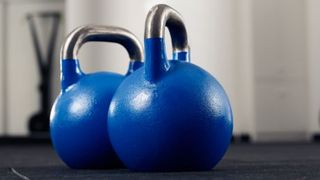 (Image credit: Unknown)
Training with kettlebells can be an excellent way to boost both your strength and cardio fitness (just check out this kettlebell workout guide) and, like dumbbells, they're small enough and affordable enough for you get for home use. But don't just splash the cash on the first one you see.
"Choosing the right kettlebell can be a bit overwhelming," says trainer Jamie Lloyd (opens in new tab), who was British Kettlebell Sport champion in 2014. "Just ten years ago there were very few companies that sold them. These days you can buy them at your local supermarket." Here's what to consider when buying your first kettlebell, followed by our picks of the best kettlebells out there. The effect of the pandemic did mean your choice of weights was limited for some time, but most are back in stock now.
Kettlebell Buyer's Guide
The Weight
"Start with one kettlebell," Lloyd says. "There's no need to get a whole set. Build up gradually and order several at a time as you progress. You will know when you are ready to start incorporating double kettlebells and heavier kettlebells into your programme – your body will tell you."
If you're a kettlebell novice, Lloyd recommends the following weights for your first purchase.
Feeling ready to commit? Then start with these three weights.
Men: 16kg, 18kg, 20kg
Women: 8kg, 10kg, 12kg
The Handle
Of course, there's more to a kettlebell than how heavy it is. You need to pay attention to the handle.
"Kettlebell swings, cleans and snatches are repetitive actions, so if you have a rough handle or one with a seam going down the middle, you will soon know about it," says Lloyd. "The seam needs to be filed down to leave an even surface to hold. Cheaper kettlebell manufacturers will make no real effort to remove this nasty, sharp seam and your hands will soon tear up like you've done a day on a building site."
Lloyd recommends running your hands around the entire handle, especially underneath, before buying. If you're already in possession of a kettlebell with a raised seam, sand it down so it's smooth.
The Handle Size
That's the handle's surface sorted, but you also need to check that its diameter gives you a comfortable hold.
"This is especially important if you have big hands," says Lloyd. "Slide your hand in and place the kettlebell in the rack position [holding the kettlebell up so it rests on your forearm, biceps and shoulder]. The kettlebell should sit comfortably in your hand and your wrist should be straight."
"Decent kettlebells will have handle diameters that measure about 30-31mm, going up to around 38mm for the heaviest bells. My favourites are competition kettlebells, which generally have a uniform handle diameter of 33mm regardless of the weight."
The Price
Be wary of cheap kettlebells, as the results will be far from cheerful. "You can tell if they are cheap as they will be covered in vinyl with a rubber bottom and a handle that looks ridiculous," says Lloyd.
"Some kettlebells are even plastic. I can think of just a few uses for these and one of them is to hold the kitchen door open! Some cheap bells can have very narrow handles that are nearly impossible to hold on to during kettlebell swings, and feel awkward for snatches."
Lloyd's recommendation is Wolverson Fitness. "These are a bit more pricy, but if you want consistency, good progression and form then get kettlebells from Wolverson Fitness. I've been using them for ten years. If you are starting out and just want a home workout, get some cast-iron bells which have a smaller cannon base, but if you are more serious get some competition bells."
See related
The Best Kettlebells
(opens in new tab)
The Domyos kettlebells are among the better cheaper options you can find, which partly explains why they come in and out of stock so quickly. When we wrote this the 4kg, 6kg, 8kg, 12kg, 16kg, 20kg and 24kg weights were available, but that stock can disappear in hours. If these look right for you, your best bet is to sign up to be first to know when they're available again.
Buy from Decathlon (opens in new tab) | From £12.99 for 4kg kettlebell
---
(opens in new tab)
These aren't the classiest kettlebells you'll find and they would probably enrage our expert if he saw them in your home gym, but we've got the pink 6kg one at home and it's served us well enough, and the prices are certainly beginner-friendly as well. If you're an experienced bell user then head to a manufacturer like Wolverson, but if you just need a little weight to beef up your home workouts, these will get the job done.
Buy from Argos (opens in new tab) | From £5.99 for 2kg kettlebell
---
Bulldog Gear Box Kettlebell
(opens in new tab)
For the price of a vinyl bell you can get a matte black kettlebell from Bulldog. The range has colour-coded handles to make it easy to find the right weight if you invest in a set and we like that the handle is wide even on the lighter options.
Buy from Bulldog (opens in new tab) | From £40 for 8kg (currently reduced to £30)
---
BLK BOX Cast Iron Kettlebell
(opens in new tab)
These kettlebells are great value and the range of weights available is extensive – it goes all the way up to a 40kg bell that costs £104.99, a snip for such a hefty cast-iron weight. The kettlebells are available in 4kg increments from 4kg to 40kg, and currently all bar the 4kg weight are in stock.
Buy from BLK BOX (opens in new tab) | From £17.99
---
Eleiko Training Kettlebell
(opens in new tab)
These cast-iron kettlebells are a great option for anyone who's looking to upgrade from cheap weights but doesn't need to go the whole hog and pick up a set of competition-class bells (which Eleiko also stocks (opens in new tab)) for their home set-up. The Training kettlebell is still a high-quality piece of kit, with a finish that feels smooth but has enough texture to use chalk with to aid your grip, and packs the same weight into a smaller size than you'll find with cheaper options. While the weights aren't cheap, they offer good value, especially given the price inflation on home gym equipment during the pandemic.
Buy from Eleiko (opens in new tab) | From £28, £96 for 18kg kettlebell
---
(opens in new tab)
---
Proiron Cast Iron Kettlebell
(opens in new tab)
These kettlebells are seamless, have six weights available (4kg, 8kg, 12kg, 16kg, 20kg and 24kg) and are well priced. You can't ask for much more at times like these.
Buy on Amazon (opens in new tab)
---
AmazonBasics Cast-Iron Kettlebell
(opens in new tab)
One of our perennial picks thanks to its no-nonsense nature and reasonable price, this kettlebell is in and out of stock but you can sign up to be notified by email when it is available. It's a cast-iron model with a smaller body than similarly priced plastic models, but still has a large enough handle to let you perform two-handed kettlebell swings comfortably.
Buy on Amazon (opens in new tab)
---
(opens in new tab)
Now sure, Lloyd did say that you can recognise bad kettlebells when they have rubber on the base, but let's be honest – that rubber base also means you're less likely to dent your floor if you put one down suddenly (aka dropping). These cast-iron bells have a neoprene cover for that very purpose, as well as a smooth handle. The weights available run from 4kg to 22kg.
Buy on Amazon (opens in new tab)
---
(opens in new tab)
Our expert's favourite kettlebells don't come cheap, but these coloured cast-iron bells are top-notch and there are currently discounts available on some weights, including the 10kg bell being reduced to £43.99.
Buy from Wolverson Fitness (opens in new tab) | From £49.99 for 8kg
---
Escape Competition Pro Kettlebells 2.0
(opens in new tab)
---
JaxJox Kettlebell Connect
(opens in new tab)
If you're after more bells and whistles and are willing to pay for it, this neat, space-saving electronic model may be up your street. Like selectorised dumbbells, this kettlebell adds or subtracts weight plates to give you six weights to work with, from 5kg to 19kg in 2.72kg increments (because you'll be wondering, translate those weights into pounds and it's even numbers). Simply press a button to choose one of six weights, pull it off its charging cradle and it's good to go. An accompanying app supplies workout ideas, and motion sensors in the device will track your reps. Check Argos to see if it's stock near you.
Buy from Argos (opens in new tab) | £249.99
Sign up for workout ideas, training advice, the latest gear and more.
Thank you for signing up to Coach. You will receive a verification email shortly.
There was a problem. Please refresh the page and try again.